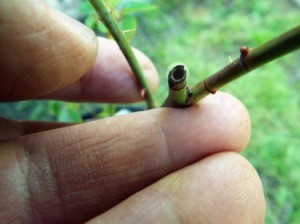 When pruning a rose bush or when taking cuttings for the home or rooting, the cuts should be sealed. A white waterproof glue should work well. Sealing is to prevent access of the rose cane borer. This insect can cause much damage to the plant. My advice is to seal all cuts whether made during borer season or not.
What prompted me to write this tip is information found on the Internet by various sources, (even by the Santa Clara Rose society. Golly!). It is stated that there is no need to seal cuts smaller than a pencil, with various reasons (or none), given. I disagree. My proof is in the picture.
Don't let the 'super macro' setting of my camera fool you. (I did not have a free hand to hold an object for comparison). The uncut stem to the right of the stem showing entryway of the borer is much smaller than a pencil. The stem damaged by the borer is even smaller. I rest my case.
(I noticed you looking at my finger. No fingerprint. What? Maybe he accidentally burned it off. Maybe he's a wanted felon and intentionally burned it off. Golly, not our Doug!
No. I'm just a privacy advocate, that's all. If you all knew how much information about you is gathered without your consent, (right down to fingerprints and iris prints, mostly via the Internet), many of you would be afraid to go out of the house or get on the Internet.
Four or five years ago, I made a statement in a video I put on YouTube. I stated that Google was determined to get the voice print of everyone on this planet. I was correct. Google is collecting those prints, now. I wont put a verifying link, here. Maybe in a privacy tip.)
Back to the tip at hand. If you should encounter a rose borer, don't touch it. They can sting like the dickens.
Happy rose gardening, Y'all!