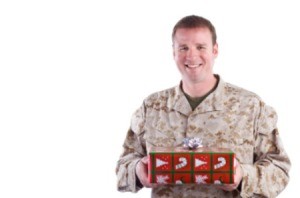 I am looking for web sites or companies that might be willing to donate items to send to my son and his platoon in Afghanistan

By imaqt1962

Answers

Vi Johnson
Silver Post Medal for All Time! 288 Posts
February 10, 2005
0

found this helpful
GOD BLESS YOUR SON AND HIS TROOPS AND THANK THEM FOR US. I see on the TV news that Starbucks IS donating to the troops, maybe you can go to their website to see how they are helping.
Great granny Vi

suzanne
Silver Post Medal for All Time! 277 Posts
February 14, 2005
0

found this helpful
THANK YOU ALL FOR THE SUGGESTED SITES!!!!!!!!!!
it's nice to know so many people care. i was layed off work several months ago and just don't have the $$ to send him packages on a regular basis. so i will check out these site. god bless ya'all
i do so appreciate the help
By doubledutchgirl.com (Guest Post)
May 9, 2005
0

found this helpful
hi, you can go to my site....http://www.doubledutchgirl.com
i would be interested in helping send packages to your son and there are a lot of people I am working with that might be able to help

suzanne
Silver Post Medal for All Time! 277 Posts
March 6, 2006
0

found this helpful
OK I'M CONFUSED I WENT TO THE DOUBLEDUTCH GIRL WEBSITE BUT COULDN'T FIND A LINK TO CLICK ON TO SIGN MY SON UP FOR A CARE PACKAGE
HE HAS BEEN DEPLOYED TO IRAQ AND I WOULD LOVE TO SUBMIT HIS NAME
By JBS OP MoM (Guest Post)
March 9, 2006
0

found this helpful
Hello, Our organization, Operation MoM, is hosting our 2nd annual golf tournament to raise money for the troops. We are looking for companies or individuals who would like to sponsor a hole, donate items for goody bags and raffle prizes or pay to play.
We look forward to your reponse and appreciate any consideration.

Kelly
Bronze Feedback Medal for All Time! 233 Feedbacks
March 9, 2006
0

found this helpful
verybestbaking.com is from Nestle and has a link for baking for troops.
By Kelly Dawson (Guest Post)
May 29, 2007
0

found this helpful
Hi! My work is hosting a drive in July to collect items for the troops. Does anyone know where I can send them to get to the troops? Please e-mail me at kdawson AT aquahab.com
Thanks!
By (Guest Post)
July 19, 2007
0

found this helpful
You can check out http://www.anysoldier.com. It has links to anymarine, anyairman, and anysailor, also, and connect civilians on the site with unit representatives so we're given someplace specific to send care packages to. It works really well!!
By Operation Piece Of Home (Guest Post)
August 4, 2008
0

found this helpful
We are an organization that donates care packages to troops over seas. Our board of directors have at least one family member or friend over seas. I am a veteran myself and know how nice it is to receive packages.
If you are interested in signing up a soldier, please visit us at www.pieceofhome.org
Read More

Answers

I am the new FRG Leader for the Charlie Co. of 1-82 ARB in Ft. Bragg, NC. I was wondering if anyone had any idea about which companies donate to troops going overseas? Any info would be greatly appreciated!
Claudia from Fort Bragg, NC
Read More

Answers

I am looking for web sites, companies or individuals that are willing to donate several X_Box 360 to send to my son and his platoon. They had one but in the sandy conditions they had to take it apart to clean it and it broke and that was the only one they had. PLEASE HELP!
David and Roxanne from Atlanta, GA
Answers

October 9, 2007
0

found this helpful
Contact your local Veterans of Foreign Wars (VFW)they will help you. These men and women have served the US in times of war and they are almost
always willing to help. Also stores donate to VFW
and they may be able to get a few for you. Just
call one and ask.
Answer

this Question