Simon is a 3 year old Dachshund (standard.) I got Simon when he was barely 8 weeks old.
He loves to chase the laser light and sleep in my lap.
When he thinks he isn't getting enough attention, he will sit up and talk and talk and talk unil you notice him.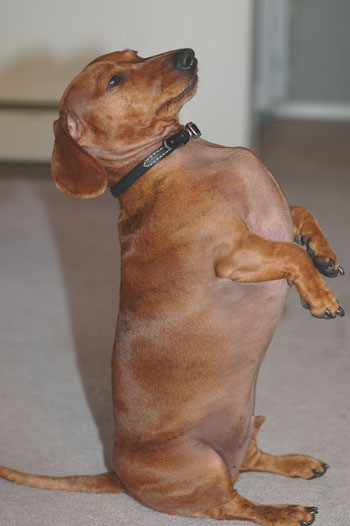 By Robin from Aurora CO
Answers:
Simon (Standard Dachshund)
What a cutie! (02/22/2006)

By Stephanie
Simon (Standard Dachshund)
He is just tooo cute, I bet he rules the house! Give him a kiss for all of us thrifty fun people! (02/22/2006)

By jwrh626
Simon (Standard Dachshund)
He looks so regal. He sounds like a fun guy.
Have fun. (02/22/2006)

By meoowmom
Simon (Standard Dachshund)
Look at him! He is just SOOO precious. (02/23/2006)

By Campnluray
Simon (Standard Dachshund)
I have never seen a dog sit that way before but it makes sense to use your tail and legs as a balance
he is very cute. (02/23/2006)

By susan from hamilton
Simon (Standard Dachshund)
I want Himmmm! (02/23/2006)

By Dianne
Simon (Standard Dachshund)
we also have dachshund that we found while living in Houston. We went everywhere trying to find the owners but never did an of course we fell in love with her. We named her Mishka II after anther Mishka that we had just lost. Although they were never together an she was a poodle its like they are the same dog...neither one ever knew they were dogs. she adopted a little stray kitten an that is her baby. of course when we moved they both came with us an love living in the country. Mishka II has even been invited to school for show an tell by one of the teachers as she is so loving an gentle. these dogs are just a delight to have an so well behaved too. (02/24/2006)
By jodi
Simon (Standard Dachshund)
we do have one problem though...we have tried alot of different types of winter coats for Mishka II but her little legs are so short she just steps right out of them...may I ask what you have found for a coat for your little one
thank you (02/24/2006)

By jodi
Simon (Standard Dachshund)
just be careful as doxies are notorious for back problems. i have to doxies and one has already had back surgery for two ruptured disks. keep foot stools by chairs, couches and bed for them. here is a website for doxies WWW.DODGERLIST.COM. Doxies are such lovers, lets take care of them. (03/01/2006)

By Doxielvr
Simon (Standard Dachshund)
Yes do be careful about any sitting up or jumping. I have 3 dachsies. My oldest is 13 yrs old this month. i discovered via an emergency trip to the vet that he has bone spurs. I've gotten him to lose weight and discourage jumping by providing multi-level steps for him as he will always want to be up in a chair, on a couch or get up to the bed that we all share. So good so far. My middle canine daughter loves to dance in circles for a treat. i've also had to try to dicourage this while she is still a youthful 6 years old. I've gotten my 3rd adopted male of 4 yrs old to stop trying to jump up into my arms. He mistaken thought he was an acrobat. I love my canine kids so much I joined a local dachshund meetup group. http://dachshund.meetup.com/ (03/04/2006)
By Dachsymom