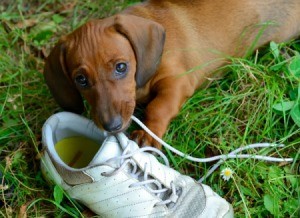 I have an 8 month old mini-dachshund who still cannot be trusted for very long in the house without urinating somewhere. I have crate trained her, but she still has submissive/excited urination as well as urination done "on purpose" when she is mad at me. Yesterday she actually came up to me and peed on my foot.
What does this behavior mean? I have a part time job and give a lot of attention to my 4 year old son. She also bites him sometimes during "play" and hurts him. I scold her for this, but then she pees on my foot or something. I'm at the end of my rope with her, what do I do?
Erin
Answers
April 16, 2007
0

found this helpful
Best Answer
The dog needs to be in the crate when you go out.
It may take a while to break him of peeing but stick it out! It is also good to train him to go into the crate on command. You may need to have the door open to bring in groceries. This way you don't have to worry about him getting out or underfoot.
April 16, 2007
0

found this helpful
Best Answer
If you do not want your dog to dig all over the yard or under the fence try this.
Pick an are where you will let him dig. Bury treats here now and then. This will direct him where you want him.
I am not sure you can get him to stop digging all together.
By Doggy (Guest Post)
April 17, 2007
0

found this helpful
Best Answer
Urinating on you is a sign of alpha behavior, as is biting your child. I have no doubt you love your dog, but you may have to chose between your dog and your child. Your child has a right to be safe in his own home. A dog who has bitten is not a safe companion. The bites might have been minor so far, but you cannot predict with 100% certainty that the next occurrence won't be a major bite or attack. I urge you to find a loving adult for the dog, with people who understand alpha behavior and can control it.
I was in the same situation 30 years ago, and it broke my heart to have to place my beloved pet, but a childs safety must come first.
April 17, 2007
0

found this helpful
Best Answer
My terrier years ago "marked" my pants leg only once, and that was while I was standing in a neighbor's yard talking. I think he was literally marking his territory - me. Dogs are pack animals; they need to know that you're the boss of the pack and that you will take care of them always. If you have to have a dog, maybe an older dog would be better, one whose history you can find out from the animal shelter. Good luck to you.
Read More

Answers