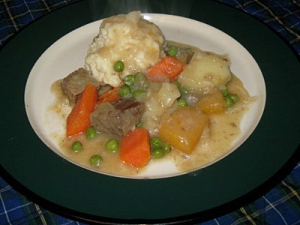 I made this way of making a stew up myself and have stuck with it. Always a good hearty meal for the family. If it is just two of you, great because heated leftovers are so good!
Ingredients:
1 lb. stew meat
1 small onion
2-3 Tbsp. oil
1 small turnip
2 large carrots
1 large parsnip
3 medium potatoes
1/2 cup frozen peas, optional
Dumplings:
2 cups flour
4 tsps. baking powder
1/2 tsp. salt
2 Tbsp. margarine
1 cup cold milk
Directions:
In a deep dish non stick frying pan heat 2-3 Tablespoons cooking oil. Add diced onion and cubed stew meat. Brown meat and onions well on medium heat and then add enough water to just barely cover. Simmer 15 minutes.
In the meantime prepare your veggies, cutting them into good size chunks/pieces.
Add carrots and turnip to the pan with more water if necessary - Simmer for 20 minutes. Then add potatoes and simmer 15 minutes. Add parsnip and simmer 15 minutes. If necessary add a bit more water and then add frozen peas and drop the dumpling mixture (see below for recipe) on to top of stew. Cover and simmer for 12-14 minutes until dumplings are done. Do not lift the lid during this time.
Thicken if desired by stirring in a flour and water mixture.
For Dumplings:
Stir flour, baking powder, and salt together in a bowl. Cut up and work the margarine in with a pastry blender. Add milk gradually and mix with a fork to a soft dough. Drop spoonfuls onto hot stew mixture.
Servings:
4-6
Time:
15 Minutes Preparation Time
90 Minutes Cooking Time
Source: My own recipe I have put together years ago when raising my family.
By linn from Dartmouth, Nova Scotia
Comments