I keep finding slugs that come into my house at night. Help! Advice from the ThriftyFun community. Post your own slug prevention tips here.
A Pan of Beer
If you can find out where they are coming in try putting some beer into a shallow dish or pan and place it at their entry point. Slugs and snails love beer! (And they die happy.)

By Seagrape
A Line of Salt
A good way to keep slugs out of your house is to lay down a line of salt all the way around your house and especially the door openings (they can squish themselves down and get through tiny spaces). The salt will kill them if put it on them directly, and if they crawl across the line of salt, it gets all over them. Have you ever stepped on a slug barefooted? I HAVE! eeww! Also, a shallow pan of beer under plants and outside of doors will attract and kill them too.

By Glenda
Rough Edges Deter Slugs
I read somewhere once that any rough edges will deter slugs, like crushed egg shells around the exterior of your house, they won't cross the line as it cuts into their bodies and they turn away. Rotten granite is good and pretty too, use it in flower gardens if you have any that border your house and then they don't invade your gardens either. Slugs are creepy creatures even if they do have a place in the natural cycle of things. I doubt that cycle needs to include our homes. Good Luck.

By Barbie
Copper Tape
You can buy rolls of copper tape at the DIY store; we have used it successfully this year to keep slugs and snails out of the plant pots on the patio and also we put a strip along the threshold of the lobby where the slugs were getting in. It definitely worked as we had none in the lobby for ages until our new puppy chewed up the tape and now they are getting in again! Looks like I am off to the DIY store again!

By Heather
More About Salt... and Copper
I know salt has already been suggested, but I thought I would add another thought to it. Since you can see the trail where they have been, place a light layer of salt down where they have left their trails. The salt will actually kill them because it dries them up - like almost instantly. I'd suggest sweeping the floor before the kids get up.
Also, the copper is a very good idea. What actually happens is when they crawl across it it creates an electrical type reaction and they literally zap themselves crawling across the copper.

By TonyaG
Salt Worked for Us
My boyfriend and I are having the same problem - slugs in the kitchen overnight. I woke up the during the night and found eleven crawling over my floor, that is after having already picked up 4 when I had come in late from work that same night. We have put a line of salt along the wall that they seem to be emerging from and - touch wood - have had no more late night visits.

By Michaela
Sealant
I have the same problem with slugs. The way I stopped them is by putting a layer of sealant (clear rubber) round the edge of the back door where they were coming in, presto, no more slugs.

By Laylabug007
Nail Varnish Remover
Nail varnish remover works the same as the beer but better, we found this out by chance when we ran out of beer. It kind of burns them up from the inside, not for the squeamish.

By Lou
Editor's Note: Be sure that you have no pets or small children around if you are placing any chemicals on the floor, even beer.
Oyster Shell
A new one I heard on the radio this weekend for getting rid of slugs is oyster shell. You can buy it at a feed store. Sprinkle it where you think they are getting in. One thing about slugs is that they leave a trail, follow it back to where they are getting in the house.
Seal Up Holes And Cultivate A Frog Pond
I once had the same problem maybe 3 a night in a house I had bought, I sealed up all the gaps on the back wall to the kitchen i could see from outside with that foam sealer stuff and that seemed to work. 8 years, later no visitors. I have moved since and now have a garden. I am a strong believer in having a pond, you will soon have frogs and believe me they love them. Plus with all frog's natural habitats being dug up for new houses these days, you're doing them a favour also. Good luck.

By Reader747
Slugs Can Get In Tiny Cracks
One night, I stayed up and watched where they came from and went to. I watched one and the big fat bloater could actually squeeze through a crack in between the architrave and the wall no wider than a hair. So I'm slowly but surely reducing the numbers, and I'm narrowing down the holes. Also I found one which has got stuck half way through a tiny crack and died, and had to snap it in half. The thing was full of cat food, as I think they come into our house for this reason as we have it on the floor, in dishes of course.

By Danny, Bolton UK
Feel free to post your ideas below.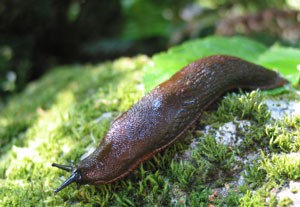 Answers:
Slugs Inside My House
I'm more concerned about the dampness you must have in your house. Slugs like to be where it is damp and shady. Its not good for your house to be that wet. Moisture causes molds to grow and wood to rot. Its not good for a house.

I run two dehumidifiers in my lower level during warmer months. I have a bi level house and its actually our cellar, but we live there too. Our family room is in the basement.

I like the suggestions offered by others, but couldn't help but bring up this problem that I feel is associated with your problem. Maybe if you remove the moisture the slugs wont be as attracted to your home. (05/16/2008)

By Carol in PA
Slugs Inside My House
Thanks for the info. I have found them in the basement which is clean and used, but connected to a work room and outside door on the ground level, I have a cat door and they were coming in for the cat food. sage (06/30/2008)

By sage
Slugs Inside My House
I have been getting slugs in my kitchen. A family member gets them in her downstairs bathroom. we have worked out that we both have decking in the area outside where they are getting in. I bet the majority of slug sufferers have decking, decking looks good but is not for the English climate. Nice damp dark wood, perfect for the little buggers. (08/12/2008)
By pammie
Slugs Inside My House
I don't know how much a damp home has to do with slug problems. My house is large and airy and we have never suffered from damp yet I will find slugs in the kitchen whenever I go downstairs in the middle of the night. Our slugs don't even seem to mind carpet, as I saw a long slug trail going all the way across our hall!

We have new PVC windows and doors and I very much doubt that slugs could come through these. Do you think that they could come up through the drainpipe? (08/15/2008)

By Chris in Newcastle, UK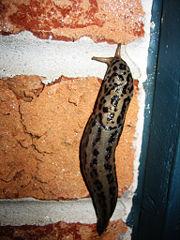 Slugs Inside My House
Yes, I had to slugs in my house last night. We kill one with salt and don't know where the other went. We put salt down where they where coming in at. I call the pest guy and he said go buy some stuff at the hardware store and put it around the outside of your home. (08/29/2008)

By Kathy M
Slug Are Taking Over
Check for slugs in A/c vent and cracks near doors. (09/01/2008)

By The Christian Show
Slugs Inside My House
Thought I was the only sufferer of Slugs in the kitchen. I didn't realize that we had a community. Anyone fancy a anti slug picnic? (09/17/2008)

By Mike
Slugs Inside My House
We have the same problem. They are coming for the cat food, my husband went into the kitchen at 11.45pm the other night and there was 25 slugs there! GROSS! He put salt on them and I have been trying to seal gaps.

I would just like to know what colour the slugs are which go into other peoples houses? The ones that come into our kitchen are a horrid pale brown colour with darker spots. They are not the same as the slugs outside in the garden. (10/03/2008)
Slugs Inside My House
We have slugs coming into our house. We have tried salt but they seem to stop where the salt is and turn back round. We have looked everywhere for them but can't seem to find were they are coming from. (10/04/2008)

By kayleigh
Slugs Inside My House
We've been getting them in our house for some time now. Just a few minutes ago I found one and when I looked closely at it, I noticed loads of tiny little white insect type things, running all over it. Does any one know what these are, and has anyone noticed these before? (10/06/2008)

By Chris
Slugs Inside My House
Found a slug in the kitchen last night, cant believe I have found another tonight coming though the bottom of the door, where you would have trouble fitting a hair. I also have new decking so maybe this is the attraction or it is my husband who has been smelling strongly of beer after a late night party? (10/07/2008)

By Cecilia D
Slugs Inside My House
Found a slug in the kitchen last night, can't believe I have found another tonight coming though the bottom of the door where you would have trouble fitting a hair. I also have new decking so maybe this is the attraction or is it my husband who has been smelling strongly of beer after a late night party? (10/07/2008)

By happy slug
Slugs Inside My House
We have had slugs for months. Every morning I notice a new trail. They are always around my son's toybox. Also by my fireplace in the lounge and in my kitchen.

We have tried salt. I want to use pellets but I have a 2 year old son and don't want him to pick those up! And yes I've also stepped on a slug barefoot....yeww! Also when you put salt on them it's gross they fizz and go all mucus like and thick yellow goo oozes out of them. It's like a chemical reaction! (10/10/2008)

By confettigirl
Too Kill A Slug
My Grandma swears by light beer in a shallow dish, like a pie pan or the lid to a butter container; and salt. A line of salt around your house, in front of all your doors and on your window ledges. It will work wonders if you use both! Good Luck! (10/11/2008)

By Theresa
Slugs Inside My House
Yup, I too have slugs! They even leave trails on the ceiling!! Don't know where the blighters are coming from, but we have decking too, so maybe there is a link. Even more disturbingly, my husband picked one up with tissue. Before he threw it into the toilet we discovered it had lots of tiny little white bug things scooting around all over its pale brown head in its slime. Urrrgh! Totally disgusting! (10/14/2008)

By gingerbird