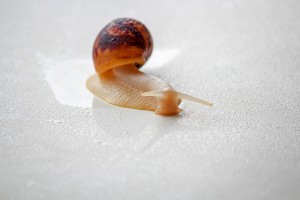 Slugs are getting in through a hole in the kitchen floor. I told my parents, but they don't seem too concerned. It was just one maybe every 4 weeks. I went in my kitchen earlier and found four of the slimy things. I am very squeamish and they have caused me to not eat in days. I can't walk through my own home without wearing my ACU boots. Can some one give a way to get rid of them?
By daveslone1929 from Seattle, WA
Answers
September 9, 2013
1

found this helpful
Plug the hole up with caulk. A small tube of caulk is very inexpensive at many stores. I had ants coming in a small hole in my ceiling and plugged the hole with caulk & am free now. You can fix this yourself today to be slug free forever.
Read More

Answers
How can I get rid of slugs? They come in my living room every night and climb over everything and leave their awful slime. I got one the other night so thought that would be the end of it, but no. There must be loads of them! I need some help on this, the slime is driving me mad.
By Dawn Rose from UK
Answers
June 26, 2009
0

found this helpful
Find out where they come in then place a thin strip of copper foil tape along the door base or window. The slugs won't crawl over copper. This is great for window boxes! You can find copper tape at plant nurseries or hardware stores. I bought a large roll for around $5 - $7. It comes in several thickness. A thin piece of real copper screwed down will also work.
June 26, 2009
0

found this helpful
Slugs don't like to crawl over anything scratchy like sand that cuts. Put some around the outside of the house. You could also glue loose sand over a large cardboard and lay it down at night where the slugs are entering/exiting once you learn that and lift it during the daytime. Good luck!
June 27, 2009
0

found this helpful
I would sprinkle salt over doorways and on the carpet and all over. I do that for flea control also in the house, that and vacuuming. I hate slugs. I know they hate salt so I would put salt over everything.
June 28, 2009
0

found this helpful
Put out a glass of old beer. Or do you call it ale in the UK? I remember some gardener telling me that that will get rid of them.
November 2, 2009
0

found this helpful
Wow! I am so pleased to know that I'm not alone. The post by Stuart on 01/14/09 sounds just like my situation. In fact, I first saw the trails on my carpet two weeks ago and couldn't figure out what was happening. Then last week I caught one and put it outside. I thought that was it. But then, tonight I ended up relocating three more slugs. So- I promptly freaked out and searched online about how to get rid of them. I'm now concerned that they may have laid some eggs under my filing cabinet or bookshelf. I will try your suggestions with the salt tonight! Thank you all for posting.
Read More

Answers
I have slugs in my kitchen. I don't just want to kill them - I want to be rid of them. How do I do this? They climb up into my silverware drawer, my cupboard where I keep my pots and pans and now they are bold enough to be on my back door. I live in a very moist area due to the fact that I am near the water, a lot of mold and moisture. How do get rid of these disgusting creatures?
pms6474
Answers
By Michawn (Guest Post)
December 26, 2006
0

found this helpful
I can't think of any way to get rid of them without killing them. I do know a GREAT way that they can leave you alone, and they won't feel any pain. Set out a pie dish of beer, they'll drink to their hearts delight and die drunk. As for getting rid of them? Don't know, all I know is ewww, I hope you find something, I thought ants in the kitchen were strange!
By tina (Guest Post)
December 26, 2006
0

found this helpful
lay out some salt like around the area u dont want them. maybe if u know were they are coming from u could lay salt there. it kills them and keeps them out i find.
By Tina (Guest Post)
December 30, 2006
0

found this helpful
Try pouring salt where you think they may be entering your home. They will not cross it, as it sucks the moisture from their body. By the way, if you do ever want to be rid of them, you can pour salt on them.
By Lynda (Guest Post)
January 2, 2007
0

found this helpful
I've heard that slugs carry some of the worst soil born viruses, bacteria, and fungus. I'd put out LOTS of plates of beer, and since salt it is so cheap.
I'd turn over every rock, pot, slab, stepping stone, piece of wood, leaf pile, then look in every single cranny for their houses and babies, THEN , when found, pour a one inch wide ring around their house and YOUR house, to be certain they are kept at bay. I'd make a monthly ritual of this since you live by the water from which they come the most.
Also, I'd sprinkle salt around every single pipe
opening, on the floor of every cabinet/pantry/closet,
AND sprinkle it into the tracks of all doorways, and
keep doing it until the numbers are so small that
they dare not cross the lines. Remember that many
plants don't like salt, so go OUTSIDE the plants/shrubs/tree drip lines with the salt. These things eat plants of MANY kinds, as well, so you'll be doing great warfare by your efforts, the medical reasons being the more important, obviously. Don't let your children play with them. Wash/bleach all dishes and silverware a.s.a.p. and place them in bags temporarily, until you get these things under control! They're nasty, believe me. God be with you. : )
February 15, 2007
0

found this helpful
I had this problem when I was replacing some wood rot in my kitchen.
You'll need to reduce moisture conditions (check pipes for leaks and excessive moisture too) as much as possible and invest in a couple of tubes of silicon caulking to seal up any points of entry they might have and replacing anything that has rot in it
The problem with spreading beer out is that it will kill some slugs, you risk attracting roaches and ants in large numbers. Take some salt and mix it in water and lightly spray it in areas where you find the slugs most often and routinely clean with stuff that has bleach in it.
By (Guest Post)
June 24, 2007
0

found this helpful
after reading all the other comments a feel a bit better known am not the only one got slugs in my kitchen thank god they are horrible am going to try salt tonight fingers cossed a wont wake up to find more trails
By mary (Guest Post)
December 3, 2007
0

found this helpful
I have slugs every were in my kitchen sun room everywhere. I don't know how 2 get the out of my house I tried 2 put salt every were but still it doesn't work.
By Rebecca (Guest Post)
June 17, 2008
0

found this helpful
You could find them when they come out at night, catch them and relocate them to a forest/park
January 13, 2009
0

found this helpful
Put copper tape across the bottom of your doors, outside.They will NOT cross the copper. Hardware stores or Lowes will have some. Since it is a tape, just peel and stick.
October 30, 2009
0

found this helpful
I can't tell were they come from what ever I try!
My mission is on.
First attempt-Day one: I am traking the beast by attaching(as gently as possible)a piece of string to it and with piece of white paper at the other end of the string, will see tomorow if I can locate them!
Will let you know...
Meanwile, Tell me why they attracted to my house, the damp? is it a sign that my house structure is geting old? any answer?
Read More

Answers
Every morning when I get up there are these snot-like trails on my living room carpet. It's easy to wipe off, but I have an eighteen month old grand daughter that plays on that carpet and I am worried that she could catch something from what the snot might leave behind, even when cleaned off. If someone could tell me what to do, for instance is there a spray or something that will deter whatever it is slug or snail, I would be very grateful.
By Stuart .G
Read More

Answers
I live in a ground floor apartment and have a dog, so salt in my carpet is out of the question. I find them in my kitchen and I know they are harmless, just gross. My complex can't figure it out and the bug man can't either. Any suggestions that won't harm my dog? (He's just a puppy.)
By Laura from Charlotte, NC
Read More

Answers