I have black bugs that look and act like lightning bugs (but without lights) coming into my house. They can get through the smallest opening in my new windows. They fly but not much, they are easy to catch, but there are about 50 a day getting in. They definitely aren't roaches, not nearly as fast or ugly. They are black with red stripes.
Any suggestions?
My garden is just outside this window, but these bugs come in from January to April, and I don't see them in the garden. My neighbor doesn't have them, but my son does and he is 20 minutes from here. His garden is far from his house. I don't want to use poisons but what can I do?
Jeneene from Cincinnati, OH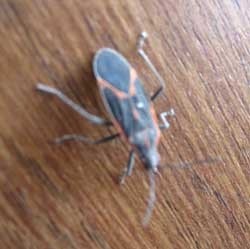 Answers:
Small Black and Red Bugs
Well, you've educated me today. I've seen those bugs before but I didn't know what they were. I did some "photo search surfing" on the net and my guess is that it's a Box Elder bug just from the photos I found. Here's a site for you to look for yourself. You can also key in "Box Elder" for more info. http://www.whatsthatbug.com/true_bugs_2.html (03/15/2006)
By SL Edens
Small Black and Red Bugs
I have them too, in western Michigan. They have been coming more and more every year. Thanks for the link! (03/15/2006)

By connie
Small Black and Red Bugs
These are called "Box Elder" bugs. They are more a nuisance than else. You probably have a Box Elder tree in your yard. They are a trash, weed type tree that once removed may end your infestation. I know, they are under the siding and come out on warm days during winter. We in Michigan have these trees everywhere. (03/15/2006)

By Ladybugv2
Small Black and Red Bugs
Thank you so much. I went to the site mentioned and read that dish washing liquid (they say Dawn works best) in water in a sprayer will kill them. I'm going to try now. I really appreciate ThriftyFun and all of you for your help. Any other suggestions still gladly taken!
Jeneene (03/16/2006)
By Jeneene
Small Black and Red Bugs
Yes, they are box elder bugs. They are harmless, but they do become a nuisance. We have them here, but my neighbor was really infested with them in her house and she had to get someone to get rid of them. (03/16/2006)

By Malinda/Pa
Small Black and Red Bugs
These bugs are Box Elder Bugs, which has already been said. They are more of a pest than a damaging bug. One way to get rid of them inside your house is with the vacuum cleaner, they don't seem smart enough to move away. The idea with the dish soap is good too. Spread it around entrances, this will also deter other bugs from coming in. (03/16/2006)

By Toni
Small Black and Red Bugs
Hang a bag of basil leaves and catnip in a porous bag. Bugs won't come into your home. (03/17/2006)

By Kimberly
Small Black and Red Bugs
Try mixing dish soap and water together in a spray bottle. Spray all over where they are, probably gathering outside, and don't forget to spray your foundation on the outside too. Even the ground along the foundation of the home. Good Luck. (03/19/2006)

By Safka
Small Black and Red Bugs
Those pesty things are "BOX ELDER" bugs. Totally harmless, but very bothersome. I too have them coming in my windows. They stay on the brick on the west side of the house so they can warm themselves with the sun. Sometimes if you can find groups of them on the outside of your house you can spray them then. As soon as it gets more consistently warmer weather they'll stay outside. (03/19/2006)

By anita from toledo
Small Black and Red Bugs
Our house sat empty for nine months before we bought it. During that time, the box elder bug took residency, we were infested, I mean bad. We would watch TV at night and 10 or more would be flying around you if you sat near a lamp. They also sometimes leave little tobacco type stains on your walls. They live under the siding and the wall of your home during the winter.
They love the south side of homes and love to sun bathe on our steel siding. We had to have an exterminator come and get rid of them. This worked great for a number of years. Then several years later they reappeared, but not in such quantity. The dish soap and water spray does the trick. It smothers them. Usually that is all I have to do now to keep them under control. (04/02/2006)
By Carole
Small Black and Red Bugs
My Venus fly trap loves these things. (05/26/2007)
Small Black and Red Bugs
http://www.uoguelph.ca/pdc/Factsheets/Insect/BoxelderBug.htm (02/25/2008)
Small Black and Red Bugs
I am so glad I found feedback on how to get rid of those red & black bugs. I used the dish soap & water in a spray bottle and BAM, they're gone. At least 30 were hanging out on my front door. They were everywhere! (04/18/2008)
By terry
Small Black and Red Bugs
I used to catch these when I was a kid. They were always at my grandparent's house in Alabama, and they're totally harmless. I would just leave them alone since they aren't a problem and let them do their thing. (05/07/2008)

By KC
Small Black and Red Bugs
These bugs are called box elder bugs. If you take water, dish soap, glass cleaner, and raid, then it will kill them. (05/11/2008)

By Amethyst
Small Black and Red Bugs
Yeah, we have these at my house. We actually hired an exterminator, because they were so numerous (we use lots and lots of Raid now, became too expensive). He told us that they are slightly difficult to kill, but very difficult to get rid of (Apparently, they keep coming back unless you kill every single one). My house is mostly rid of them, but since my neighbor does not see fit to do anything about them (they cover his siding in swarms), they still get in through my windows. (05/27/2008)

By Zadi
Small Black and Red Bugs
I live in Baltimore and have a white house. These box elder bugs seem to appear in March. I tried spraying window cleaner and it works! (06/22/2008)

By gwen
Small Black and Red Bugs
Thanks for your great idea! I had them all over my outdoor plants and it seemed to do the trick. It was sort of fun even! I just put a squirt of Dawn in my spray bottle of water and zapped them. I probably will have to go out every day and do the same as they seem to be hiding amongst the vegetation. Thanks again! (07/07/2008)

By ~Roberta
Small Black and Red Bugs
I have found that Dawn dish detergent in a spray bottle with water will kill these bugs within 2-3 seconds. And the Dawn mixture will kill almost every bug I used it on except ants. I spray areas in my home to keep bugs out. Also good to get fleas and ticks off pets. Search google for Dawn uses. (08/20/2008)

By Dawn Man
Small Black and Red Bugs
I know exactly what you are all going through, I have them it and just started a few weeks ago. I live in West Virginia and the elder box bugs are infesting my house. I live in my brother's house. I live in the part of the house that used to be a garage but was turned into a recreational room/ bedroom. It is has two double doors and somehow these little buggers are able to get in through the smallest space in the doors. I will try the dish soap and water method. By the way hairspray and raid was successful, it took a lot to kill them though! (09/28/2008)

By Autumn
Small Black and Red Bugs
We have them all over our cars, it's like thousands of them. While they're on the leaves of the trees I spritz them, lol, but it works. You'll need a lot of spritz though. (09/28/2008)
Small Black and Red Bugs
What can I say, I'm heading home right after work armed with soap and water. I've been fighting the same battle as all of you for two years now. Just recently we also found all these tiny little eggs everywhere. I mean everywhere, on our windows, walls, mirrors, shower curtain. I thought I tried everything, yet somehow I overlooked the simplest possible solutions. Hope it works! Thanks for sharing your stories. Now I know I'm not going loony! (10/06/2008)
Small Black and Red Bugs
These bugs are everywhere around my house, and we didn't really see them til we cut down the trees that fell over in the wind storm this year. We are deeply in need on how to get rid of these things. I'm going to try the soap in water idea and hopes that it works. These elder bugs need to find another home. Hope you enjoy this gross pic, this is just one of the pics. (10/12/2008)

By kathy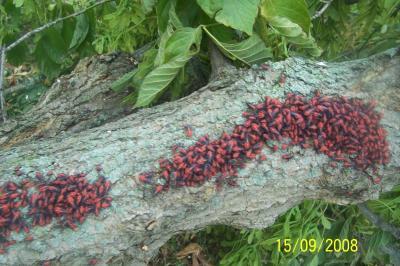 Small Black and Red Bugs
I live in NE PA, and can sympathize with you guys. These things are gross, and they do ruin things. They got into some of my husband's antique car parts and the whole box had to be thrown away due to smell and rust from their secretions. I had pretty much luck keeping them at bay with Lysol kitchen cleaner. Be careful where you spray, it has Clorox in it. But around doors and windows at least keeps them out of the house and from falling on you when you open the door. (10/15/2008)

By liz
Small Black and Red Bugs
I know for a fact that the dish soap and water works like a charm ! I had a really bad case of them last year and used the spray (any old brand will work, no need for name brand !) on my trees, house and porch. Where ever they are, just spray a little liquid on them. It doesn't take much, and is a lot cheaper than hiring somebody. (10/21/2008)

By Cindy
Small Black and Red Bugs
I just googled the name box elder bug and the site I hit was very helpful so I hope this helps everyone out a bit more. Have a nice day :) http://www.extension.umn.edu/distribution/horticulture/DG0998.html (10/23/2008)

By jaycen
Small Black and Red Bugs
These are all over my garage, but I sprayed some raid and now they're all dead on the floor. I hope they're not poison bugs! There are still 8 to 10 I see sometimes. (10/24/2008)

By I hate Bugs
Small Black and Red Bugs
Wow, this is the first time I've known that it wasn't just me! While attending University of Michigan, I had a nice apartment in a complex in Ypsilanti, MI. Then, one day I saw a gathering of these bugs outside. There were more everyday, and started covering my sliding glass doors. About a week later, they were coming in, a few a day, and within days there were tons coming from some hole somewhere near or in the sliding glass doors.
I tried searching the internet, but couldn't figure out what these bugs were or how to deal with them. I wish I had known about the dish soap trick, but Raid worked wonders. I bought the kind that is indoor/outdoor and says it kills on contact and lasts on surfaces for 3 months. It's meant to go around windows and foundations. I sprayed it all over the patio, windows and doors (both inside and outside frame).
It worked amazingly. For the next week, the patio and the floor just inside the sliding glass doors were littered with hundreds of dead ones. I just kept sweeping them out into the grass. Then, after a week they just stopped. I never had them be a problem again. :) (10/30/2008)
By nicole
Small Black and Red Bugs
We too have these bugs, they came after cutting down some trees this year. They are on the sunny side of the house. Thanks for the tips. I hope they work. (11/05/2008)

By KCornell44