Okay, I have little black bugs too. Has anybody else seen them appear up out of their skin? Mine come from under my skin. Crazy as that sounds, I witnessed it several times.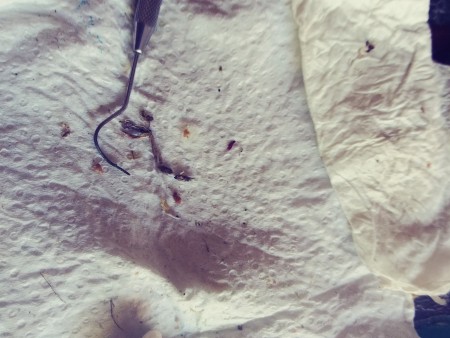 Last night while out loading brush, I got very hot and sweaty and I looked down and my arm was covered with them and I looked at my legs and my legs were covered with them. By the time I got in the houses to get in the bath, most of them are gone.
Along with the black dots I've had lots of other weird little bugs and stuff and balls of lint in my bath water. I always plug the drain and then put a paper towel over it to drain it to see what's in there. Sometimes you'll be thousands of little items in there. Along with that, I've had some little tiny flies living in my hair which is only a quarter inch long and they bite like hell.
Also last night when I was hot and sweaty and all those bugs came out, I looked down at my arm and there was a thick thick black hair coming out of my arm the wrong way. I reach down to touch it and it sucked back into my arm. Has anybody seen anything like that.
I'm going to download some photos. I'm kind of a hairy guy and I shaved every inch of my body and someone gave me some turpentine that they took to get rid of internal parasites so I started mixing out with shampoo and soap and I cannot believe what come off of my body. Now I'm just down to the little black dots. Like to know if anyone else has had this much stuff on them and I'm a clean person.