Does anyone have a recipe for making spaghetti sauce mix, i.e. Spatini? Thanks.

Bonnie

Editor's Note: We have had so many people commiserating about Spatini and not being able to get through to the Lowry's complaint line.
ThriftyFun has set up an online petition. Please take a minute to sign it if you haven't already!

Click Here to sign the petition
Answers:
Boycott Lawry's
It's so sad that Lawry's has such little regard for us since they have discontinued a spice that has been a part of my entire family for over 45 yrs. At our family reunion this weekend, we have decided to boycott Lawry. This new packaged spice is an insult to Spatini. Goodbye Lawry. We are going to pass the word on. (09/27/2007)

By RAVEN
Spatini Spaghetti Sauce
Please bring Spatini back to the super markets. As you can see, there is more then enough people who want it back badly and that's not mentioning the thousands of other people, who for some reason or an other, can't post and complain. It was an excellent product! (09/30/2007)
By Terri
Spatini Spaghetti Sauce
I spoke to a rep from Lawry's on October 22, 2007. The rep informed me of two reasons why Spatini was discontinued. One possible reason was poor sales ( I doubt this was the problem.) The second possible reason was the cost of the ingredients to make the spice mix was too high to continue marketing. I feel this was the reason it was taken off the market. I also inquired whether the recipe was for sale, this would be an excellent opportunity for spice giant McCormick's to purchase and remarket Spatini, I was told that the recipe was not for sale. I was also told that there are no current plans to bring the spice mix back too the market. (10/22/2007)

By Victor Shiflett
Spatini Spaghetti Sauce
I think it was a rotten thing to do. I want Spatini back! I did call the company and they said they were replacing it with Lawry's spaghetti sauce. I have not gotten to the store to look for it and to buy it. If they wanted to put the price up I know people still would of bought the product. (11/05/2007)
By Sally Vercusky
Spatini Spaghetti Sauce
Don't buy the Lawry's spaghetti sauce mix in the packet it is no way near the taste. I bought one packet and you know what, the rest can rot and go to waste. I feel all Lawry's products can just stay on the shelf. I will not buy any Lawry's products until they bring back Spatini!

Editor's Note: Lawry's parent company is Unilever which has tons of products. Maybe a boycott would get their attention. http://www.unilever.com/ (11/15/2007)

By Sally
Spatini Spaghetti Sauce
For those adventurous cooking souls out there that asked for a scanned image of the Spatini package so they could try and replicate the recipe, I've attached an image showing the back of box with nutritional facts and side of box with ingredients, info from the front of the box is "3 envelopes, each makes 1 pint" net wt of the box is 2.4 OZ (68g)
Hope this helps. and good luck! I look forward to hearing from someone that is successful. (01/05/2008)

By Tracey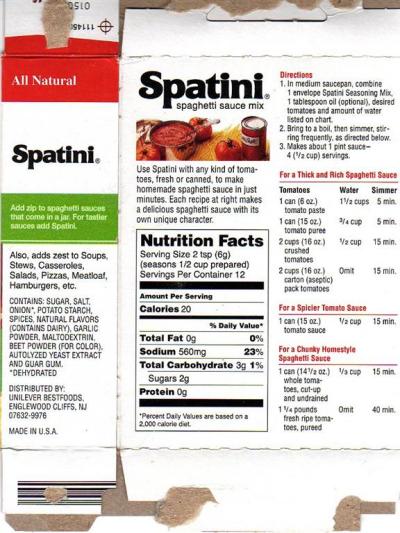 Spatini Spaghetti Sauce
Try this for a quick and easy faux spatini mix. Take one package of Good Seasons Italian salad dressing and recipe mix, (this will already have your onion and garlic powder in it. Add 1 tsp. of light brown sugar and than add a pinch of crushed red pepper. Make sure it's not old. I think that's the zing in spatini. You can put this through a blender. Use fresh onions and fresh minced garlic in your sauce or meat loaf recipes instead of adding extras to the powder. Keep it simple. No need to store. If you have a smidgen of spatini left over put them side by side and taste. Thank you to everyone who had an idea and shared. The company's apparent disconcern should not be a factor in our collective efforts to crack the spatini code. Today is the day to make the kettle sing.
(01/30/2008)
By Debbie T
Spatini Spaghetti Sauce
I sent an e-mail to Lawry's and they responded. This is their response.
"The product you have contacted us about has been discontinued. We are sorry that we do not have any remaining stock.
Our company's goal is to provide consumers with a variety of products to meet their needs and preferences. As you know, marketing is a complex function, and many business factors are taken into consideration before discontinuing a product. Before a product becomes available at the retail level, much time and expense is involved in perfecting the formulation, consumers focus testing, and marketing support. It truly saddens us when we must discontinue a product. However, consumer demand is a major factor. When the level of demand is insufficient to ensure that consumers receive high quality products at an affordable price, the product may be discontinued.
We apologize that this product is no longer available and hope you will continue to enjoy our products." This is their response. (04/02/2008)

By Shirley
Spatini Spaghetti Sauce
I have heard of a Food Distributor in Mechanicsburg, PA that is still selling this product. I think that is why you still see it showing up on eBay. For more information try http://www.spatini.info/ (07/10/2008)

By Spatini Lover
Spatini Spaghetti Sauce
I have the solution! Finally! After all the waiting.
The substitute is made by Penzeys Spices and is called Tuscan Sunset. The secret is out, tell everyone!
You can order on www.penzeys.com (09/06/2008)

By Henry
Spatini Spaghetti Sauce
Good news everyone. I just found a place online that sells the large 15oz packages of spatini. The shipping is a little high for just one so buy a bunch, the website is www.spiceplace.com its ONLY $ 6.39 for one 15 oz pouch my husband is going to be so happy. (12/12/2008)

By Gin
Spatini Spaghetti Sauce
Mcormicks makes spatini now only in 15 oz packages, though. (02/16/2009)

By jam
Spatini Spaghetti Sauce
Salt, sugar, dehydrated onion, potato starch, spices, maltodextrin, garlic powder, beet powder (color), dextrose, autolyzed yeast extract, partially hydrolyzed cottonseed and soybean oils, guar gum, carrot powder, modified corn starch. (09/13/2010)