I'm just starting a vegetable garden and I've never done this before. There is grass on the plot of land right now. I plan on renting a sod cutter and pulling it up. After the grass is up, I have tilled and added whatever the soil needs, will I be able to plant this spring? Or is it better to wait for the following fall to do this and then plant that spring?
Hardiness Zone: 9a


Erika from Vancouver, WA

Answers:
Prepared for a New Vegetable Garden
Absolutely! I was told not to plant until after the last frost date which was May 15 in our Western Oregon home. Here in Eastern Oregon we get frost every single month (at our house) so a garden is not something we can do. Check your frost dates. (02/13/2009)

By Judi
Prepared for a New Vegetable Garden
I would go ahead and plant this year. As long as you haven't used fresh manure in your dirt. Fresh manure can kill your plants. If you did use fresh manure then I'd wait till next year. (02/13/2009)

By Dee
Prepared for a New Vegetable Garden
You don't need to wait till next spring to plant. Check any gardening book or website to find out the last average frost date, then plant any time after that. Go to "gardening.wsu.edu" to get lots of information for gardening in your state. (02/14/2009)
By Jean from Raymond, MS
Prepared for a New Vegetable Garden

We made a 30x20 foot garden in our back yard with plastic and cement blocks. You do not have to remove grass. Put down plastic or a thick layer of news papers, and place cement blocks on top around the edge of the space. Then, fill it with compost or manure. You have a garden without weeds or grass for years. Add more compost as needed every year. I get manure from Lowe's in 40 pound bags, I have a garden all the year, I also make flower beds the same way, good luck. (02/14/2009)

By K W
Prepared for a New Vegetable Garden
I hate to tell you this, but...the grass will grow back. When you used the sodcutter, you just cut off the roots and left them in the ground. It is a very slow process to get rid of the grass. It's best to use something like Round-up over a period of months. The temperature has to be warmer for it to kill everything. Then, you have to wait a couple of weeks before planting. I have a garden spot that I just gave up on. It was simply too much work to get rid of the grass. (02/14/2009)
By Artlady
Prepared for a New Vegetable Garden
I have heard of the newspaper method before, and I suggest you try that, rather than the Roundup or the sodcutter. What I was told to do was to cover the ground with a thick layer of newspaper. I take this to mean 8 or 10 sheets at least, but not of course, 6 inches! Cover the grass completely. Then cover this with a layer of topsoil, 6 to 8 inches, I guess. Let this sit for a year, rotor till the following spring, and you are good to go.
I suppose you could do this pretty much anytime in the spring or early summer. The newspaper will keep the grass from growing up through the new topsoil, and the grass and roots will just die and biodegrade. The newspapers will also, so you have no layer of plastic to deal with. After a year, it is just dirt.
I also assume that you have to hoe the weeds the first year, while you are waiting for the grass to die and the newspaper to rot. Newspaper is better than a layer of plastic, as it will biodegrade and be gone. Drainage will not be an issue when you plant your garden. (02/14/2009)

By Louise B.
Prepared for a New Vegetable Garden
My brother in law tills gardens as a sideline. People make new gardens and he tills sod up all the time. He recommends raking up sod chunks that are not tilled up and removing them. New gardens should be tilled several times before planting. We bag our grass and spread it in between our rows - right up to the plants and in between in some cases. Prevents weeds and keeps the soil from getting so dry. (02/14/2009)

Prepared for a New Vegetable Garden
After you use the sod cutter, lay dark plastic or up-side-down carpet or many layers of newspaper (my personal choice). Leave that there at least a week in the sun, it will help kill any grass or weed seeds left in the soil. Amend the soil with compost, peat, etc.
and check the ph levels for the veggies you are planting. Then plant away. The only reason you would need to wait is to allow a full season to kill off the grass and weeds, but as long as you mulch well after planting (I use a salt hay) you shouldn't have a big weed problem. (02/14/2009)
Prepared for a New Vegetable Garden
Have you tried, organic gardening.com ? They tell you all about, things like that and more. (02/14/2009)

By Laura Meller
Prepared for a New Vegetable Garden
Last summer I laid a piece of black plastic where I wanted to extend my garden and it has to be black because the sun will provide the heat under the plastic to kill the grass. You need to leave this down for several weeks. I'd do it now so there is plenty of time for the sun to work.
No chemical or sod cutter is needed. The newspaper works too, but grass tends to grow up through the seams of the newspaper. You should be able to plant the garden this spring. I'd till before I'd plant too, it will loosen up the soil to plant. (02/14/2009)
By CW
Prepared for a New Vegetable Garden
I agree with the posts about not having to remove the sod, if you plan on roto-tilling. I have started new gardens every time we have moved (5 gardens), and all but once, I simply tilled well, raked out any sod that was not broken up (and put it grass-side down in the compost bin), and added anything I had to amend the soil--peat moss, bagged manure from the garden center, etc.
As the garden was growing, if any grass started to show, I just pulled the clump, and put it in the compost pile. (In Houston, I built raised beds, and had dirt brought in, because my yard had clay "gumbo" for soil, and I didn't feel like working on the soil for years.)

I did actually till the garden space three or four separate times, several days or a week apart, before the first planting, as I am lucky enough to own a tiller. But if you are renting one, just go over the space a number of times the same day, setting the tiller to go deeper with each tilling. Most of all, have fun. Enjoy yourself! (02/15/2009)

By Jill
Prepared for a New Vegetable Garden
Google "Lasagna Gardens". You will find several different sites, but the methods are basically the same; no digging, starts with laying down several layers (20) of newspaper or brown corrugated cardboard, and wetting it down.

Layer all of your kitchen compost (plant material, no meat/fat) all of your grass clippings, all of your leaves, to a depth of about 1 foot. Another layer of newspaper, then more kitchen compost/grass/leaves, and on and on. At the end of the summer, a 20 x 30 ft bed should be about 2 ft high. If it is sufficiently broken down by the fall, you can till it for next spring. If not, till in the spring, and you are good to go.To expedite the process, or to get the beds higher, you can buy already composted material at most municipal dump sites, for about $4.00 a 1/2 ton truckload.

I make a new flower bed every year, and this works best as I cannot get a truckload of soil, other than having it dumped in my driveway, and wheelbarrowing it about 100 feet to the flowerbed. Too much work! Composting is work, but, it pays off! (02/17/2009)

By Linda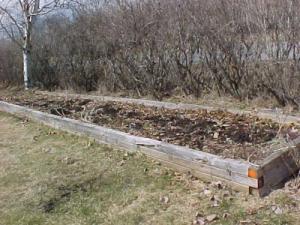 Prepared for a New Vegetable Garden
Oh yeah, no treated lumber or railroad ties around a garden you're going to eat from. Flowers or shrubs, Ok - food - I don't think so. (02/18/2009)

By "Clay" Gardener
Prepared for a New Vegetable Garden
While all the other comments are about specific ways to start a garden, I want to quickly add here that it is the perfect time to think about compost. Nothing fancy. An empty coffee can with a lid put on the kitchen counter collects coffee grounds, carrot peels and egg shells. Fill up the can and dump it in the soil. Remember the coffee grounds are acidic and add nutrients to the soil of tomato plants and blueberry trees. (02/22/2009)

By Cheryl
Prepared for a New Vegetable Garden
Yes, you can plant this season, I have used Roundup on the garden area myself, then raked the dead grass and then used the weed eater to cut even shorter. I used Roundup a second time to make sure, its like a second go round then, rototill. I then wait a month before planting anything. I have a compost built, add fresh soil to the ground and then rototill all together and row it up for planting. Yes, is a little extra work and is well worth it at harvest time. My garden is about 10 x 12 and I work full time. (02/23/2009)

By Priscilla