EllenB
Gold Post Medal for All Time! 858 Posts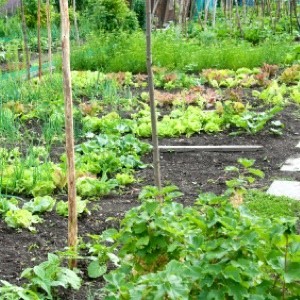 Feast or famine in the vegetable garden. Either everything is ready at once, or you're waiting for something to be ready. One day you're overwhelmed by a giant harvest, and the next day you're looking at empty rows. Sound familiar? Here are some solutions to avoid the feast/famine cycle of vegetable gardening, and produce an even supply of vegetables throughout the season.
Grow a Range of Varieties
One way to avoid being overwhelmed by a single harvest is to grow several different varieties of the same crop that will mature at different times. Many crops (e.g. melons, carrots, peas, tomatoes), designate certain varieties as "early" or "late" according to their days to maturity. By selecting several varieties and sowing a few of each kind at the same time, you'll be able to produce an even supply.
Succession Planting-Two Methods
Succession planting is the key to ensuring a continuous, even supply of vegetable crops throughout the season.
Method #1: Plant small amounts, often. Sow fast-growing crops like radishes and spinach once a week; sow beans, beets, carrots, scallions, and salad greens every two weeks; sow cucumbers and summer squash once a month.
Method #2: Don't leave any space empty. As soon as one crop is harvested, clear the soil and plant another.
Intensive Gardening Techniques
The following techniques are a great way to efficiently utilize garden space, and avoid the "famine" that occurs while waiting for slower-growing crops to mature.
Interplanting (or Underplanting): Sow fast-growing or small vegetable crops on the bare soil in between rows of your slower-growing main crops. For example, sprawling zucchini, squash or pumpkins will spread out and suppress weeds when planted under taller plants like sweet corn or pole beans. Vegetables such as lettuce, spring onions, spinach, or chard can be planted in the bare ground around slow-growing members of the brassica family.
Double Cropping: This technique takes advantage of the fact that some seeds mature more quickly than others. The seeds of fast-maturing crops are sown between the seed's of slow-growing crops and harvested before the slow-growing crops need the space. For example, parsnips are very slow to germinate, so it makes sense to sow seeds of fast-growing vegetables like radish or leaf lettuce between them until the parsnips catch up.
The Effects of Your Zone
If you garden in a colder zone, you have a lower number of frost-free days than gardeners in warmer zones. You may only have time to grow two successive crops during the season, instead of three or more. To figure out if you have enough time, add the number of days to maturity together for the crops you want to and compare them to the total number of frost free days you have available to see if your season is long enough.
Remember that the days to maturity listed on seed packets are just guidelines. Weather conditions and other factors can speed up or slow down growth. Plants also grow more slowly as autumn approaches. It's best to add 2 weeks to the days to maturity for fall crops to compensate for the slower growth caused by less light and cooler temperatures. You can make up the difference by extending the season a few weeks on either side by using protective row covers, cloches, or cold frames.