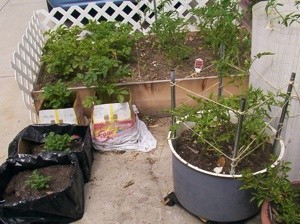 How I made a raised garden out of cardboard boxes, a tub from an old washer and some lumber on top of my driveway. I had to haul in a pick-up load of dirt. Then I build a 4x6 foot box. I have 12 tomatoes, 10 potatoes, strawberries, corn, squash, watermelons, sweet peas, onions and cucumbers. There is also one hanging tomato I wanted to try.
The potatoes are in Eggo boxes lined with garbage bags. The white cylinder is an old window shade to encase the tomatoes. Trying to keep the birds and squirrels out. The silver metal tub is the inside of an old washing machine.
By Leonard from Moorpark, CA
Comments
Read More Comments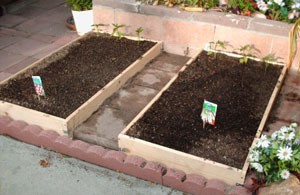 Hubby started his raised veggie garden. Since we don't have enough sun or DIRT to do a big garden, here is his way to help fight food costs. Well, maybe $1.00 each for radishes isn't saving us anything yet, LOL but maybe the cost will go down as he learns how to garden. Time to start the Victory Gardens of WWII
Radishes, green onions and sweet yellow wax peppers, he thought were bell peppers. Bless his heart.

By Great Granny Vi from Moorpark, CA

Answers:
Raised Veggie Garden
Hey in these days of rising fuel cost etc any little bit helps. We have just started to do our own vege patch using a system called square foot gardening, here is the link for the website:
(05/13/2008)

By Kerry
Raised Veggie Garden
Raised garden is great. We did it for years. Go one step further. Try Square Foot Gardening. It's fun and gives you a ton of food for less and less work. (05/13/2008)

By Frank
Raised Veggie Garden
I have done this for years, not knowing how toxic the ground in my yard was by 2 major highways--a lot of my yard was turned into 6x8 or 6x10 by 12-18 inches high. Depending on what goes into them decides the depth and the texture of the soil. More sandy for the carrots and beets, spinach, lettuce. Taller garden for the often picked items (bending over).
I have a 20 foot long 5 line clothesline which both ends are never used, so the gardens were planted at each end of these also. One end is a U square-shaped, and the other rectangle. Have square ones in the yard around the front of the house.

Also, around the foundation of my house--40 inches out and 24 inches high is a full bed. Part is for the herbs, then flowers, some onion and chives mixed in. Deters the bugs, etc when mix-matching vegies with flowers. My rows in my vegie gardens are 6 inches apart, tall chicken fencing between rows once growth starts. I train the growth up the fencing. Tomato cages are handy for the cukes, squash, zucchini, eggplant, oh, tomatoes too. The climb and inner-twin, I look from under the plants to see the produce hanging to pick.
When the grandchildren's covered sand boxes are emptied in the fall, I dump them into the gardens and till down. Nicest part is, they look like flower gardens--toss some tall growing seeds into one end, etc they look beautiful! Another smart granny! (05/13/2008)

By grandma J
Raised Veggie Garden
I reuse vegetable parts from the grocery store or farmers markets to add to my garden. I cut up old potatoes that have started to grow eyes and plant those. I plant sprouting garlic and onions and let rebulb or go to seed and then plant the seeds. beet, radish and other root veggies can be stuck in the ground and let got to seed. I have used ends and pieces of them and even whole ones that have sat in the fridge to long. they come back to life, it is amazing. Just make sure every thing stays well watered. I also just found some almond trees coming up in my garden from some raw almonds I had composted last winter. I try to let some of everything go to seed. I am on my third generation of kale, broccoli, a Brussels sprouts that I had bought as starters and moved with me to my knew house by sowing their seeds. I also trade seeds with my friends and neighbors to gain variety in my garden. Have fun and experiment! (05/17/2008)
By Jennifer
Raised Veggie Garden
With a little experience behind him, you'll be shocked at how much his tiny garden will be able to produce. You may want to add a few container planters as well--simple 5 gallon buckets will work. (05/26/2008)

By susan