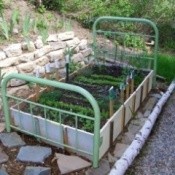 This is an old metal bed frame of my sister-in-law's that she was selling at our 3 family garage sale for $3.00. I had always wanted a "flower bed" but decided to make a "salad bed instead". Maybe I should add a dust ruffle. I thought some adjusting would have to be done as had I made the raised bed first, but it fit perfectly. I will store or find an indoor use for the frame to preserve it for many years of future gardens.
By Susan Chamberlin from Chewelah, WA
Read More Comments
Sorry, no picture, but an old neighbor used an old metal bed frame to make a "flower bed" in her yard. She dug out the dirt a bit and put in an old metal bed. She left the side rails in, and mounded the dirt up in where the mattress usually lays. She planted colorful flowers. The effect of this FLOWER BED was the flowers looked like a quilt on the bed.
It was a cute idea and everyone loved it.

By Janet from Brant Rock, MA

Answers:
Make A Flower "Bed" Out Of An Old Frame
Did she put the frame sides down? (09/03/2008)

By Shellee
Make A Flower "Bed" Out Of An Old Frame
I did this a few years ago with a twin sized wicker headboard. I planted marigolds and impatients to make the "quilt top" was so cute. I didn't mention it to anyone just waited for someone to notice,,was surprised no one did,,then one day a neighbor rented her cottage to an Amish family for the summer. The mother was the first to get it,,said she loved my "bed" of flowers. (09/04/2008)

By Peggy