Steamed Artichokes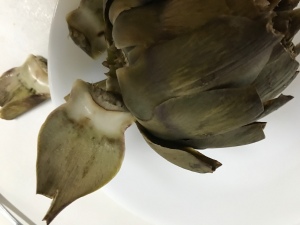 I have enjoyed artichokes only a few times. Now that I know how to make them, I'll be doing it more often. I used my pressure cooker, but you can steam them 25-45 minutes, depending on the size. A pressure cooker takes 15-20 minutes, with a 10 minute natural release.
Prep Time: 10 minutes
Cook Time: 20 minutes + 10 minutes release time
Total Time: 40 minutes
Yield: As many artichokes as you want
Source: Simply Recipes
Link: How to Cook and Eat an Artichoke
Ingredients:
1 or more large globe artichokes
2 cloves garlic
1 bay leaf
1 slice of lemon (I had lemon juice which I froze, so I used that)
butter or flavored mayonnaise for dipping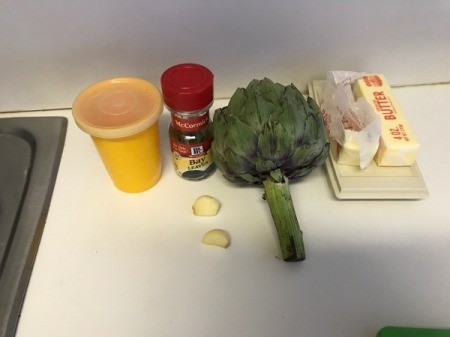 Steps:
(Optional)- snip off the tips of the petals. They will soften up when you cook them, so it's not really necessary.
Slice about 3/4 of an inch off the top of the artichoke.
Remove the small petals at the base.
Slice the tough end off the stem, and peel it.
Rinse the artichoke under cool water.
Put the water, lemon, garlic and bay leaf in a pot.
Add a steamer basket and the artichokes.
Cook 20-25 minutes in pressure cooker, with a 10-minute natural pressure release. If steaming, steam 25-45 minutes.
To eat the artichoke: peel off the pedals and dip into a sauce. I used melted butter. You can use mayonnaise flavored with balsamic vinegar or soy sauce. You can really use whatever you want! Peel off the petals one at a time.
Dip the white fleshy part in the sauce. Put in your mouth, fleshy part down. Use your bottom teeth to scrape off the fleshy part. Discard the petal.
When you are all done, there will be a fuzzy part, called the choke, that is not edible. Take it out with a spoon or knife.
Underneath is the heart. Cut it up and dip it in the sauce. The picture shows the heart pulled away from the choke.
Enjoy!
Add your voice! Click below to comment. ThriftyFun is powered by your wisdom!
Related Content
Categories
Guides
More
Categories