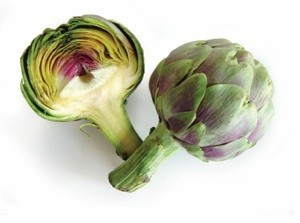 Description:
Artichokes are in the thistle group, native to the Mediterranean. First brought to the Americas in 1600 but not popular until the 1920's. Often known as globe artichokes, not to be confused with Jerusalem artichokes. Artichokes are high in Vitamin B, C and contain no fat.
Uses:
Artichokes must be cooked before being eaten. They can be eaten on thier own, made into a dip, eaten in pastas or on pizza. The artichoke leaves can be made into tea which is beneficial to the liver and kidneys. The tea has great antioxidant properties and also helps to lower cholesterol.
Recipes:
Buying Fresh:
Should feel heavy for their size, compact leaves and vibrant color. Smaller artichokes have more flavor than larger ones.
Preparation:
Cut all but an inch off the stem, which is often bitter. After cutting it, you could choose to peel the outer fibrous, bitter part and discard, then cook the peeled portion with the rest of the artichoke. Break off the bottom row of the leaves. Then, with scissors trim off 1/4 off the top of the leaves (this is simply for aesthetics because the thorns will soften when cooked). Then cut about 3/4 inch of the top of the artichoke. Now wash the artichoke.
The artichoke can now be cooked either by steaming (35-45 minutes) or in a pressure cooker (20 minutes), it is done when the leaves can be peeled off easily. Can be eaten hot or chilled. To eat: Peel off a leaf and dip into your sauce of choice, with your teeth scrap the meaty parts and discard. When all the leaves have been peeled, scrape off the fuzzy part covering the heart and discard, then cut into pieces, dip in sauce and eat.
Great served with melted butter or mayonnaise.
Storage:
Artichokes will keep up to a week in the refrigerator. If artichokes start to open and look dull in color, the artichoke heart can still be eaten but best in soup, the leaves will be very tough.
Interesting Facts:
Artichokes are one of the oldest vegetables known to humans.