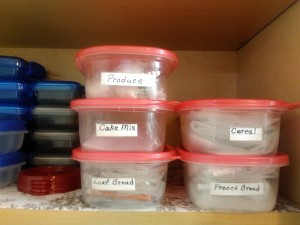 You can save and reuse assorted plastic food bags without any fuss or mess. Here is how I do it.
I know deli meats aren't the healthiest foods but I do buy them occasionally for sandwiches. I make it a point to buy only those to which no nitrites or nitrates have been added. I save the containers and reuse them in a variety of ways. One is for my assortment of reusable plastic food bags.
As shown, I clean, fold and store each type of bag in its own labeled container. I don't have to fish through a pile of different bags to find what I need.
My produce bags are kept for 'whatever'. One use is to make a dome cover for small cuttings I'm rooting.
I've found the cake mix bags are just as strong as the newer cereal bags. They are ideal for crushing small amounts of Graham crackers and such with a rolling pin. I use them as freezer bags as well, for individual servings of chicken tenders, etc. I fold them tightly and place several into a regular freezer bag.
The loaf bread bags are another 'for whatever'. Storing assorted lids we all tend to accumulate. I use them to store lots of things that are 'packed back'. That is, items I know I wont be using for a long time. It helps keep dust and film off them.
We all now know the advantages of saving cereal bags. They are so strong. I can dump chicken parts or cubed beef into them, along with flour or breading mix to coat the meat. I can shake as vigorously as I want without fear of the bag breaking.
Ah, the French bread bag. I buy Romaine hearts, three per bag. I use these bags to individually store single hearts. I don't have to open all three to get one. Helps the others stay fresher longer. Its long, narrow shape makes it ideal for several different uses.
And the list for uses for these bags goes on. My point is, you can have any size bag you need handy for any given purpose, all neatly stored, ready for use.
Now, is a pack rat really a pack rat if all their stuff is neatly stored away, easily accessible and will serve a good purpose at some point in time? Me thinks not.