Displaying a shoe rack in your closet, home or garage is a lovely way to display your collection but it is not practical. If you have several pairs of shoes and do not wear them all on a daily basis, your shoes will sit and collect dust. When you want to wear the shoes, you would have to wipe them down and it is inconvenient - sometimes even spiders make their webs!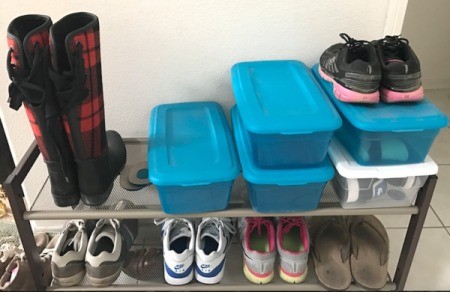 To prevent even having to dust, or spiders - you can simply purchase these inexpensive 6 Quart Basic Clear Storage Box with White Lid from your Target, Walmart, Big Lots, Dollar Tree - usually a buck each!
Put away the shoes you do not wear often and when you want to wear them, they will be in clean condition. For the other pairs you wear often, you can put them out.