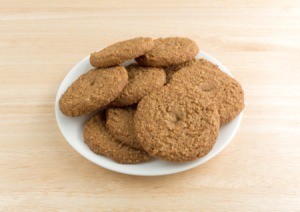 So many people need to cut back on sugar, I thought it would be good to pass this recipe along, The holidays are coming soon. Jingle Bells!
Ingredients:
2 cups smooth natural peanut butter
2 cups granular no-calorie sucralose sweetener (e.g., Splenda)
2 large eggs
Directions:
Preheat oven to 350 degrees F (175 degrees C). Lightly grease a baking sheet.
Thoroughly mix together the peanut butter, sucralose, and eggs in a bowl. Drop mixture by spoonfuls onto the prepared baking sheet.
Bake in the preheated oven until center appears dry, about 8- 10 minutes.
Note: One lady said she added 3/4 cup oatmeal and 1 tsp. Vanilla to this recipe and liked them better.
Nutritional Information Amount Per Serving Calories: 145 | Total Fat: 11.7g | Cholesterol: 18mg
Servings:
24
Time:
10 Minutes Preparation Time
8-10 Minutes Cooking Time
By Vi Johnson