Storing Sugar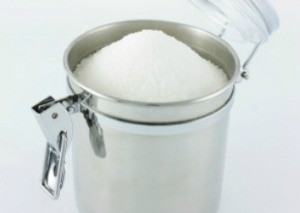 This page is about how sugar can be stored properly to achieve the longest possible shelf life.
Quick Answer!
Storing Sugar:
Granulated sugar, powdered sugar and brown sugar should be kept in a sealed, air-tight container and stored in a cool, dry location.
Shelf Life of Sugar: If sugar is free from pests and other contaminants, it has an indefinite shelf life when stored properly.
Keep reading for more tips, information and creative ideas for storing sugar from the ThriftyFun community.
4 Solutions
Share on ThriftyFunThis page contains the following solutions. Have something to add? Please share your solution!

Irishwitch
Silver Post Medal for All Time! 390 Posts
Pour sugar into a clean used plastic orange juice jug. It makes it easier to pour into a measuring cup and by shaking the jug it removes the lumps.
Source: My Mom
By Irishwitch from Aurora. CO
Questions
Ask a QuestionHere are the questions asked by community members. Read on to see the answers provided by the ThriftyFun community or ask a new question.

I operate a kitchen for a Ruritan Club. We have stored large quantities of sugar, both brown and white in large containers. I buy in bulk to help save costs. Is there an easy way to prevent the sugar from hardening in the containers? Something that could go in the same container, but not contaminate the actual product?
Thanks.
Answers

poehere
Bronze Post Medal for All Time! 105 Posts
October 15, 2020
2

found this helpful
Best Answer
Considering you are buying sugar in bulk and storing it, each time you open the container to use the sugar it allows air inside. The moisture of the air will cause your sugar to harden over time. Here are a few ways that you can store your sugar to keep it fresh and not hard.
First off if you store small quantities of sugar in smaller airtight containers it will keep the sugar from hardening. In your case, it would not be practical to buy a lot of smaller containers to store your sugar so this one would not work for you.
Bread is excellent for absorbing moisture. For smaller sugar containers you would add 1 slice of bread to the top of the sugar that is stored in the container to absorb the moisture. In your case, you may need to add several slices of bread to your container to keep the moisture out of your sugar.
Use a mesh cloth to add rice to the cloth. In your case, if the container is very large it will take a good size cloth to do this. Add a few teaspoons of rice, I would add a tablespoon in your case, to the cloth and tie this up. Throw it in the bottom of your container to absorb the moisture. You'll need to change this out every few months.
For brown sugar place a whole lemon, line, or even orange in the bottom of the container to absorb the moisture. You may need 2 or 3 depending on how large your container is.
Also for brown sugar, you can add a few apple slices with the skin still on them to the sugar container. The apple slices will keep the sugar moist and stop it from clumping up.

Ana
Bronze Post Medal for All Time! 140 Posts
October 15, 2020
1

found this helpful
Best Answer
When I had 50 pounds of sugar stored for a upcoming project, I found a air tight plastic tub and lid . Because I was going to leave the sugar in the bag that it came (double installation) a large garbage bag was placed in first (darker color Bags) lining the plastic tub. Sugar than was placed inside bag. Squeeze all air out and tie ends.
It is important that if you are using this often, you should make sure that the air is out . You could do this same process for smaller amounts. After you have contained your sugar, it is also important to place in a cool dry place. Here is a link to other ways -
www.homestratosphere.com/.../

October 17, 2020
1

found this helpful
Best Answer
Brown sugar should not be stored in the same manner as white sugar; brown sugar needs moisture while white sugar does not.
Our church does a lot of baking so of course, baking usually requires white sugar and is generally bought in 25 pound bags as larger bags were too awkward to handle. The church purchased several of the white 5 gallon containers from Walmart and these were lined with sturdy garbage bags before pouring sugar into containers. Nothing else was added and once lids were secured, the sugar seems to be 'fresh' all the time.
We have several large plastic gallon jars that are filled with sugar that is used on an as needed basis so the 5 gallon containers are not opened very often.
Brown sugar is not needed as often so we do not buy this in such large quantities and store good amounts in large quart & gallon size freezer baggies. These are stored in out pantry and seem to hold up well. You can add a fresh slice of bread to the baggie if the brown sugar seems to be getting 'hard'.
There is a lot of information about how to store both white and brown sugar online but not everybody provides the same instructions.
www.deseret.com/.../food-storage-essentials-what-about...
preparednessmama.com/.../
Answer

this Question
Archives
ThriftyFun is one of the longest running frugal living communities on the Internet. These are archives of older discussions.
How do I make a jar airtight or at least as airtight as possible without a gasket? I have a set of glass storage jars, but they only have plastic lids, no gaskets. I would like to store my sugar in here, but knowing how easily brown sugar cakes and hardens I want to do as much prevention as I can.
By elaine from Canada

Answers:
Storing Sugar
Put a piece of bread-any ordinary kind will do-in the container with the brown sugar. The bread will help the sugar stay soft. You will need to change the bread as it becomes stale and dries out. Hope this helps. (09/19/2010)
By frances
Storing Sugar
Keep your brown sugar in a plastic bag and use a twist tie, then put in your storage jar. (09/19/2010)

By Marjorie
Storing Sugar
You can probably get replacement rubber seals for those jars, especially if you have a good hardware store around that still carries household goods in addition to hardware goods. If you don't see, ask, they may be able to order them! (09/20/2010)

By Jill
Storing Sugar
You can put a piece of plastic wrap over the mouth of the bottle and then just put the lid on over it. Works fine for me. (09/22/2010)

By Christine
Storing Sugar
I was going to say the same thing. The bread in the brown sugar works very well to keep it from hardening. (10/10/2010)

By trish
Tips for storing sugar. Post your ideas.

Answers:
Using Milk Containers for Sugar
Has anyone ever done this? I don't know what your milk comes in, but ours comes in plastic containers with screw on lids. I use it to store sugar! It pours easily so it is usually not too messy. It holds at least a bag of sugar.
By Maureen W (01/30/2005)

By ThriftyFun
Storing Sugar
Do not store your sugar in old milk containers the plastic will really not be clean and it could leech the milk into your stored stuff. Use 2 liter pop bottles. Rinse them with warm water and air dry completely. (09/25/2007)

By Dorinda
Storing Sugar
I recently bought sugar that came in an easy pour container. It looks like a paper carton of milk. When its empty I'm just going to refill it. (12/06/2007)

By Dawn
Storing Sugar
I store my sugar in Lock and Lock containers. The have gaskets around the lid that keeps all the moisture out and the sugar stays nice and soft. Even my brown sugar stays nice this way. I have some brown sugar that I've had for 2 months and I can still pick up the container and the brown sugar moves around easily in it when I tip it.

In answer to Debbie T. about storing it in the freezer, yes it can, but depending on the container you keep it in, it will get hard. But there will not be a thing wrong with it. I used to keep mine in the freezer too until I discovered the Lock and Lock. (06/15/2009)

By Cricket
Storing Sugar
I also use clean/dry 2L bottles and find them very useful for sugar, salt, and other pourables. (01/09/2010)

By Frater Mus
Published by ThriftyFun.
© 1997-2022 by Cumuli, Inc. All Rights Reserved.
https://www.thriftyfun.com/Storing-Sugar-1.html