Things to Do with a Blind Companion
Solutions
Share on ThriftyFunThis page contains the following solutions. Have something to add? Please share your solution!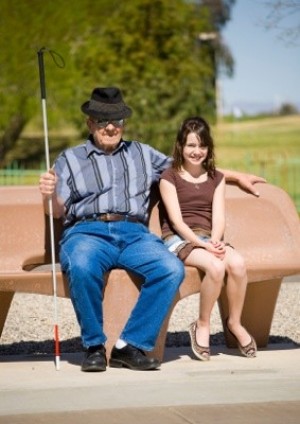 Someone recently asked me what I like to do. I didn't have an answer then, but I've been thinking about it. I'm not into extreme sports like skydiving or mountain climbing, but I have read of blind people who do those things. Here are some ideas for the rest of us:
Read to Them: Hubby reads things to me, but I have a friend whose weekly aide has to do it because her family won't. Reading things (medicine labels, cooking directions, the mail, the newspaper - especially the comics, etc.) is a truly thoughtful thing to do for anyone with major vision loss. Please be patient if your companion wants to take notes in a more accessible format!
Make Things Accessible: I received an audio book last Christmas that I only recently had time to read. To my distress (but not surprise), the individual cassettes weren't marked in an accessible manner. Most things can easily be made accessible with the addition of tactile or Braille markings or stickers. It's always a kindness to label things so your blind companion can use them independently next time.
Cook Together: As I mentioned in "Tools That Help the Blind Today,"; many blind people use standard tools with ease. As a cook, what I need most often is a reader, especially if it's a new or complicated recipe. There are several meals hubby and I cook together, and it's loads of fun. One of my activities while learning cooking skills was to make Toll House cookies. I'd gladly make them again - yum!
Walk, Hike, or Go Biking Together: Not every blind person wants or needs a sighted guide to venture into the wide world. However, I'm grateful for a walking companion. In inclement weather, the local mall is fun. I haven't explored seriously, but there are ways to bike in tandem with a blind person, too. Remember to describe/narrate your route and always warn your companion of hazards.
Go For a Drive: This might not work for many, with the high gas prices these days (yes, I still keep track). However, a simple drive can be a small adventure with your blind companion. Name landmarks and street names along your route; it'll help your companion enhance his or her mental map of the area.
Go To the Library or a Museum: Libraries offer a variety of services free of charge. These include a wide variety of videos, DVDs, and audio books. Many museums, especially in larger cities, offer descriptive tours for the blind. They may even allow your companion to touch sculptures. Call and ask.
Go To a Play or Concert Together: I attended a recent performance of "Annie" with live descriptions. It was fun, even though the system wasn't working well and the narrator interrupted the play's dialog many times. I can usually figure out what's going on during a play, even without descriptions. Concerts are even better. Even high school and college repertory events are great. They're also much less expensive. If opera or the symphony is your thing, more power to you!
Go Shopping or Run Errands Together: Hubby does most of our shopping these days, but that doesn't mean I can't. You don't have to go to the ritziest stores, thrift shops are great. And you don't have to buy a thing to enjoy browsing. Your blind companion might even open your eyes to nuances of textures, aromas, etc. that you might not otherwise have noticed. Even grocery shopping can be a new experience, seen from your blind companion's viewpoint.
Go Boating, Fishing, or To the Beach: For folks in landlocked areas, visiting your favorite swimming or fishing hole with a blind companion can make it a whole new experience. If you live on a coast, beach combing can be loads of fun. Let your blind companion show you the differences in the seashells you might miss. Enjoy the scents and sounds from your companion's unique perspective.
Pamper Yourselves Together: It's been several years since I've entered a beauty parlor, but I always enjoyed the sense of being utterly pampered. Spas and massages are great if your budget is more flexible. Your local beauty college or vocational school can offer trims, styling, manicures, pedicures, etc, at more reasonable prices. Pampering on a budget is still pampering!
I have to stop here to keep to my "ten things" limit. Watch for a sequel soon!
By Lelia Jo Cordell from Springfield, OH
Editor's Note: Here is a link to the article that was mentioned above.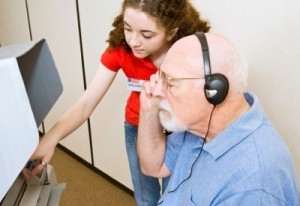 Back by popular demand, here are a few more ideas of things to do with your blind family and friends. I welcome your feedback!
Get spiritually grounded together. It doesn't matter what denomination. Attending religious services is one of the best things to do with any companion. Special programs are so much more fun when a sighted companion is willing to describe the action! And if your blind companion has a service animal, the ADA says the animal is permitted entrance. They're allowed in restaurants. Church, temple, or mosque shouldn't be any more of a problem.
Make a joyful noise together. A few years back, my son and I were part of a community choir. I've also participated in a church choir, although not recently. Whether it's a denomination-based or community choir, a garage band, or symphony orchestra, who doesn't love making music? Can't carry a tune in a bucket with a lid and lock? No one will mind, if you're singing along with the radio or a CD in your own domain, lol! If you're vocally talented and brave, karaoke can be a blast - I got hooked last August when my uncle brought his karaoke machine to our family reunion. Of course, I did have the songs I performed memorized. :D
"Get jiggy" together. My dancing shoes are pretty dusty and my grace broke when my "hurry" did, lol! But I'm the exception. Your blind companion just might show you a new move! Loud clubs not your style? Check out your local dance school for ballroom or tap lessons, or check the phone book for jazz music clubs in your area. Too broke to paint the town red? Turn on your favorite radio station or CD at home and dance the night away!
Just talk. How many of us, in this day of constant internet, cell, and text interruptions, simply talk? Even more rare are people who listen instead of sitting poised to jump in with their next point. Just talking, and listening, to each other sounds refreshing, doesn't it? If you live far apart, the telephone can work as well as face-to-face. (I don't mean for text messages, either!)
Volunteer together. Non-profits are always in need of willing hands to share the load. I'd happily don a hairnet and peel veggies for a soup kitchen, or clean up after the meal - I'm a champion dishwasher. Others might prefer "policing" the city streets for litter. Perhaps you could see what help your local grade school needs or sort items for a homeless or woman's shelter. Use your imagination!
Get civic-minded together. Perhaps you could offer your blind friend a ride to the polls on voting day. Don't accept the excuse that he or she can't read the ballot - most precincts should have electronic voting machines. If your friend isn't registered, personnel at your county board of elections will be happy to help. Or, learn when the next open city council meeting is and attend, especially if the agenda includes disability or blindness issues. (This one will require just a little research.) I spoke last spring at a seminar hosted by our local Fair Housing Board. I believe my unique perspective helped enlighten at least a few attendees.
Be joiners together. The NFB (National Federation of the Blind) includes many sighted people. In fact, sighted people interested in blindness issues are encouraged to attend and join. But the NFB isn't the only group of which I'm thinking. A few years back, my children participated in a community theater group. Later, they joined their school's drama department. I helped with wardrobe, pointers, and moral support. Not comfortable in the limelight? Perhaps you could volunteer for the crew, makeup, props, or costume department.
"Take a Walk on the Blind Side." Once when I was working at Sinclair College, students explored the "disability experience" for a day. Feedback I overheard indicated it gave them better insight as to what folks like me go through on a daily basis. I was also pleased recently to show the cashier at Save-a-Lot that her card-swipe machine's number pad has a tactile bump on the number 5. It amused me to demonstrate something she'd never even noticed, lol!
Hang out and watch a movie together. I love movies in descriptive-narration format. There aren't many available, however, due to the expense of producing them in this specialized format. I miss the days when my big brother provided the dialog while we watched old Godzilla movies on late-night TV, lol! You can be your blind companion's narrator during any standard-format movie. This would probably work better at home rather than in the theater, unless you're really able to whisper clearly. Besides, microwave or home-popped popcorn tastes at least as good, at less than a fourth the price, as the movie theater!
Let your blind companion read to you. I'm a lifelong bookworm. I've never had someone ask to listen in on one of my books, but of course I wouldn't mind. A Braille-literate person could open the world of Braille books to you. And as Bill Cosby used to say in the opening of "Fat Albert," "You just might learn something before you're through." More Braille literacy - now, wouldn't that be cool!
By Lelia Jo Cordell from Springfield, OH
Editor's Note: Here is the first installment of this article.
Questions
Ask a QuestionHere are the questions asked by community members. Read on to see the answers provided by the ThriftyFun community or ask a new question.
Winter outings are especially hard for low functioning adults. Any suggestions?
By Terry G. from Long Island, NY
Answers
January 9, 2015
0

found this helpful
Would your city or neighboring city have tours of things like cheese or chocolate factories? A place where they can use their other senses seems like a nice way to spend the day. I hope that helps.
PBP
August 2, 2017
0

found this helpful
Take them anywhere. Tell them you are taking them to a secret location and they have to figure out where they are. Ice rink, art gallery-- NY is full of them. Let them listen for a period of time. Maybe have some fun little gift for the one who figures it out.
Blind folks still have their other senses like smelling and hearing. So let them enjoy places that smell good and have odd or different noises. Let them explore the world they have available to them. Coffee houses smell wonderful(if you like coffee), playgrounds are full of kids enjoying themselves.
Answer

this Question

...