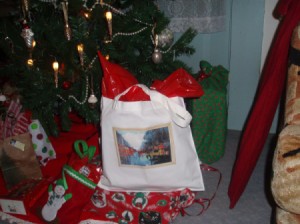 I love the holidays, but I really don't like wrapping gifts and bags can get expensive to buy.
So now I use cloth or Tyvek shopping bags (like the ones found in all stores' check outs) to wrap gifts.
Look for ones that have great designs (they are cheaper then buying paper gift bags and stronger too!)
I went to an online printer and purchased 5 of them, adding a photo of a painting I had painted, but you can even add a photo of a family member or pet for personalized bags. Great memories or laughs too!
You can use them again and again each year too.