The History of Thrifty Fun
ThriftyFun has seen many changes throughout the years to get where it is today. This page gives a brief history of ThriftyFun and includes screen shots of how the site has evolved over the years.
1997: Coupon Central
It all started when we create the site Coupon Central in late 1997. The goal of this site was to provide a forum where local businesses could advertise by posting coupons that consumers could download. We hoped to promote local businesses and give them an easy way to establish an Internet presence.
Unfortunately, in 1997, the Internet was just starting to break through to the mainstream. We underestimated how difficult it would be to convince local business to try this new advertising medium and ultimately the endeavor was unsuccessful. Coupon Central began its life at couponcentral.net and eventually was moved to couponcentral.com.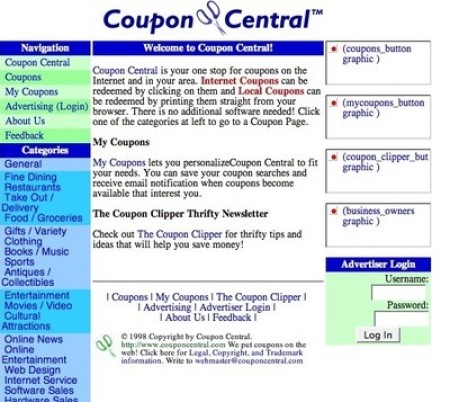 To help promote Coupon Central, we started publishing a weekly newsletter "The Coupon Clipper". The newsletter included thrifty tips and that were sent in by readers. It quickly grew in popularity and became more popular than Coupon Central.
Additional newsletters were added. The "Daily Thrifty Tip" was started in 1998 and provided one money saving tip every day as well as feedback and elaboration of prior tips. Near the end of the year, a "Reader's Request" newsletter was created which concentrated solely on readers' questions and answers.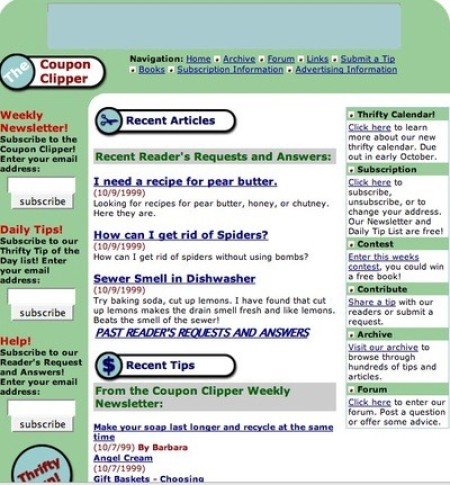 1999: Thrifty Fun!
Thrifty Fun itself was created in 1999 as the new home for the popular newsletters. We chose the name to highlight the two most important aspects of the newsletters. Our readers seem to genuinely enjoy being thrifty, saving money, and sharing their wisdom with others!
This new interactive site provided the same content as the newsletters, but made it easier than ever for readers to ask questions and to contribute their own ideas online. This is how the site looked in 1999.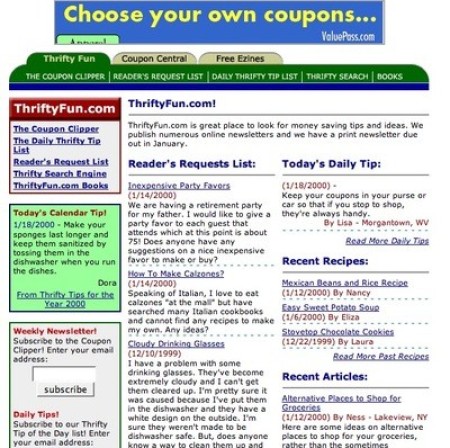 2001: New Servers
Several complete redesigns later, the new ThriftyFun.com was ready to usher in a new chapter of money saving tips and ideas. The new site was hosted on a faster server and had many new features which made the site easier to use. However, you can see that the site was still largely devoted to storing the archives of our newsletters.
In 2002, we added a complete index. This helped our search engine indexing allowing Thrifty Fun to show up in Google and other major search engines. Now, the collected wisdom of our readers was being shared with a much larger audience.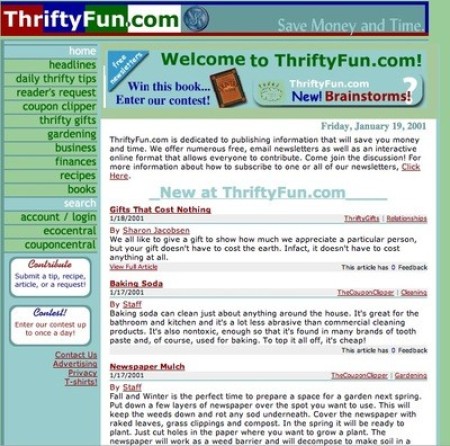 2003: Interactivity
In early 2003, all of our newsletters were condensed into a weekly "Thrifty Fun Newsletter". This newsletter rounded up the latest tips and ideas from the Web site and was a great way to stay in touch with what was happening in the Thrifty Fun community.
The site was made more interactive by allowing users with accounts to post feedback which was immediately available to other users of the site. Up until this time, all feedback was sent in by email and posted by us.
In 2003, we stopped development of Coupon Central. The site still exists but is now a link to an affiliated site. Coupon Central did not turn into the tool for promoting local businesses we had imagined, but if it were not for Coupon Central then we would never have started the money saving newsletters that eventually became Thrifty Fun. Plans are currently underway for a new version of Coupon Central.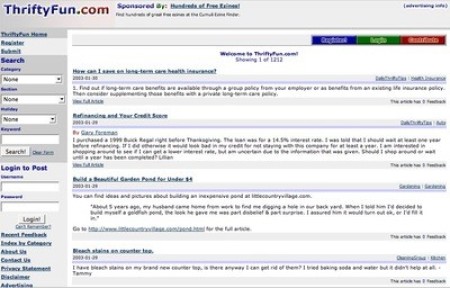 In April 2004, we restarted the Daily Thrifty Tips. It grew quickly and once again provided new tips for thrifty living each weekday. And then in December, we allowed posting of pictures in the feedback. This allowed our feedback to have more information, showing solutions, craft projects or pet pictures.
2005: Redesigns
Our seemingly never-ending redesigns of the site continued in 2005. In addition to tweaking the category navigation again, the new site allowed for submitted tips, recipes, photos, and contest entries to be approved much faster. This new version of the site also allowed for internal messages between registered members.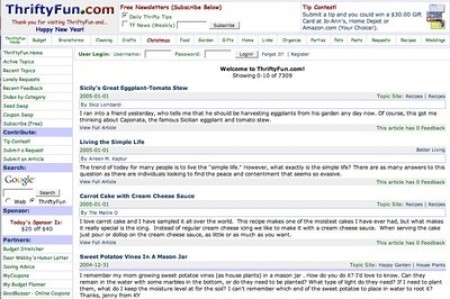 2006: My Frugal Life
In 2006, we added a blog site My Frugal Life which allowed our members to post their own blogs about frugal living.
We also worked on a thumbnail system so that entries with photos could be easily identified. This also gave the site a more colorful look.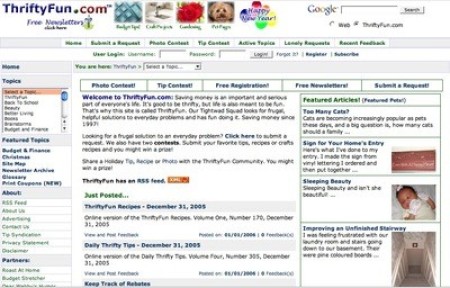 2007: Tip of the Day
In February 2007, we started the Tip of the Day. This is sent out daily and our JavaScript feed even allows other webmasters to display it on their own Web site. The Tip of the Day box allows you to scroll back through the older tips. We also added the ability to read the site through RSS newsreaders.
Throughout the year, we did a lot of back-end work on the site. We dramatically improved the speed of many pages and cleared up a number of bottle necks that were causing slowdowns for everyone.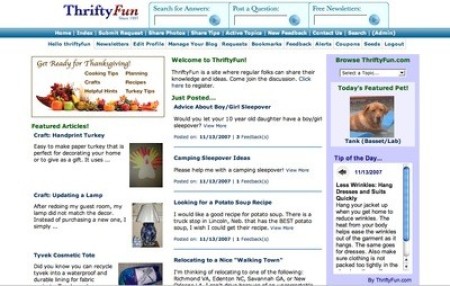 2008: Big Changes
A new database server was installed in January, 2008. The new database server is about four times as fast as the one we were using in just 2007. The site now runs on a cluster of three Apple Macintosh XServes using Apache and MySQL. The site is written using a programming language called Lasso from LassoSoft, a company that was previously owned by one of our founders.
Unfortunately, 2008 is also when we lost our founder, Susan Sanders-Kinzel, who passed away in December. This left the site in some disarray as she was the main editor and heart of ThriftyFun. But her children continued to keep the site operational with help from our members and contributors.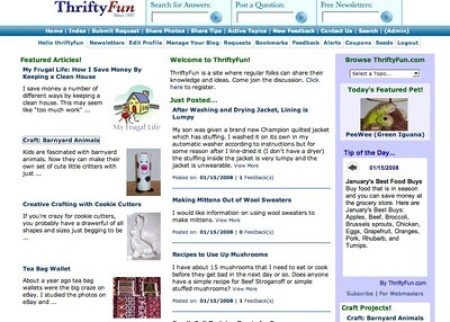 2011: New Logo
In 2011, ThriftyFun had a big redesign and brand new logo, which we still use today. Keeping the site running on all platforms was a big task and many changes were also made behind the scenes.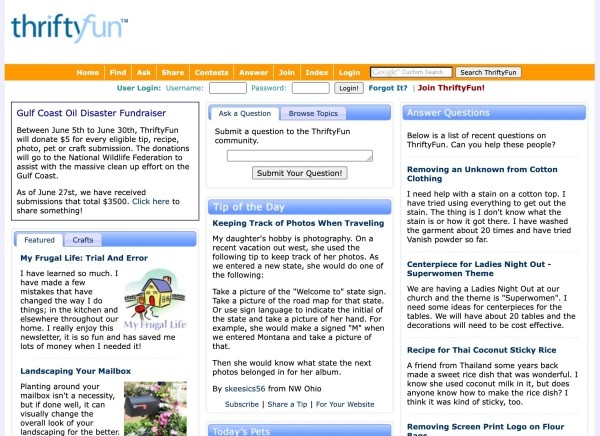 2013: Mobile Site Updates
In 2013, the home page was changed to focus on the beautiful images that our members were sending in. The popularity of smart phones made taking and sending pictures easy and also required us to make back end changes to ensure that our mobile visitors could use the site.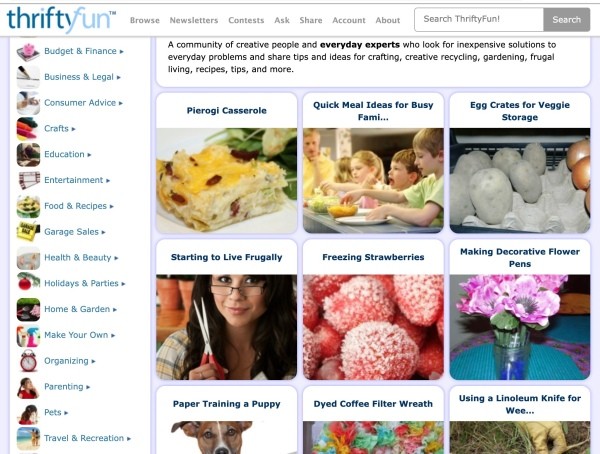 2017: More Changes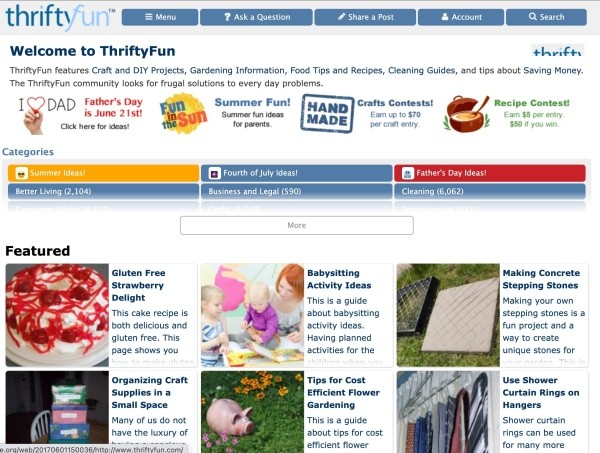 In 2017, our redesigned home page displayed photos next to the text, to appeal to our mobile visitors. We also started our Answer Contest, which has been very successful in ensuring that all our questions receive helpful answers.
2022: Into The Future
Here is our home page currently, with a greater attention to displaying properly on mobile devices, as that is the majority of our traffic today. We also have three sister sites, with more being planned for the future.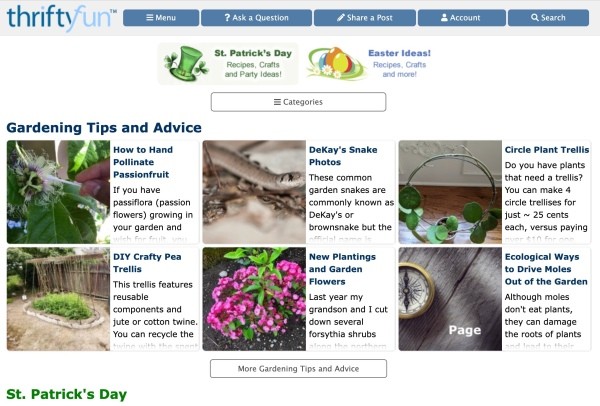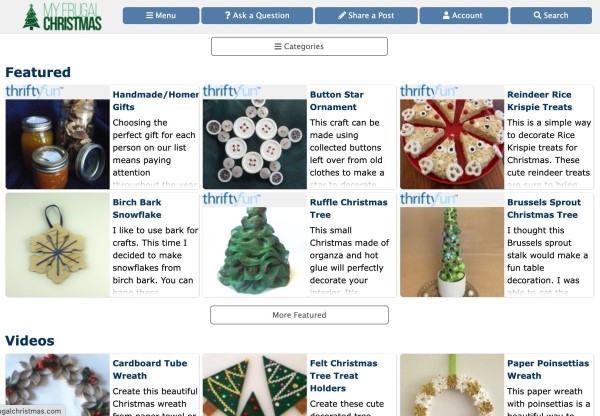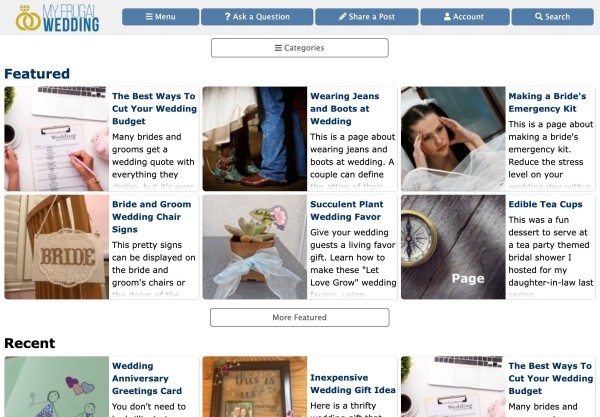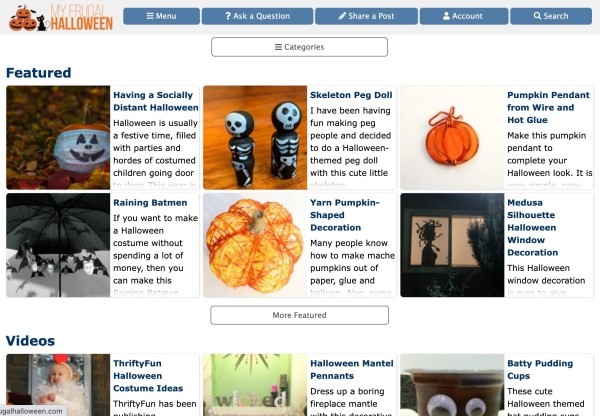 Thrifty Fun has grown from a labor of love of two people to a thriving family enterprise. Everyone works together to help ensure that the site is updated as quickly as possible, but without sacrificing the friendly spirit and can-do attitude that has made Thrifty Fun so popular. Today, the site is visited by thousands of people looking for ways to make their life a little easier.
When did you find ThriftyFun? Tell us about your experiences with the site and what important tips you have learned.