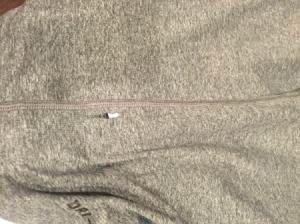 I didn't know where to post this, but have read many comments about the tiny holes in the front of thin tee shirts, mostly by the bottom of the shirt. None of my kids' or hubby's clothes are affected. I have a walk in closet and it has only happened since we moved here in 2003.
I never saw these holes in my former house. So how could it be the jean button or seat belt of my car, if it never happened until we moved into this house?
By Ltb3105 from Bedford, TX
Answers

April 1, 2015
4

found this helpful
Best Answer
Actually what is happening is that the material that they are making the clothes from now days is thinner than it used to be. This is starting to be very irritating now that 2 of my favorite shirts from Express has developed holes and my boyfriends Express Underwear. I have sewed up a few things but I'm very unhappy with this quality of cotton. It's one thing to have cute little light shirts but entirely unacceptable when you pay 50.00 for a shirt and it starts falling apart! That is what is happening. That's why all your experiments have the same outcome.
Not because it's your belly button, jean button or seat belt. This is why it doesn't happen as often to your husband or son's clothes. They do not wear the thinner clothing. And just as an added note. I ALWAYS wash my clothes after wearing them, I never hang them back up. I wash them and usually because the clothes that are affected are thinner shirts, I never dry them, because I don't want wrinkles and it's less wear and tear on the material.
Answer

this Question
What causes small holes in my shirts?
By tommy t from Youngsville, LA

Answers

(Guest)
Gold Post Medal for All Time! 846 Posts
July 4, 2012
1

found this helpful
Most likely they are caused from washing and drying them with clothing that have zippers.

July 4, 2012
1

found this helpful
If they are distributed randomly around the shirts, it could be some kind of insect nibbling on them. That would call for deep cleaning the dresser drawers and maybe adding some cedar chips.
If all the shirts have holes in the same area, such as near the waist, it could be pressure from a seat belt, clothing, snaps on jeans, buckles on belts, rough spot on a counter top edge.

July 5, 2012
1

found this helpful
Probably clothes moths or carpet beetles. They'll eat anything made of cloth.

August 22, 2015
3

found this helpful
I really believe that all the people that have posted here, do not have holes in their tops from Counter tops, seatbelts or wearing jeans. Think about it. Has this been going on your whole life? You have always worn seatbelts. My car is 9 years old and i have never had holes in my shirts. We moved here almost 2 years ago. NEVER had this problem in the old house. I have new tops but also old tops. Makes no difference, I get holes in some of the cotton ones. It does occur towards the bottom.
I have/ had granite countertops. I have cheap clothes and also good quality clothes. It does not matter! I truly believe in most cases you are all having trouble with tiny clothes mites or moths or something like that. I am doing research. This is the first site that came up on Google search. Will keep researching. If I find anything out more definitive, I will post here! Thanks for all your comments! Sounds like there are a lot of people with this problem.
May 31, 2016
1

found this helpful
This is such a mystery! I've been dealing with this I'll say for the past 6or 7 years now! Tiny pin holes in the same identical area across the stomach area more to the right side of the shirt. I don't wear jeans all the time I wear a lot of exercise pants that do not have any zippers or snaps or belt buckles that would wear on these tops. Brand new top put on for the second time yesterday and by the end of the day....Wella what do you know !!! I look down and to my amazement in my new shirt more tiny holes. Also I've never in the past had this happen. I have old Gap shirts from years ago that have been worn and washed dozens of times and no holes.
Most of my tops are all from the Loft , banana republic and Gap and event shirts from VS. and they all have tiny holes in them and they are all releatively new! It shouldn't matter how thin or what the material is made out of this should not be happening! And if it was the so called material then why aren't these holes else where in the shirts/tops? It remains a mystery and I have had it. Can't afford for good clothes to wear once or twice and then they look like old rags!

June 12, 2016
0

found this helpful
But how do you know if you don't see insects?

October 17, 2016
0

found this helpful
I have the same problem. The tops are usually good quality but are soft cotton. I think it's either from the shirt rubbing on the button of my jeans or the seatbelt pressing the shirt onto the jacket zipper or jeans zipper,

March 17, 2017
0

found this helpful
The little holes in the washing machine during the spin cycle. The clothes go through and get stuck then we pull it out and it cuts the fabric
August 20, 2017
0

found this helpful
Same problem last few years since I got my front load washing machine. Hubby t-shirts also. Always same place. Front lower shirt.
October 9, 2017
0

found this helpful
CAN YOU TELL ME HOW TO GET RID OF THEM please
October 15, 2017
0

found this helpful
The reason that you've been facing this problem for 6-7 years is that around 2010-2011 the quality of clothing from clothing suppliers has become worse. My solution to this problem is that I order the clothing from a bulk reseller so that I can choose the gauge of the material.
One such reseller is jiffy shirts for tshirts.

May 3, 2018
0

found this helpful
Yes, my problem is the same.... Pinholes in different areas of my tops hanging in my walkin closet. Not from the friction of rubbing against anything. I think some kind of mite or insect. Help!

July 24, 2018
1

found this helpful
I have reached this site because I have the same problem. 3 tiny holes in the front of my new & used tops that I have in my closet & in my drawers. I have had this problem for ? 6 years? and I have lived in this same house for 45 yrs. I am not doing anything different. If a washer was causing it, there would be a lot more & I would notice it out of the washer, not the closet/drawer. I have set off bombs to kill any insect that might be the cause. Now I am going to try some lavender spray next that someone suggested. Wish me luck!
Read More

Answers