Cleaning Clothes That Have Yellowed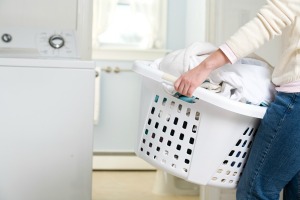 What's the best way to get white and colored clothing clean after it's been hanging in a closet for ages and has yellowed? I don't want to use chlorine bleach. I am afraid of using bleach full strength.
By gayle from Rochester, NY
Answers

March 27, 2010
0

found this helpful
Best Answer
I used to wear white uniforms. The best way to brighten and clean is to run through the washer with Lestoil. Then you'll have to wash again to get the smell out. Works wonderfully.

March 31, 2010
1

found this helpful
Best Answer
Oxyclean is great for whites. You can leave things soak for days if necessary. I soaked a 50 year old tablecloth for 3 days and the stains finally came out. Unlike bleach, it does not dissolve the material.
For colors soak (follow directions) in "Clorox 2, Stain Fighter & Color Booster". It's pricey, but gets out grease and blood from clothes. It is the best I've ever used on colors in 60 years of doing laundry.
Answer

this Question
22 More Questions
Ask a QuestionHere are the questions asked by community members. Read on to see the answers provided by the ThriftyFun community or ask a new question.
How do you remove the yellowing on clothing articles left hanging on hangers too long?
By Cheryl
Answers

July 12, 2011
1

found this helpful
Best Answer
If the stains are rust from the hangers there is a product 'Whink", a brown bottle found with the laundry detergent in your grocery store. When you put it on you can see the stain disappear right before your eyes. Then you will need to launder immediately.
If the stain is just age yellowing try soaking in Oyxclean, found also in the laundry detergent area. Directions are on the box. Unlike bleach, Oxyclean will not remove the color from colored garments. After soaking and washing be sure to check for all the stain removal before putting the garment into the dryer. If stain is still evident then soak again in Oxyclean.
I have left things soaking in Oxyclean for more than a week and they were not damaged.
Answer

this Question

How do I make white undershirts white again after they turn yellow?
By mary lou brinkofski from Flanders, NJ

Answers

May 29, 2010
0

found this helpful
Best Answer
Use Mrs. Stewart's "Bluing" in your rinse cycle. Don't put too much in or it will stain "bluish" spots, just a few gradual washings using the "bluing" in all of your white washes and you'll see brilliant, white clothing.
www.mrsstewart.com/
Even if there are bluish spots, they'll eventually wash away, they're not permanent stains.
Answer

this Question

I have a 50 year old child's communion dress that has yellowed. How do I clean/restore the yellowed with age dress? One professional cleaner said to wash it in Oxi-clean and Woolite.
Another professional cleaner said they could only clean it, it would look the same, just clean not whitened. Suggestions weicome.
Answers

July 29, 2016
0

found this helpful
Every spring and summer,I hang my delicate whites on the clothesline for a couple of days. Of course,hot sunny days. It keeps my delicate whites nice and bright!

June 23, 2017
0

found this helpful
I let my yellowed or not whites soak in a bucket of water with about 1/2 C of store brand powder dishwasher detergent. I usually let it soak over night. Works great.
Answer

this Question
What is the best way to clean clothes that have yellowed?
By Cristina

Answers

November 5, 2013
0

found this helpful
Best Answer
Put the clothes in a container with extremely hot water, and a scoop or two of Oxy Clean. Close the container (we use a small cooler). Let them sit for at least 20 minutes, open it, stir/look to see how much they've whitened.
The longer you leave them soak, the more it works. Then dump them into the washer (those clothes only is best) and wash like normal. That should work.
Answer

this Question

I have a vintage, wool Varsity sweater, which has become "golden." It was originally white. I'd like to brighten it up, but I'm concerned about the navy colored patches.
I appreciate any help you can offer.
Answers

October 16, 2016
0

found this helpful
If you cover the navy letter and put the sweater in directly sunlight, the white areas should bleach out. Not sure if it will take a while, though Good luck.

October 23, 2016
0

found this helpful
Thank you! :)
Answer

this Question
I recently received three dress shirts. As nearly as we can determine they are from the late 1800s or very early 1900s. They have removable collars and cuffs, bibbed fronts, etc. The problem is that they are stained with orange spots and what isn't orange is very yellowed. They are beautifully made and although I have no idea what to do with them, I would like to restore them. The cotton is very smooth and sturdy. Any suggestions would be welcomed!
By Lynda T
Answers

February 7, 2015
0

found this helpful
I have used lemon juice and the sun. If that didn't work I used hydrogen peroxide and the sun. J
Read More

Answers
What can I do to prevent and remove those stains that appear on your pants after being on the hangers for a while? It's like a straight line across the top pant leg that's been exposed on the hanger? I have this issue all the time and it really bugs me! I have a job interview in the morning and the nicest professional looking pair of pants that I plan on wearing has that one line across one pant leg.
Will machine washing it alone work or is there any pre-treating secrets you can reveal to help me so I look nice for my interview? I really want to make a good impression and not look silly or too cheap to afford a descent pair of pants (although I really can't afford a new pair of pants LOL). Any advice you can provide me is so greatly appreciated. Thank you all so much! :)
By Jennifer P.
Answers

February 2, 2015
0

found this helpful
Try wetting a pressing cloth with white vinegar & press the crease. I have used this method on skirts when I let the hem out.
Syd's 2 cents
Answer

this Question
I have a dry cleanable seersucker jacket that has yellowed over time. is there any remedy to return the white areas, white? now it just looks dirty and dingy and is unwearable.
Paulette from Tennessee
Answers
By Gig Ghee (Guest Post)
October 13, 2005
0

found this helpful
I had several blouses that I sent to the cleaners and they became yellowed, I could not wear them at all. I thought what the heck, and through them in the wash and they came out with as snow.
It has something to do with the cleaning solutions. hope this helps.
Answer

this Question
Archives
ThriftyFun is one of the longest running frugal living communities on the Internet. These are archives of older discussions.
Yellowed Cotton Clothing. How do you clean white cotton turtle neck shirt that have yellowed?
Read More...

How do I get a yellow spot out of my white blouse after it has been hanging in the closet?
Answers

March 30, 2017
1

found this helpful
Well, not enough info to tell you for sure--if it is cotton, you can use some bleach or oxyclean. What caused the spot?

Judy
Gold Post Medal for All Time! 677 Posts
March 30, 2017
1

found this helpful
Try soaking it in hot water (5 gallons) with 2 T each of powdered dishwasher detergent and hydrogen peroxide. Soak overnight and wash as usual the next day.

attosa
Diamond Post Medal for All Time! 1,246 Posts
March 31, 2017
1

found this helpful
Do you know what the stain is from? Is it oil based? Usually any stain comes out with Oxiclean but it would help to know what it's from

September 17, 2017
0

found this helpful
I have achilds flowered color dress with white actoss the top and lace the white material has yelliwed has its hung in her closet for 15 yrs tags still on it i have tried all of the suggestions except the lemon juice and sun and i bought s bar of ghe frls soap i am dedperate to get the lastof the yellow out i have git slmost all of it but not yet still needs to be white on the flap collar the lace on it csme out beautiful white butthe flap collar material is a diffrent its not lace . Help pleasr
Read More

Answers
Published by ThriftyFun.
© 1997-2022 by Cumuli, Inc. All Rights Reserved.
https://www.thriftyfun.com/tf80147481.tip.html