When I moved into my new apartment with my kitty cat Mya, I was determined to get my deposit back. The tips in this article are some of the things I've done to help keep my apartment and cat cleaner.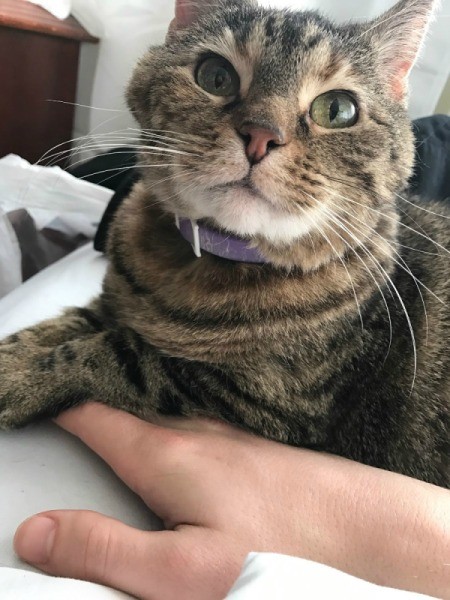 The first thing I did was purchase a food/water bowl mat that is suctioned to the floor. This will prevent water damage on my hardwoods in case she knocks her water bowl over, as well as keep her porcelain bowls from scratching up the floor. The one I have is from Walmart and cost me about $5, which is nothing compared to my $600 deposit and $200 pet deposit.
The second thing I did was purchase a mat that goes directly outside her litter box to catch any litter or other matter that she tracks out. I shake it out into the trash daily and I'm constantly amazed at how much litter it picks up. It keeps her little paws cleaner, and keeps the litter in the rubber mat instead of on my carpet, couch, etc.
The third thing I did seems obvious, but I empty her litter box every day to keep that "cat smell" out of my apartment. I use a lightweight clumping litter with Glade scent and I can never smell anything unless I'm emptying the litter box. I scoop daily and completely replace the litter once a week.
Another helpful tip is to put down a piece of fabric on the furniture your pet frequents. Mya has her favorite spot on the couch so I've placed a $1 kitchen towel over that spot so I can easily throw it in the washer when she sheds/bathes on it. It helps to keep hair off my new sofa, and it helps the couch to not smell like a cat. Additionally, I brush her every other day to remove loose hair and keep her coat healthy.
Mya was spayed when I adopted her, but I would recommend spaying/neutering your cat to keep them from marking in your home. Mya is also declawed on all 4 paws so I don't have to worry about scratched/ripped furniture. However, I would only recommend this if your cat is an indoor only cat like Mya. Otherwise, they would have a serious disadvantage if they were faced with a predator outside your home.
I hope these tips help keep your home and kitty clean!