EllenB
Gold Post Medal for All Time! 858 Posts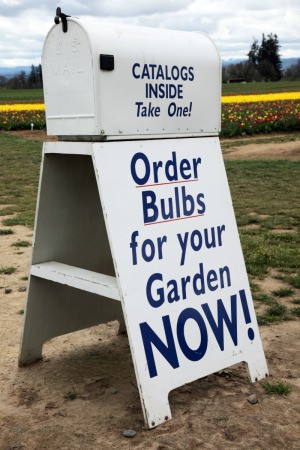 January is the month most garden catalogs arrive in our mailboxes. Each one is chock-full of compelling descriptions and colorful, larger-than-life photographs of perfect plants (the supermodels of the fruit, vegetable and flower world). It's the stuff garden dreams are made of. To turn those picture-perfect dreams into reality, follow these simple tips for ordering from garden catalogs.
Make Your Wish List
Create a list of the seeds and plants you want to order. Make sure you know what varieties are best for your zone, and which diseases are common so you can order the most disease-resistant cultivars. Some companies have a tendency to "stretch" the zones of the plants featured in their catalogs. This can be done, but it can also have a significant impact on plant performance. Check with your country extension agency or local public library for more information on which varieties grow best in your zone.
Compare Prices & Deals
Type "seed companies" into any search engine on the web and you'll get millions of hits. As with any product, it pays to shop around when ordering garden seeds and plants. The mail order seed business is a competitive one, which works to a gardener's advantage. Request catalogs from several companies so you can compare prices. Many will offer savings certificates, early-bird specials or web-only deals-even credit cards with redeemable "reward" points.
Compare Customer Service & Guarantees
Make sure the company you order from has good customer service. They should offer a way for you to contact them by telephone or mail, and preferably a website where you can get additional support. Check to see what their guarantee and return policies are. A good way to test their responsiveness is by emailing them or calling them with a question about one of their products.
Read Reviews
If you're trying a company for the first time, it can be helpful to read the reviews and experiences of people who have ordered their products before. Search for reviews on garden websites. If you're unable to find information on a specific company, try posting your questions on a garden forum.
Order Early
It's not impossible for even the largest seed companies to run out of the most popular varieties of plants and seeds. To ensure you get the best selection, place your order as early as possible or you're likely to have to settle for the "best available" substitute.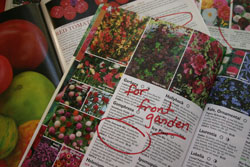 Ordering from garden catalogs is one of the easiest ways to access the widest variety of seeds, plants, trees and gardening products.
Consider Heirloom & Organic Seeds
There are several advantages to ordering organic and heirloom seeds. Many gardeners argue that plants grown from organic and heirloom seeds are hardier, more appealing to birds and beneficial insects, and in the case of fruits and vegetables, better tasting. One thing you can be certain of is that organic and heirlooms seeds will arrive untreated and will not have been genetically modified. If you intend to collect and save seeds for next year's garden, organic and heirloom seeds will also breed true to their parent plants.
Cover Your Losses
In reality, your garden isn't actually as big as you think it is-maybe not even half as big. And while you shouldn't over-buy, you do need to plan for potential losses due to weather, disease, insects, etc. When ordering seeds, plan so that you can sow thickly and thin later. To find out what grows best, consider planting different cultivars of the same crop or the same cultivars, but from two different companies.
Pay Attention to Shipping Dates
If you order both plants and seeds, they will most likely be shipped separately and at different times. Seeds are usually shipped within a few days of placing your order, while plants are shipped so that they arrive at the proper time for planting in your zone. Make sure to pay attention to the shipping dates when placing your order so you can have your beds ready to plant when your seeds and plants arrive and be aware that shipping date are subject to change in order to accommodate usual weather patterns.
Keep Records & Catalogs
Photocopy your order sheets and sales records and keep your catalogs on file. Catalogs are great sources of free growing information. Clip out the pictures and descriptions of what you order and keep them for handy reference.
Ordering from garden catalogs is one of the easiest ways to access the widest variety of seeds, plants, trees and gardening products. Go ahead and fawn over each picture, read every savory description at least twice and mark up the pages as your plan for next season. And be sure to leave some space to try something new!