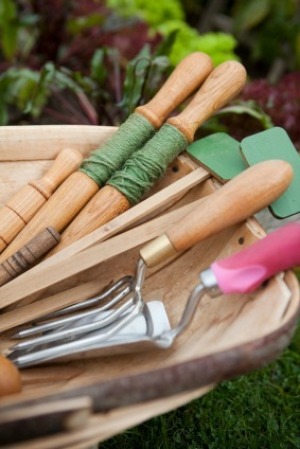 The right garden tools can help make an otherwise tedious job simple and quick to accomplish. Here are some specialized tools to make the task of sowing seeds and planting transplants in your garden a bit easier.
Seed Sowers
These handy gadgets allow you to sow seeds evenly and accurately, creating perfect rows to maximize seed usage and plant spacing. Seeds are held in the tool and deposited onto the soil one at a time. An adjustable outlet controls the flow, and places the seeds exactly where you want them along the row. The three most popular types include seed plungers, hand-held dial sowers, and walk behind wheeled sowers.
Bulb Planters
A bulb planter is most useful when planting bulbs in individual holes instead of large beds. When inserted into the soil and twisted, the bulb planter removes a plug of soil, which can then be replaced on top of the bulb after planting. Models with a claw-like action make it easy to release the plug by putting pressure on the handle.
Dibbers and Widgers
Dibbers: A dibber is a pencil shaped tool, usually made of wood, used for making planting holes of various sizes. The tool is wide at the top and comes to a narrow point at the bottom, which allows you to make tiny holes or bulb-sized holes depending on how far you insert it into the soil. Many dibbers have stainless steel tips to prevent rusting. Look for t-shaped or curved handles for a more ergonomic grip.
Widgers: A widger is a cross between a dibber and a very narrow trowel. They are useful for a variety of tasksplanting seeds, bulbs, seedlingsand work especially well lifting and transplanting seedlings and rooted cuttings with the minimum of disturbance.
Garden Lines
A garden line consists of two pointed wooden stakes connected to each other by a long length of twinean easy tool that you can make yourself. When stretched out and inserted into the ground, a garden line acts as a guide to making straight, level planting rows. Although it is primarily used in the vegetable garden, it is also a useful tool when you are planning and constructing straight edges along walkways and patios, or when designing new flower beds.
Garden Sieves
Garden sieves consist of circular wooden rims fitted with plastic or heavy-duty steel mesh. Depending on the gauge of the mesh, they can be used for separating out coarse materials from the soil (large), cleaning vegetables for storage (medium), or covering seeds with a fine layer of soil (small). Garden sieves with wire mesh tend to be more effective and durable than mesh made from plastic.
Soil Thermometers
One factor crucial to determining both seed germination and the rate of growth is soil temperature. Most people use thermometers to measure the current air temperature, which is often very different from the temperature of the soil. Good thermometers for taking soil readings will have a shape and design similar to a meat thermometer or a tire pressure gauge. Look for models with a dial that is easy to read and sits on the top of the thermometer so that you dont have to get on your hands and knees to get a reading.
Comments
Read More

Comments