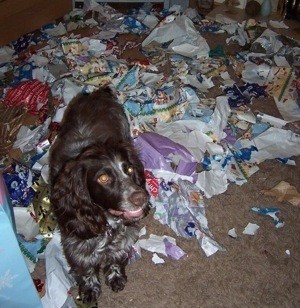 How do I stop my dog ripping up the post (mail)? I am looking for ideas to discourage her but still allow the post to come through the door. Maybe allowing her to rip up all of the Christmas paper was not the best idea!
Phillip from England, UK
Answers

January 17, 2008
1

found this helpful
Hello!
I think I'd make a simple cloth bag. I'd make one opening to fit your mail slot, and a second, on the other side, for you to reach in to retrieve the mail without taking the bag down. I'd make a flap, zip, tie, or some other cover to close the opening through which you'll get the mail. I'd reinforce the area around the mail slot opening, so that it wouldn't tear easily, with whatever's handy--even duct tape would work, and it wouldn't be seen. Then I'd tack that to the door around the mail slot. This way, your mail would come through the door, but never hit the floor or be visible to the dog. You coudl easily get the mail by opening the bag and reaching in for it.
Just my first thought ... another is that I agree, it's probably not a good idea to let the dog chew up some paper, if she's not to be allowed to chew up all of it! :)
Hope this helps!

January 17, 2008
0

found this helpful
When we had this problem years ago, it was solved fairly easily. We got a net bag (like onions or fruits come in) and we filled it very full of shredded, torn up paper...the type of things the dog would shred.
We attached this to his collar under his chin and let it hang there...it was bulky and every time we looked at him, we would call him a "Garbage Picker" (that's what he was doing). It didn't take long before he decided that he hated the bag on the collar and wanted to be a good dog. Good luck with whatever you try!
(The bag on the mail slot sounds good too.)

sandy
Bronze Request Medal for All Time! 87 Requests
January 17, 2008
0

found this helpful
i have ally who eats out of my trash. ie if i forget trash is at my chair and go to bed. i get up the next morning and there are shreds of a wrapper or napkin where she has + "eaten" the aroma on the napkin.

Marty Dick
Bronze Post Medal for All Time! 169 Posts
January 17, 2008
0

found this helpful
This reminds me of my "cockamation" named Dawg. When we first got her she had to sleep in the garage till we got her spayed. I had her paper trained. She was visiting inside the house one day while DH was reading the Houston Chronicle, a very fat newspaper.
As he finished a section he laid it on the floor beside the recliner. She had to pee and went over there and saturated several sections of the paper. None of it got on the carpet though.
Read More

Answers