I had a female pitbull puppy,
she was thirteen weeks, I gave her back to her owner because he wanted her back. His sister
gave her away and I have come to find out the reason that she did was because he was abusing
her. I feel so bad now because I sent her back there. I did get in touch with this girl and
she said that she is gonna take her back and bring her back to me. I was suppose to get her
either last night or sometime today.

When I get her back, knowing everything she has been through and, I know that it isn't too
late for her to learn that she will be safe with me. I just want to be responsible and train
her in a way that makes sure she is not aggressive. I also would like some potty training
advice. If anyone has any advice, that would be great. Once I get her I'll take a picture and
let you guys see her, she is so beautiful, I fell in love with her the moment I saw her.

Thank you.
i feel bad 19 from NH
Answers:
Training a Pitbull Puppy
Lots of love and patience and love and patience. Never strike your puppy, this will only cause
problems in the future and he will probably not know why you hit him anyway. This only causes
confusion.
In one weekend I trained a six week old pup and he has not used the house one time. He will
be six in October. It took all weekend, but every time he started to look for a spot, I would
take him outside and wait for him to do his business. They learn fast, but you must be
consistent. Do not take him out one time ever 3 or 4 hours, he can't hold it that long. Love
the your puppy and he will reward you much later on. (08/24/2006)

By Sue
Training a Pitbull Puppy
Never take a puppy away from their mother before 6 weeks.
This is especially important with pit bulls, because it is so important that you socialize
them early, and they learn things from their mother and siblings in those first six weeks that
you can't teach them.
Make sure to meet the parents of you dog if at all possible to make sure they have good
temperments.
When you take your puppy home, have your house prepared for him.
Have a kennel set up. If it's a wire kennel, drap a towel over it to give it a cozy "den"

like feel. Put some sort of comfy mat or bed in it, if the puppy chews on it or goes on it,

remove it immediately and don't give it back until the puppy is completely house broken.

Have plenty of toys available. Puppies need to chew and love to play.
Have two stainless steel, non-tip bowls ready. Make sure to always have water available,

and wipe out the bowl and change the water if the puppy gets food in his water bowl. Buy age

and breed appropriate food.

When house training, never scold or "rub his nose in it". Pit bulls are very clever dogs

and all he will learn from that is to go where you won't find out, and that means stains. If

he does go in the house, put him outside (on a leash) and clean it up (don't let him see you

clean it up) use a good carpet cleaner and vinegar and water to neutralize the odor. Dogs like

to go where they've gone before, and if you get rid of his scent, you'll reduce his urge to go

in the house.

Make the crate a happy place. Train the puppy to go in his crate on command, and never put

him in his crate as punishment. Keep your puppy in his crate when you can't be watching him,

because puppies need constant supervision. When leaving him in his crate for extended periods

(try to keep them as short as possible) be sure to take him outside before hand and leave a

chew bone in there for him.

Neuter or spay. There are too many pit bulls out there with out homes already, we don't

need anymore. It also helps with temperament and house training, and makes them much less

likely to run away. Please, do the responsible thing and get all of your pets spayed or

neutered.

Socialize. This is especially important with dogs like pit bulls. When they're young, take

them for walks to public places and allow people to pet the dog and see that they really are a

sweet breed. Petco is a great place for this sort of thing. Introduce you puppy to friendly

dogs in safe situations. Watch you dog carefully when doing this, and if he starts to show

signs of feeling uncomfortable, take him home. Introduce you puppy to old people, young

people, cats, dogs, cars, heavy traffic, and as many situations as possible, but make sure

it's always fun, safe, and he's always comfortable.

Teach him. A well-trained dog is a happy dog. The more tricks you teach the dog, the more

well behaved he will be in general. Only use positive reinforcement and ever scold a dog for

not doing a trick. Training is a fun time for you and the dog to bond and learn.

Take your dog for walks. Puppies are full of energy and if you let him burn it off he will

be better behaved at home and much healthier too.

Play. It bonds you with your dog, it teaches them, it keeps them healthy, and most of all

it's fun. If at all possible, play fetch with your dog instead of tug-of-war, because it's

much less aggressive and fetch also teaches the dog the very important command of "drop". If

you do want to play tug, make sure you win, it helps establish dominance. If the dog gets too

"into it" tell him to drop it and take it away, replacing it with a calmer toy.
Don't play rough and don't allow you puppy to bite you. Puppies love to gnaw on people

(especially feet) and this is a very bad behavior to encourage, because it can lead to biting

later on in life, and because of their reputation, if a pit bull shows any signs of

aggression, it will most likely be put down. If you puppy bites, give a strong "NO!" If they

persist, flip them over on their back (showing your dominance over the dog), and tell it no

again. If you really want to, spray your hands with "bitter apple" or any anti-biting/chewing

spray so they learn that humans tastes bad.

Play with you dog's ears, tail, and paws (gently) while it's young. This helps improve the

dogs patience and temperment and will make nail trimming and ear cleaning much easier down the

road.

Pit bulls are low-maintenance dogs, as far as grooming is concerned. Brush with a soft

bristle brush, never with a wire brush, it'll hurt the dog. Shampoo only as needed, washing

the dog too much can deplete it's natural oils and do more harm than good.
Get the dog used to having it's teeth brushed young, it'll save you lots of money and keep you

safe from dog breath.

Try to "puppy-proof" your home, as well. Keep your dog away from cords, get rid of any

poisonous plants, move breakable things out of the way, and get some baby-gates to keep your

dog out of rooms you want to keep nice. It'll pay off in the end.

Keep the name short, two syllables is usually best because it's short, but longer than

most commands (sit, down, no) that could confuse the dog.
There is no actual "pit bull" breed. The most common breed referred to is the American
Staffordshire Terrier
Here are some helpful links:
If at all possible, please try to rescue a pit bull instead of getting one from a breeder.
There are hundreds available across the country who desperately need homes.
Have fun with your dog, never hit them, and take them to the vet at least twice a year, and
everything should work out just fine. If you have any questions, feel free to contact me, I'd
be glad to help you out. (02/04/2007)

By sun_dog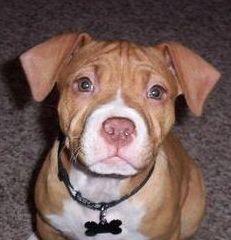 Training a Pitbull Puppy
(Sent in by Email)
You should never hit your puppy this can lead to aggression later on in the dogs life causing
it to fear you instead of obeying you. You should praise it every time it uses the box laid
out for him, but it is better to take the puppy out every time even if it seems a hassle, it
will eventually work out in the long run if you take it out immediately. If you notice the
puppy sniffing around this is a sign of having to go to the bathroom.

After every feeding, when you wake up and right before you go to sleep take the puppy
outside to urinate and poop. When you clean the waste left by the puppy inside of your home,
leave the puppy in another room where it can't see you clean the waste up. Also use vinegar
and cleaning agent to clean floor with to clear the odor or the puppy will sniff out the same
spot to go again. Never scold the puppy just take it outside leave it there if possible for 10
to 15 minutes giving it time to waste outside. If possible train with treats to promote good
potty training habits. If the puppy wastes outside praise it and give it a small treat. Never
yell or scold the puppy for using the bathroom in the house. If you do this it will develop
the thought of going to the bathroom is bad and will look for places to use the bathroom that
you won't catch it. Remember have patience a dog will do only what it knows so train it to do
what you want it to do and don't give up perseverance is the key with puppies.

As for your second questions, yes pitbull puppy breeds are known for their weak bladders
they will urinate frequently for the first 4 to 5 months so taking them to urinate outside if
possible every 1 1/2 to 2 hours would be advisable and also after every meal they consume. It
is best to feed them on a schedule that will be easier for you and healthy for them.
Robert (03/18/2008)

By ThriftyFun
Training a Pitbull Puppy
I have 6 dogs, 2 13 week boy pits, one 5 year old pit mix, and 3 beagles. Thank you for
getting her back. Please watch "Dog Whisperer" with Ceasar Millan. That's my best advice and
with 6 dogs all happy sweet dogs I had a few problems along the way and all stopped when I
watched and learned from that show. It's on National Geographic channel, you will have the
best pitbull ever. I swear it talks about all problems and he has a puppy DVD you can buy, but
I just watch the show. (09/23/2008)

By Sandy
Training a Pitbull Puppy
In training a pitbull; please, please never be aggressive, always be calm yet assertive. These
breeds are very smart and learn very quickly, but patience is a must when training these
little guys. Here is a pic of my little guy, George he is now 10 weeks. (02/18/2009)

By Shana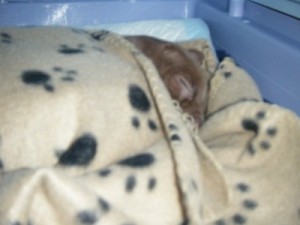 Training a Pitbull Puppy
Puppies chew on everything. Any 8, 10, 12 week old puppy will use their teeth to explore their
surroundings. That often seems like biting, but it is more like feeling. However, it is "not"
acceptable since they will eventually have big teeth, so it is important to nip it in the bud.
The best thing to do is 'get back to good" as fast as possible, which means replace your hand,
etc. with a chew toy and then "praise". This way, the puppy is learning not to bite your hand,
but also that it's good to bite chew toys (and not furniture).

Also, for the peeing everywhere, a little puppy needs to be restricted to a small space,
especially when alone. If you're letting your puppy wander all over your house and she is
peeing everywhere, it is because she is overwhelmed by the space and trying to make it
familiar with her scent. The best thing you can do is keep her in one room (with a babygate)
when you're playing with her for a few weeks until she gets used to the smells of the house.
And then slowly introduce her to other rooms. And remember to take her out a lot for a pee
break.

Puppies under 12-16 weeks need to go out every 2-4 hours after sleeping, and every 30
minutes when playing really hard and excited. (they have teeny weeny bladders that actually
cannot hold it in once they have to pee. They will be physically able to hold much longer
after 4 months). That way you will minimize the mess and maximize the praise and cuddles and
love. (02/23/2009)

By Raspy