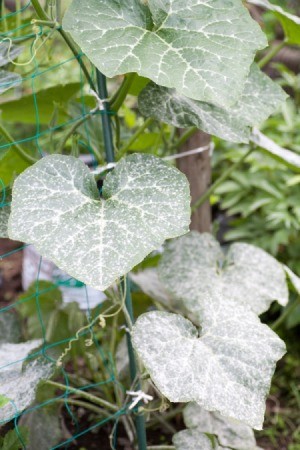 There are many articles posted on the Internet reporting that ordinary cow's milk, diluted with water to about a 10 % solution and sprayed on plants, is highly effective as a preventative and as a treatment for various types of powdery mildew.
Most of these reports came from the average home gardener. I have been looking for a more credible source. I found one just today. A 2002 Science News article by Janet Raloff cites the findings of Peter Crisp with the Department of Applied and Molecular Ecology, University of Adelaide.
The findings were that diluted milk was very effective for treating grape vines infected with powdery mildew. The idea to use milk came from its effectiveness in the treatment of powdery mildew on zucchini.
My yellow crookneck squash are infected. While it's a little late in the season (and too late to consider a preventative), I am going to start a regular spraying routine with diluted milk. I hope to see if there is a significant reduction in the mildew by the end of the growing season.
If you have any information on this subject, such as other reputable studies or the results of your own home trials, I do hope you will consider posting them here.