Treating and Preventing Urinary Tract Problems in Cats
Solutions
Share on ThriftyFunThis page contains the following solutions. Have something to add? Please share your solution!
About 15 years ago, my mother got a cat. After about 6 months, he got a severe case of urinary tract infection. The vet told her to give him low sodium chicken broth along with his medicine until he was over it. Because of the chicken broth, he would drink more water.
After he was well she decided to give him chicken broth every day. He never had urinary tract infection again. Mom (Margaret) and the cat both died last year.
Mom wrote this down with a note. "Can you believe how much money you can save, by not taking your cat to the vet for urinary tract infection all the time?"
Source: A veterinary in Tipton told my mother who passed on to us kids.
By Pearl G. from Greenwood, IN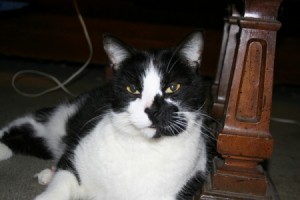 Prescription wet canned cat food for a urinary diet is not very interesting to my cat. Our cat Patches' veterinarian granted that the second best alternative is to have a high-quality canned food, that is "no dry". We mask the blandness of the prescription product with a 1/2 tsp mixed in of quality wet canned for flavor; Friskies also makes a Special Diet. Unequivocally, the prescription is medically the safest, but if your cat is losing weight due to not eating it, try the above.
Source: Our household ingenuity and Patches the Cat.
By mary knight from Kensington, MD
Questions
Ask a QuestionHere are the questions asked by community members. Read on to see the answers provided by the ThriftyFun community or ask a new question.
My 4 year old female cat is peeing everywhere, mainly on my couch and blankets, and recently started meowing constantly. She has been treated twice for a UTI. The first time they tested the urine and it came back positive. The second time they took the urine from the bladder and said it may have had a trace of a UTI, but weren't sure so they put her on a 14 day dose of antibiotics. I am not sure what else to do. Please someone help!
Answers
September 8, 2015
0

found this helpful
If your cat is meowing constantly, she may be in pain and needs help now! Please take her to your vet now, any further delay may the problem and cost more to treat.
September 10, 2015
0

found this helpful
When your cat was diagnosed with a UTI did the Vet send the sample out to be cultured? It takes about 3 days and it shows which antibiotics the bacteria will respond to? If they don't do that then you may have had the wrong antibiotics, and your cat has still got an infection. Find a Vet that does it the right way, quickly.
September 23, 2015
1

found this helpful
Typically a veterinarian will first do a basic urinalysis which consists of a dipstick (which checks for glucose, red cells, white cells, ketones, and some other values), and a sediment. If there are significant white cells and or red cells, the doctor will typically start on a broad spectrum antibiotic. If you cat gets better and then has another episode within a few weeks/months, then your vet will probably want to do a culture and sensitivity. The culture and sensitivity will show the doctor what bacteria is in the bladder and which antibiotics will be effective in treating (bacteria can be resistant to some antibiotics). This culture and sensitivity will take a few days to get back, so your vet will probably start you on an antibiotic, and then change it if he gets the test back and the bacteria is NOT sensitive to the antibiotic he prescribed. Your vet might also want to do some x-rays to see if you cat might have bladder stones. If your cat has bladder stones, it could cause chronic urinary infections. If your cat has bladder stones, the only options for treatment are dietary change or surgery. Some stones can be dissolved with diet, while others need to be surgically removed.
Good luck!
December 2, 2016
0

found this helpful
I was able to heal my cat from UTI coming back - please read it - My can was treated twice for UTI ( with rilexine), but even though she improved, something still was wrong, she ate hungrily, often and her litter smelled. This was going on for months and I tried to make sure that she drinks more, but she still did not improve completely. So here is what I did and it worked! I completely stopped feeding her Friskies, start feeding her differently: fresh chicken liver - a bit, a bit of fresh white meat chicken, all protein good cat food with boiled chicken and milk, slightly diluted with water. The litter stopped smelling and she is all well now.
Answer

this Question

...
I have multiple cats. The male is prone to urinary tract infections and has had two surgeries, which are very expensive. He has to eat the special food, but doesn't like it. My female cat loves it. Is it OK for me to let her eat this special food, as she eats his food and he tries to eat her food.
Answers
December 10, 2015
0

found this helpful
Have you asked your vet for possible alternative food for your male to eat? The other cat should not be fed a food designed for a specific purpose, such as your male cat's problem. You should ask your vet's help for the proper food for both of your cats.
Answer

this Question

...
June 27, 2017
0

found this helpful
Your vet can help your cat with this problem, but the cat's diet may contribute to why this has happened. This is a page about urinary blockage in cats (feline urinary syndrome).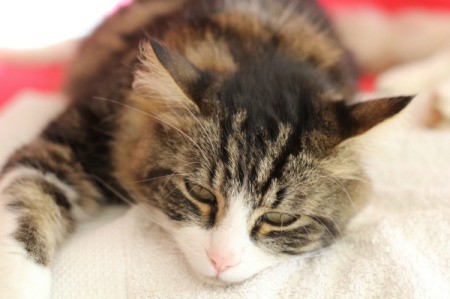 June 11, 2016
0

found this helpful
This is a page about remedies for cystitis in cats. Cystitis is a bladder infection, often from unknown causes.