My son will be 2 years old in October. Does anyone have any ideas for a a two year old birthday? Should it be inside or out? What theme?

Kristina
Answers:
Time ideas for 2 yr old birthday
Little people party
I am doing the little people theme for my little boy. I found lots of little people birthday stuff on e-bay. We are going to incorporate the farm/barnyard theme. Our Wal-Mart has a little people barnyard cake with sonya lee on it. You can also go to fisher price's web site and print free little people birthday card invitations. Hope this helps! (03/11/2005)
By Mendi
Two Year Old Birthday Ideas
I don't have kids, but lets face it, a 2 yrs old will not remember whether or not a clown was at her party. The entertainment is for the adults. When I was a kid we had parties in the basement and that was perfectly acceptable. I don't get all this need to spend money on kids that really don't know the difference. (05/27/2005)

By sandy
Two Year Old Birthday Ideas
Hi, My daughter turned 2 in May. She loves animals so we hired a pony for the afternoon and also a jumping castle. Both were an absolute hit and the pony didn't stop walking around the garden the whole afternoon. She had a Barney cake as he is her absolute favorite. I also combined her birthday with another child from her creche whose birthday was the next day so we cut down drastically on costs. (06/03/2005)
By Claire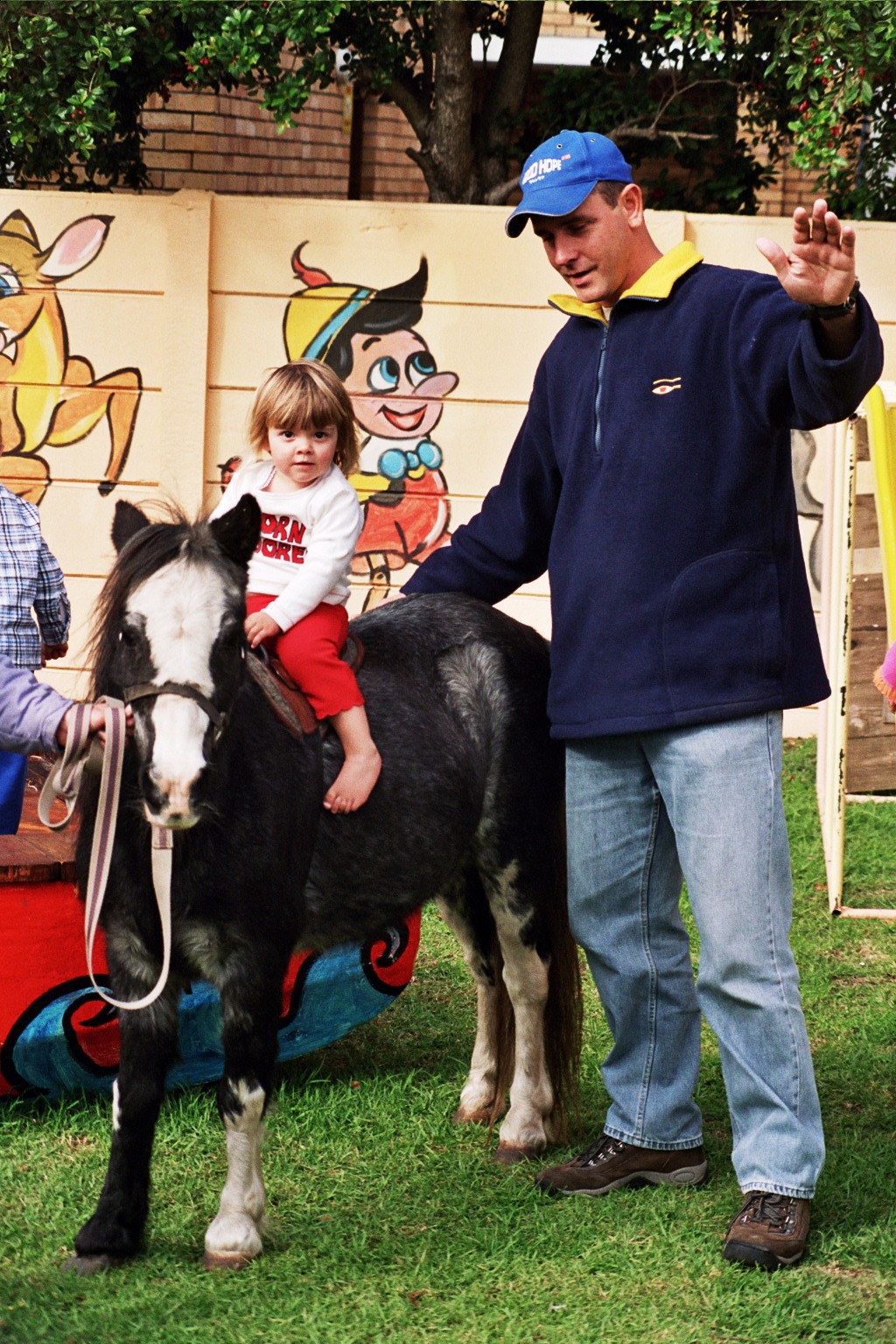 Invitation wording for 3yr.old party
Look at me, I've just turned/turning "3"
Would you like to come celebrate with "ME"
It's as simple as ABC
This is when and where I'll be!
[date time]
[address rsvp]
child's name (06/15/2005)

By FatBooty
Two Year Old Birthday Ideas
As a mother of 4 my best advice is to make it small (the rule of thumb seems to be the # of guests = the age of the child) and make it fairly short. To be honest, at this age, the party is more for the parents. The parents are also the only ones who will remember the party as they get older. I would do something with just the child and family (trip to zoo, picnic in park, family trip to Chuck E Cheese) and take photos so they can 'remember' the day when they are older. (06/16/2005)
By Ann
Two Year Old Birthday Ideas
It's been said many times here already, but I will also chime in with a big "it doesn't matter." I speak from experience when I say a two-year-old will not "get" a theme, nor will he care if there isn't one. If you do have a theme, keep it very simple. For example, if he's into fire trucks, get a cheap plastic fire fighter's helmet for him, and maybe some firetruck napkins. Going overboard and having fire truck themed plates, cups, forks, streamers, posters, pinata, party hats, goodie bags, etc. etc. etc. are really not necessary. The kids won't care or even notice them.
Structured activities are usually hopeless with kids this age, unless they're really simple, like:
dancing to the music and freezing when it's turned off.
Finger "painting" with whipped topping and pudding is fun, but messy. (If you want to do something like this, say so on the invitations so the parents won't bring their kids in their best clothes.)
An activity that is fun for everyone is having the kids decorate their own cupcake. This activity makes for great photo opportunities too! After the decorating, put a candle in the birthday boy's cupcake and do the usual singing and blowing out of the candle.
I personally would have just a few kids over, and keep the party short, like 2 hours maximum.
Make sure there's at least one adult per child, by specifying that requirement on the invitation. Otherwise some parents will use the party as a parent's-day-out opportunity and leave the child there for you to supervise. I've been there, done that, and don't ever want to do that again! ;-)
Good luck! (06/16/2005)

By Lynne
Two Year Old Birthday Ideas
We had a Nemo theme. it was great. Maybe my son won't remember it all but i will. The kids had a great time and they all loved the Nemo decorations! The biggest hit was the bubble machine ($10 at target) the birthday boy especially loved it. (06/16/2005)
By partyfairy
Two Year Old Birthday Ideas
My son is really into "Choo-Choo" trains so I did a Thomas the Train cake and picked up some train plates and napkins. We did a BBQ in the backyard for the adults, the kids were just mainly running around playing. Then everyone had cake and then opened presents. After that the kids just ran around again and played. There was no need for any additional "planned" activities or a bounce house or pony or a clown. By the time everyone went home my two year old was exhausted.
We made sure the adults were happy and well fed. The kids entertained themselves with all of the toys, running around and playing with each other. That's all that was needed. Easy and simple.
In hindsight, as we were trying to save money, I would have had his party after lunch (like at 2ish) and would have just done cake, ice cream and munchies. We did a full out BBQ and fed everyone lunch (burgers, chips, salads, drinks, etc.)
I think it would be silly and a huge waste to hire a pony or a clown or anything else. He loved it just as it was and had a blast! (06/27/2005)

By Kiley
Two Year Old Birthday Ideas
I had a HULA girl party for my daughter when she turned ONE! I know people say that it is "for the adults" if you do theme. I know my daughter is going to look at photos of her granny, aunts, and friends in their grass skirts, pirate hats for the boys, lays, and pool attire when she is older and get a kick out of the fun we had when she turned ONE! You only have your child for a small amount of time! Have a blast planning their parties! Make memories that your whole family will never forget!
That's my two cents! (06/30/2005)

By Leah
Two Year Old Birthday Ideas
You could do a water balloon contest. But make the water balloons small, that way they wont pop as easily. (07/05/2005)

By Elise
Two Year Old Birthday Ideas
My son turns two in a few weeks, we're in Australia, and live on the coast, so we are heading to the beach with all his trucks and sand toys for a 'construction party'. The invite says: Foreman Mac is turning two and he's got lots of work to do. So dress for dirt and dress for sun to help us build some birthday fun. BYO trucks, sand toys, hats and sunscreen. It's going to be great! (07/06/2005)

By Kelly
Two Year Old Birthday Ideas
My son is turning 2 this week and we are having a car themed party. He just loves cars and trucks at the moment. We sent out handmade car shaped invitations which he helped make. We're having a matching red and blue 3D car cake. We will have helium balloons tied in clumps to various cars as decoration throughout, these will also be the favors for the kids to take home. I don't think planned games work well at this age, so we're going to have lots of toys and activities (such a drawing, bubbles, Wiggles music for dancing etc) for kids to make their own fun. Hopefully he'll love it. (07/07/2005)

By
Two Year Old Birthday Ideas
My daughter is turning 2 in October as well. I'm thinking an outside Halloween party.
(07/11/2005)

By trina
Two Year Old Birthday Ideas
My daughter loves Elmo. So we're thinking about the Sesame Street theme. I can't believe it when people say it doesn't matter what you do b/c the children don't "get it." She is going to be so excited to have an Elmo birthday cake and decorations. (07/12/2005)

By Stephanie
Two Year Old Birthday Ideas
ELMO BIRTHDAY PARTY WAS A HIT! My son turned 2 last year October. And my brother dressed up as Elmo and surprised all of the kids. To my surprise the Elmo costume wasn't that expensive. And we played games. Had an Elmo cake. Gave out Sesame Street/Elmo coloring books, had Elmo fruit snacks, the little golden fish crackers to represent Dorothy and little toys. And all of this went into their "Elmo Goody Bag." As an added bonus, we took pictures (even the adults) with Elmo using a digital camera and then printed them off upstairs and placed them on a piece of stiff red felt with elmo stickers placed around it. Everyone loved it. It was great. (07/13/2005)

By Dawn
Two Year Old Birthday Ideas
We are planning a pool party with a fish theme. For gift bags for the other kids we are planning on filling one of the plastic kiddie pools with plastic fish with numbers on the bottom, each one corresponding to a goodie bag. They can "catch a fish" and claim their prize. The plus is those of his friends who aren't comfortable in the larger pool can splash and play in the little one when the game is done. This could also be done with ducks, as long as they are playing in water they will be happy. (07/19/2005)

By Jennifer Briggs
Two Year Old Birthday Ideas
Maybe a Monster's Inc. theme in the spirit of Halloween. Inside or out (weather permitting) a treasure hunt can be fun and good way to keep the kids occupied. You can hide little trinkets and they can keep what the find as their party favors, or hide them all in one big container and have them search as a group, and let the kids split the loot (a good way to teach how much fun working together and sharing can be.) (07/19/2005)

Two Year Old Birthday Ideas
My son turns one on Saturday and we are doing an Elmo/Sesame Street theme. About 25 adults and 9 kids (ranging from 6 down to 1 year). We are doing an outside BBQ. Simple, hot dogs and hamburgers, beans, potato salad and fruit salad. Soda, bottled water and juice boxes for the kids. We rented some 8 foot tables. Gift bags for the kids, I bought Red gift bags at the local craft store (waited for them to be 3 for $ 1) and bought med. size Styrofoam balls, black felt and orange felt. Made Elmo's face with eyes and nose and mouth on them, filled them with Dollar store items (I found Elmo coloring books, Elmo erase boards, flash cards (age appropriate) and crayons and bubbles - they look great! I made an Oscar the grouch head and arms/hands and have an old garbage can that I am turning into Oscar/can. I also made a street sign (sesame street) and putting that next to Oscar. Made a large sign that reads "Today's party was brought to you by the letter Z and the number 1" and hanging that on our chain link fence. Having some "crafty items" on a kids table for the kids to do, if they don't want to get wet. Also balloons (bought a helium tank - again at craft store) printed off some coloring pages from online (free!) and made up a few games for parents and kids to do together, Elmo quiz (questions about Elmo) and "How many words can you make from Zachary's Celebration." For prizes I bought $ 5 Block buster gift cards, and some plastic bowls and microwave popcorn and made little bags up. For centerpieces, I bought red buckets (about 6 inches tall) and filled with Sand and am tying the balloons to them. I put Elmo and SS stickers on the outside and using that to put pens in for the games. I Bought Elmo themed paper products at our Dollar store. I will set up a few kiddie pools and an Elmo sprinkler. To top it off I will have Sesame Street music playing in background. All in all about $ 300 from soup to nuts. (07/25/2005)

By Melissa
Two Year Old Birthday Ideas
What about a face painter (face painting)? Nothing extravagant! Simple shapes like a sun, a flower, cat whiskers etc. (07/25/2005)

By Dee
Two Year Old Birthday Ideas
My son loves baseball so we are throwing him a baseball party, with hot dogs and a baseball shaped cake. (08/10/2005)

By am
Two Year Old Birthday Ideas
All my 23-month-old son wants to do every day is "go dig!" So, we are going to warn the guests to wear clothes that can get dirty, and have a load of dirt or sand dumped in the driveway. I got a bunch of cheap dump trucks and bulldozers and buckets and shovels, and we're just going to let the kids have at it for an hour or so. From birthday express I also got hard hats and construction and roadwork signs and picked up big orange cones from Home Depot. I know he's going to love it! (09/08/2005)

By Sam
Two Year Old Birthday Ideas
My twin sister's daughter had a pool party at a local hotel. She was able to rent it out fairly cheap. They also had a conference room where we were able to do presents and cake. I believe this is a perfect idea for the winter birthday parties. (11/10/2005)

By Helpful Mom
Birthday Party Ideas for Preschool Age
1. We planned a short party, 1-3 pm. It was after lunch and before dinner so we just served cake, ice cream, and drinks.
2. We theme our parties according to each child's interest. Alligators, Books, Space, Dinosaurs, Stripes, Trucks, Green, etc.
3. Have a wish list ready for those who may call and ask what they can bring. This way your child is more likely to get items that he enjoys and that you are okay with.
4. I make the cake using ideas I find online and do my best!
5. Our party activity is to let the kids decorate their own gift bag with stickers crayons, etc. I just get small brown or white paper bags (lunch bags)from the grocery store.
6. Gift bags for the guests got filled with a board book, bouncy ball, and bubbles from a dollar store. I felt like the items would be useful, fun, and a relief for the parents from the cheap Party City favors that usually disappoint the little ones.
7. I filled the gift bags the kids made and gave them back while my child opened his presents so that everyone had something new to open and hold.
8. After the gifts are open we let the kids play with them.
9. I took a picture of my child with each of his guests, the kids, and sent a copy in thank- you notes.
I have to say our favorite party was a Bookworm Party for my 3yo. I wrote the invitations as follows: "We have a little bookworm who loves to read and read. Our bookworm's name is (child's name) and soon he will be three!"
When someone asked about gifts, we requested they bring a copy of their favorite story book to build our son's library and write their name and message in the front cover. Then after our son opened his presents, we had story time! The cake was cupcakes lined up like a worm/caterpillar with the front cupcake being a smiling face in glasses and holding a folded card like a book.
(02/22/2006)
By Dragin
Two Year Old Birthday Ideas
I am having a "ball" theme and am gathering up as many balls that she has and that i can get my hands on to play with. We are going to my sis-in-laws farm and playing ball and playing with bunnies. I am also thinking about getting a canvas or a cheap white shower curtain to do some painting on. This is an extremely cheap birthday and i have yet to invest anything but time. We are two weeks away and all i have to do is get the cake and paints.
By Jen
Two Year Old Birthday Ideas
I've hired a bouncy castle. I'm also having a buffet. I can face paint and put on plenty fun music. i thought about pass the parcel, where the kids sit on their parents knees and you pass the parcel as usual only there's a little choc bar after each sheet of paper so they wont get jealous and a better prize at the end. (03/26/2006)

By gemma
Two Year Old Birthday Ideas
We will have a Dora the Explorer theme. The cake will be Dora the Explorer. The games I have planned are musical chairs, hot backpack instead of hot potato, and pin the tail on swiper. After the games we will bring out the pinata and give out the treat bags after that. Then we will cut the cake, served with Strawberry and Orange jello and open presents. For lunch we are making hot dogs and hamburgers. We will be playing Dora the explorer music during the games. We will have red, yellow, and orange balloons, Dora colors. I can't wait. I just hope it doesn't rain... hope you got some ideas. I will put some pictures up after the party. (03/28/2006)
By Lily
My two Year olds b-day
We are having a "Finding Nemo" party!
(04/01/2006)

By tayna
When you don't have money to spend
The best gifts are ones of love and fun. Memories are free. For those of you who post and want cheap ideas, try some of these.
Rainy day b-day? Go stomp in the mud and puddles and laugh until your belly hurts with your little one.
For the girls, play dress up. Let her wear your jewelry and a hat and dress with makeup and make faces in the mirror. Do funny hair, then a no rules bath (who cares about getting a little wet if it makes you little one know it is their special day).
There are so many things that do not cost a cent and would be wonderful memories for the kids. Duck Duck goose with grandma? Freeze Dance with mom and dad? I think the most important is to let loose, and have fun with your kids. Please don't teach your kids that Birthday's are about presents, make birthday's about fun and family celebrating a person. (04/06/2006)
By Teffie
Two Year Old Birthday Ideas
I am currently planning a Thomas party for my 2 year old son. Yes, I understand that he won't necessarily remember everything (though I have memories for age 3), but THAT SHOULDN'T STOP YOU FROM PLANNING WHAT IS FUN FOR YOUR CHILD and you! He doesn't remember the first time I told him I loved him or read him a story but they were still important. Also, as he gets older I will have less and less say in what he wants, so yeah part of it is for the parents! The look on his face when he sees something Thomas and yells out CHOO CHOO is worth every effort. I had 2 parties for him when he turned one (due to a sick grandma that couldn't travel) and the one with less adults and more balloons won by far! I am making a large Thomas out of appliance boxes for the backyard to play on, (free boxes from sears) making homemade play dough (very easy) and will have large paper out for coloring. I also have taped a few episodes of Thomas to show if we need some down time. (all of these cost almost nothing!) I did splurge on some balloons and a Thomas cake as I won't have the time to do those myself. I am having fun, and so is he, and that is the point! (05/07/2006)

By Mel
Two Year Old Birthday Ideas
My daughter will be 2 on September 1 and since she loves Go Diego Go! (the Dora the Explorer Spin-off), we're doing a Diego/Jungle theme. I'm planning on having a bean bag toss game with cardboard boxes I've painted with a jungle picture and cut the mouth holes of the animals out. I've done 4 of them so maybe no really bad problems with having to wait. I surfed the 'Net and found food ideas for a jungle themed party and Nick Jr. has Diego printable (invitations, place mats to color, etc.) For those who can't find stuff for your theme, Google it. I've found more than I thought possible! (06/29/2006)

By Billie (a different one)
Two Year Old Birthday Ideas
I am having my son's second birthday party at the city Zoo. He loves the zoo and loves animals. The invitations said "plan to spend some time with your family roaming the zoo after the party." I will have cake, ice cream and safari decorations. I will have beach balls and large toy trucks for the kids to play with. (08/25/2006)

By sherri
Two Year Old Birthday Ideas
My son was 2 last year and a pile of sand delivered by a real live dump truck to our driveway was a huge hit. We finished it off with caution tape and construction cones and hard hats. Party favors were handed out at the beginning and were a pail with each kid's name on it and a shovel and some other sand toys. Then we had bought a bunch of cheap plastic dump trucks that we brought out new that morning and the kids all ran them around the sand pile in races and just played. We had felt that they were really too young at that age for many organized activities so we just warned the parents of the other kids ahead of time that they would be getting messy and let them have at it for a good hour before serving cake and fruit salad. Everybody loved it from my son to the other kids and parents. Now I just need an idea for his 3rd this October!! Good Luck! (08/25/2006)

By Jocelyn
Two Year Old Birthday Ideas
My son turned 2 in Sept. and for his birthday, we rented a park shelter. We thought it would keep both young and older children busy. we are just having a cupcake cake with a fruit bowl so that everyone will enjoy the snack. We gave out goody bags with candy and a coloring books for each child so I didn't have to pick out specific toys for boys/girls. (09/08/2006)

By C.
Two Year Old Birthday Ideas
My son is turning three years old this October. I live in an apartment so I have reserved a small meeting room space at a hotel. His theme will be the Disney cars theme. I'm inviting a few kids from his daycare class and a couple of family friends that are his age. I'm serving toddler finger foods like (chicken drumettes,pizza dippin stix,corn on cob, fried potatoes cut in the shape of a race car,water and juices and car themed cupcake cake.) I plan on setting the food buffet style at the kids height so they can serve themselves. As a matter of fact the whole decoration idea will be knee level for me but just right for them. Activities will be set up as workstations to color, or build. The hotel has a picnic area where I will have outdoor activity available for the busy ones to burn off energy. Like red light green light, or a mini jump house. I also plan on showing cars the movie as well just in case it is a little too cold to play outside. I figure being still for a couple of hours won't hurt them. I have lots of ideas because I have three little ones one year apart one boy and two girls. kc_cuttie AT msn.com (10/06/2006)

By rpotter
Two Year Old Birthday Ideas
Since it's a little boy, white and blue streamers would look real cute inside the house hanging from the ceiling. If you have a ceiling fan, tape white and blue balloons to the end of each fan, that looks so cute. A cute theme would be cookie monster! (03/09/2007)

By Christina
Two Year Old Birthday Ideas
When my son turned 2, I was 9 months pregnant and had the flu. So we had a nice dinner at home and then one day at daycare we brought up cupcakes and had his "party" there. He didn't really know the difference and was just as happy to have his classmates sing to him with mommy and daddy there. I left treat bags for the kids in their cubbies.
The Dollar Tree has some cute birthday things: I saw Elmo, sports stuff, plain colors too. Cheap and your kiddo won't care where it comes from.
I will probably do the same for my daughters second birthday. She isn't really "into" anything and really won't know the difference yet.
Age three is when it gets really fun anyway! (03/12/2007)

By Tommy's Mom
Two Year Old Birthday Ideas
My son is turning two in July and we are having a teddy bear picnic party in the park. It's cheap and cheerful! And no need to rent a hall or have lots of kids and parents at my house. We are having balloons on weights and bunting hanging from a few trees. Also, lots of teddy bears and plastic honey pots. (04/21/2007)

By Katie
Two Year Old Birthday Ideas
No need to spend loads of time and money on a 2 year olds party! They wont remember it. So don't panic too much just a little cake and a few balloons will keep them happy. (04/21/2007)

By Nikki
Two Year Old Birthday Ideas
First, I must comment on the "they won't remember or care" comments. While it's true they won't remember themselves, nor truly "care" if there's a theme. At the moment when they see characters or whatnot they ARE very excited and as for memories, when they are older and see pics, they WILL care and love that those memories were made special! I just had my 2 year old little girl's party yesterday. The theme was Winnie The Pooh and she LOVED her Pooh cake and loved the little ears (in lieu of party hats) that she wore! I bought a Pooh book for all her guests to sign and leave memories in. We had an outdoor BBQ with burgers and the fixings. Remember, they might not care at 2, but all the years after(especially when they are adults) when they look back at the photos, they will remember and love that you took the time to make it special! (07/23/2007)

By Rebby
Two Year Old Birthday Ideas
I agree with the comment below! They do remember and they do enjoy a party. My daughters 2nd birthday party is this weekend and we are having family and friends round for a BBQ (along with bouncy slide)- My theme is Hawaiian and all the girls (the older ones, too) are wearing grass skirts, leis and sunglasses. I have a few palm trees, scene setter and flowers to put everywhere! it should look great. My daughter loves music and I am sure that she will enjoy the day, along with the party games. She will be fully involved and have a great time! I will need a good rest afterwords but who cares, it's her birthday!
Yvette (08/01/2007)

By Yvette
Two Year Old Birthday Ideas
My son will be turning two on September 7th as well! We are having a John Deere tractor theme cause right now anything with wheels is a tractor! :-)
We live in a 2 bedroom duplex but I'm going to end up using almost every room. The living room and kitchen are going to have the food and the color wonder coloring books for each kid. I'm going to have balloons tied in different places as well.
I'm going to turn my bedroom into a balloon bin. I figured I could duck tape a bunch of boxes together to make a bin and then have a ton of balloons thrown into it for the kids to kick around.
My husband is going to pull out our riding lawn mower and attach our bin behind it and let the kids ride in the back with an adult along for the ride.
I figured I could have a DVD playing in the living room if kids start to wind down.
Factory Card Outlet has John Deere supplies and a lot other theme supplies.
http://www.factorycard.com
Hope this helps someone. (08/17/2007)

By Monica
Two Year Old Birthday Ideas
For my son's 2nd birthday we contacted our local Fire Company and they came to our house with sirens and lights on. The kids were allowed to play in/on the truck. They gave each kid a plastic firemen hat. And we took a pic. of all the kids sitting on the front of the truck and made that into our thank you card. It was a huge hit! (08/28/2007)

By Amy
Two Year Old Birthday Ideas
Hi, my son's 1st birthday was on Sept. 19th last year. We also had a Thomas the Tank party. We did a couple of fun things.
1. We used the fat chalk to draw "railroad tracks" up the driveway leading to the party site. (the backyard :)) They looked more like a flat ladder but it worked. It looked like people were walking on the train tracks.
2. My friend used Thomas the Train or Thomas the Tank Engine clip art or coloring book pages from the internet then printed pages of the various trains. One page said "our last name Stop", one said "Party is Here". You can choose Thomas related words and phrases to match the theme. Then we had them blown up to poster size and we used wooden stakes to stake them in the yard so that people could see them when they arrived.
3. I used butcher block paper to have a friend draw long railroad tracks. I laid it on the ground with lots of markers and the children all drew trains on the track. This was a hit and kept the early arrivals busy until the others arrived.
4. I googled "train whistles" and found a company to order plastic whistles shaped like trains. I tied them to string and place one around each child's neck as they arrived. (09/07/2007)

By guest
Two Year Old Birthday Ideas
I just had a wildly successful party for my 2 year old daughter. For other Moms who try to resist exposure to trendy commercial characters i.e. Thomas, Dora, Sponge Bob, I just used white kraft type paper and covered the three 'little people' tables we have in the house, provided crayons, stickers, noisemakers, party hats, name tags (for kids and adults), lots of balloons and music. The kids were very well entertained decorating the tabletops and once dinner was done (early evening party) I simply cleaned up by removing the white paper in preparation for the cupcakes and Happy Birthday song. I think the best party results from 1) prepping your child about his/her day by singing the Happy Birthday song in advance so they are full of anticipation and not frightened when everyone starts singing and 2) inviting children who are meaningful to him/her as opposed to friends of yours who happen to have children 3) keeping it small enough that it is not overwhelming - we had 8 and it felt like 80. I also am not a fan of traditional party favors so each child went home with two mylar balloons and an extra cupcake - they were psyched! (09/11/2007)

By PrincetonMom
Two Year Old Birthday Ideas
Hello my son is turning two in October. We rented a local grade school gym. We are doing the cars theme which he loves. We are having a pinata, and all the card decor. For the kids we are making cupcakes which will have a plastic diecast car on top of each one. For the children we will have treat bags with the candy, bubbles, and large punch balloons. We are also doing face painting and will have a table covered with paper for a coloring station. I am making cars punch for the kids which i found recipe online. Pour apple juice in ice tray and put one or as many as desired cars, gummi treats in cubes and freeze then take 1/2 cherry juicy juice and 1/2 lemon line flavored soda and mix them add the ice cubes for kids punch. We will also have plenty of balloons and pop up tent, as well as a ball pit and pop-up tunnel for the kids to have something to play with. I love the excitement on all 2 of my sons faces when we have their birthday parties. We have lots of great pictures for memories. Just have fun that's all that matters. I have done several birthdays for boys including Elmo, rubber ducky, monster trucks, Thomas the train, care bear baby boy etc.

By cindy
Two Year Old Birthday Ideas
I baked a batch of cupcakes (plain) and had little plastic bowls of icing and candy on plastic mats. The children all decorated their own cupcakes. I also hired a jumping castle for the garden which the kids loved. (My son still asks if he can have a yellow party again, the color of the jumping castle) (11/18/2007)

By Brenda
Two Year Old Birthday Ideas
For my son's 2nd b-day (Pooh themed), the kids enjoyed a "fishing" activity. I pinned up a blue plastic sheet across the corner of the room, taped colored construction paper fish to the sheeting, and made a sign "Pooh's Fishin' Hole". I then made a fishing pole out of a dowel, string, and a clothespin. EASY....
The kids would drop the line behind the sheeting and I would clip a small prize or treat to the clothespin, give a tug, and they would fish out their surprise and put it in their goodie bag.
It was a great indoor activity for a winter party and would be good for at least age 2-4. Even when I ran out of prizes, we simply recycled the already-won prizes! The kids didn't care, they just had a ball taking turns fishing for treats! (01/24/2008)

By Natalie
unique birthday party idea
We had a wonderful party for my son when he turned one. This could be ideal for boys any age though. We had a dump truck drop off a huge load of dirt. The theme was construction and on the invitation we instructed the kids to meet their foreman ( our sons name) at the job site at 2:00 o'clock. We also told them to be ready to get dirty. We had construction signs and a huge banner I made that said " CAUTION: kids at play", which I had every attendee sign before leaving for our son to keep. We had caution tape everywhere. We put dunp trucks, sand pails, shovels and rakes (kids ones of course) in the dirt. We let them do their own thing in the dirt. The kids had a blast. We did have to wash them before leaving though, so it would be best to have a hose nearby. Also you can just make a dirt cake with oreos and gummy worms ( very inexpensive and cute) (01/28/2008)

By April
Two Year Old Birthday Ideas
My 2 year old son loves pirates, so I decided to have a pirate pAARty! I'm going to supply pirate gear for everyone to dress up (eye patches, hats, and do-rags). Complete with a pirate ship cake, and pirate music dancing! If weather permits, the outside activities include bubbles, sidewalk chalk, and a "treasure hunt". I hope its a hit! (04/05/2008)

By Annie
Two Year Old Birthday Ideas
For the Barney birthday, you could have a "purple" party. There is an episode of Barney where they do that (my son watches it over and over again!). You could ask all the guests to wear purple and have purple foods and decorations. It could be a great theme for not very much money.
Good luck, let us know what you end up doing. (04/24/2008)

By jess
Two Year Old Birthday Ideas
Hi! I'm planning a Mickey Mouse party for my son's 2nd birthday. Many of you are saying he wont "get" a theme, but I know his face will light up when he sees Mickey. Even now when he sees something Mickey he says, "wow!". Whether or not he will remember this party as an adult is debatable, but I know that on that day Mickey will bring him joy! (05/27/2008)

By tiffany
Two Year Old Birthday Ideas
My son turns two in 3 months. We are doing a "wiggles" themed birthday party. Its relatively cheap because all you really need is red, yellow, purple, and blue streamers and balloons. You can cut out music notes to hang all around and then just the wiggles party favors, and wiggles cups plates napkins etc. Play wiggles movies and music and my son will be in "Wiggles heaven". (05/31/2008)

By ashley
Two Year Old Birthday Ideas
Two year old games:
Play music and give each child a scarf to dance with.
Play music and when the music cuts off everyone freezes.
Play music and get everyone in a seated circle and roll a bunch of colorful balls to one another. You can also freeze when the music cuts off for this, too. (06/07/2008)

By Erin
Terrible Two Year Old "Messy" Party
My daughter is turning 2 this August. I'm pretty sure it will be warm out so we are having an outdoor party and the theme is "MESSY". My invites say, "Help me ring in the terrible two's and get all messy with me". I have a picture of her completely messy playing in the mud outside on her invite. We are going to have silly string, finger paints, cookie decorating, and instead of me staying up all night baking a cake I am having the kids all decorate a cupcake and putting them in a cupcake stand and that will be her cake. We will also have water balloons and a sprinkler. I bought 2 small kiddie pools. I will fill one with warm water and baby bath (no more tears) and one with clean water for all the kids to wash of in after all the messy activities are done. I went to thrift store and bought a bunch of t-shirts for the kids to wear over their clothes to help keep them clean. I also bought a bunch of cheap towels at the dollar store for them to use. I made the invite was very clear about what was going on so all the parents knew what to expect. The adults will be very well entertained watching all the activities. (07/07/2008)

By Mary Hall
Two Year Old Birthday Ideas
My little girl is turning two in October and we are going to have very fun filled party! There is no particular theme just lots of fun activities planned. We we will do arts and crafts. I'm getting a roll of white paper and providing all sorts of writing and drawing implements, sidewalk chalk, story time, lots of music and movement, and outdoor activities.
I'm making a cake and food which really cuts down on cost. And to top it off we will have a guest appearance from ELMO. My daughter loves it but I don't so I figured we'd throw that in there without making the whole party ELMO themed. Hope all this helps! (07/08/2008)

By Hannah
Two Year Old Birthday Ideas
Some people above left comments suggesting that it doesn't matter what you do because your 2 year old won't remember it. Being a mother myself, you want your kids to be so happy. No one is looking to the future wondering if their child is going to remember.
My daughter is turning 2 in a few weeks, and I am not going to spend a lot of money on her party. I want her to be able to look back on pictures when she is older and see that her mommy and daddy cared enough to give her the best birthday ever. We are just going with an all out pink party. streamers, balloons, and activities for all age kids, since there are a lot of different age groups coming.
We are having it in the gymnasium at our church, so the older kids can play basketball, and we are having hula hoops there, and balloons all over the floor. also there will be a kids table set up with lots of stickers. My daughter loves stickers. and also fake tattoos. she loves to put on fake tattoos. It will be lots of fun. And never worry about entertaining the adults. They will be entertained watching the children. (08/17/2008)

By Lisa
Two Year Old Birthday Ideas
Our daughter, Honey, loves Winnie the Pooh but especially Tigger. She loves to bounce like Tigger. We are having a BOUNCING PARTY. We are living in Japan so we are going to pile all the futons and mattresses up in the living room and go bounce crazy. We have made Tigger tails for all her friends to wear. (08/18/2008)

By melinda
Two Year Old Birthday Ideas
I had a splash party for my daughter. We decorated a short table (well it was a book shelf turned over
), like a beach towel and used cheap dollar general floats around it as chairs. We had cheap dollar blow up wading pools filled with boats, water guns, and splash balls. A bubble machine going and I had bought from party city the theme wall decor that looks like water and put on the floor under the table looked like they were floating in a pool. I made a cake like a beach ball for her and a small cake that looked like a pool with teddy grams floating in gummy life savers. It was a hit the kids had a blast. (08/20/2008)

By Crystal
Two Year Old Birthday Ideas
Hello, my son is turning 2 in September and we are throwing a carnival birthday in the back yard. All the games were made from old diaper boxes that we collected over the months and painted them with stripes, dots etc. They are the perfect height for two year olds. We played games such as can toss, bean bag toss, pluck a duck and bowling. I also purchased toys from orientaltrading.com for our "prize booth" that I made from an old refrigerator box I got from an appliance store.
We bought clown lollipops on sale at the dollar store and I am making cupcakes for the kids to eat. I asked a friend of mine to dress as a clown and apply carnival themed tattoos to the children and my DH is grilling hamburgers, corn dogs etc. We also rented a cotton candy machine for 40$ from a local party rental place. I'm hoping everyone has a blast! Hope this helps! (08/22/2008)

By Ashlee
Two Year Old Birthday Ideas
My sons second birthday is on Sept. 15th and we'll be doing a "Reduce, Reuse, and Recycle" party theme. We are going to teach and explain the benefits of recycling and helping out the planet in a fun way. We have guessing games and most of the party favors are reused from other previous birthday parties, name tags are from recycled cereal boxes, and the paper plates are eco-certified as well as the napkins. As for food, a good ol BBQ and lots of treats such as cookies, cupcakes, and cake. I 'm really excited to be doing this because I hope it will also get the parents to become more aware of their carbon foot print. They will also get a plant to take home! (09/04/2008)

By Irvine
Two Year Old Birthday Ideas
I am thinking I will plan food and decorations around my daughter's favorite book, Dora's "It's Sharing Day!" Something she loves and can relate to and also have swimming and "craft" stations (tattoos, coloring, etc.). Simple goodie bags as their will be various ages at the party. Keeping it simple, not quite as structured so that kids can be free to have fun. (09/06/2008)

By
Two Year Old Birthday Ideas
My oldest daughter tuns 2 Sep 15th 2008 and last year we just did the family cake with pictures- so this year I figured why not invite a few friends. We want to make the party as fun as we can with a very low budget. Ive been reading up on some ideas and I think we are going to give away a box of crayons as party favors when guests arrive and have the table covered with white paper that you can write on (you can buy it by the foot for 5 or 10 cents at a local paper shop) and have all the little ones color. Maybe stamps or stickers (?) not sure. We will have pb and j, cheese cubes crackers, fruit and punch. I bought a box cake with pink icing and pink sprinkles. I will go to the dollar store to buy some streamers and a few balloons. We also have a neighbor that has a miniature pony who will bring him to let the girls pet and ride. I'm hoping this party will cost me no more than $35! (09/11/2008)

By Tslick
Two Year Old Birthday Ideas
October will be cooler, so inside would probably be best. Try a place with a ball pit and soft toys, they should have something other than Peter Piper Pizza or Chuck E Cheeses. Or, make your own ball pit or bouncy jungles you can rent. What about Build a Bear? They do parties at those locations or Ice cream parlors. I've seen them even hold it at McDonalds now with big kid play areas. (b)(/b) (09/29/2008)

By TY
Two Year Old Birthday Ideas
My daughter will be two on Halloween. I am lucky enough to have a friend with a toddler mini moonwalk that we are borrowing.
The party will be outside since nice weather is expected with bubbles and the bubble machine ($9 Target), a table covered in wax paper for play-doh fun, a table covered with paper for coloring and kids music since they love to dance and show off.
I am thinking of either finger sandwiches and snacks (veggies, fruits, crackers and cheese) or pizza (my dad has a pizza shop so this would be inexpensive) and snacks? What do you guys think on the food? Pizza or sandwiches? (10/29/2008)

By Danielle
Two Year Old Birthday Ideas
Rachelle, I would say go to a local park that has a community center or anything of that sort. Make it so that the older kids can actually participate in games with the younger babies. Take for example if you do a "Go Diegeo Go" theme make up a treasure hunt for the kids and have the older kids pair up with the babies, so everyone has fun and they don't feel left out (11/10/2008)

By Teairya J.
Two Year Old Birthday Ideas
My son's 2nd birthday is December 3rd so an outdoor gathering was out of the question. Like a previous poster I can't deal with having the party at my house again. Just too much stress for me. We thought about one of the many bounce houses but that's total chaos. I found an indoor playground that is geared towards toddlers and young children. (www.littlebearsindoorplayground.com) Granted this one is located in Kennesaw, GA but there may be something similar closer to you. Good luck! (11/10/2008)

By Erin
Two Year Old Birthday Ideas
Check out thelittlegym.com. they do entire birthday parties for children. They are all across the country and do everything for you, send out the invites, each child gets a t-shirt, balloon, and cup to take home. The birthday party will be 90 mins long. It looks really fun! I saw it right after I sent out my invites, so next year I am so doing it for my eldest daughter! So go check it and see if they're is one near you! (11/17/2008)

By Canela in southern california
Two Year Old Birthday Ideas
I'm 17 and throwing my brothers party. He's two years old and there will be plenty of people there. Clear a room, get some toys a couple of out going teenagers that love kids. Put a radio on keep parents close by but not to close let the kids be kids until it's diaper time. Feed them and let them enjoy being little people. Make up fun easy games, and get enough gifts for everyone. (12/10/2008)

By big sister to the rescue
Two Year Old Birthday Ideas
My son just turned one and we had the party at home. It was really great.
I myself have done hundreds of parties, as I used to work at one of those music and movement places. I ran 8 birthday parties a weekend! I am now doing my own Music and Movement birthday parties. I run the whole party with my assistant, play guitar, bring instruments for all the children, play parachute, dance, even send out the invitations, bring balloons for each child and have a t-shirt for the birthday child. We will even serve the pizza and cake all in your home while the parents relax in another room! Hope I don't offend anyone with my shameless self-promotion. We're Mainline Music Parties, no website yet, just getting off the ground. My DH has a website, www.craigbancoff.com if you want to find me. Or email me, abancoff at gmail dot com(don't find my email robo's!) (12/25/2008)

By Aliza B.
Two Year Old Birthday Ideas
I have 2 kids. I still think if they remember or not, do something fun for them. You have to address that it is there birthday. I will always remember their smile when I threw them the birthday party. So do what your budget allows. As far as remembering, we will, the people that come will. They may not remember but it is still their birthday! (01/09/2009)

By scarlett
Two Year Old Birthday Ideas
My daughters 2nd birthday is in April and we are going to have a dance party and invite all her playgroup friends. Just think about what your child loves and center their party around it! (01/23/2009)

By Ann