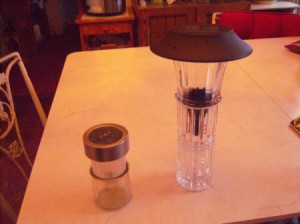 We get our share of power outages and that is usually when my flashlight batteries are dead. I don't feel comfortable lighting lots of candles, so this idea is a good stopgap while waiting for the lights to come back on.
I took my little outdoor solar powered LED lights inside and stuck them into vases. I could carry them safely around the house for a little extra light and no fire danger. Safer when you have children, pets or elderly in the house!
Each pictured solar lamp is about 1X which means 1 lumen of light which equals one candle. There are some larger solar-powered LED lights that could actually light an entire room. 12X lumens for a bathroom and 24X lumens would light a living room, approximately.
These could even be added to rooms that get a nice amount of daylight sunshine in the windows normally to use at little night lights at nightime!