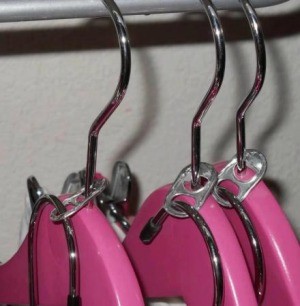 Slide a ring pull from a soda can over a coat hanger. Immediately, you now have double the wardrobe space!
Source: I saw a picture online.
By Monique from Somerset, UK., Weston-super-Mare
Comments
July 17, 2012
0

found this helpful
Top Comment
I just tried this and it worked excellent. Thank you Monique, I hope you win the contest for this great tip.
April 6, 2013
1

found this helpful
Top Comment
For larger hangers use the poptops from soup cans (such as Progresso). They have larger holes than soda can poptops!
May 23, 2015
0

found this helpful
Top Comment
If you use fat hangers use curtain rod rings,or shower curtain rings. I get them at tag sales and they are inexpensive.
Use a pop tab to make a double hanger for a top and skirt or top and pants. Put the hanger hook through one of the holes in the pop tab, then hook a second hanger through the other hole.
Source: Tipnut.com
By Elaine S. from Near Cedar Rapids, IA
I have a small cabinet for my dresses. Hanging my dresses was very tight. They were all comprised and it caused them to become wrinkled.
Because I needed more space, I used the pull tab on cans, like on soft drink and juice cans.