Scrapbooking
Don't throw away that jigsaw puzzle with pieces missing. Paint a few pieces, stamp or write a letter on each one and use them to make a title on a scrapbook page. Then use the corner pieces on the corners of your photos. (Cover the backs with acid free paint or paper if you are unable to determine if the puzzle is acid free.)
By Kate Larson
Puzzle Piece Jewelry
Spray paint them and turn them into earrings, bracelets and necklaces with a few jewelry findings. Glitter might add to them.

By Marty
Puzzle Picture Frame
Glue jigsaw puzzle pieces around a wooden picture frame for a unique look! You can paint them or leave them "as is" for an abstract look. This is a great way to use puzzles that have a few missing pieces, instead of discarding. It's also an unusual way to cover up defects, nicks and scratches in frames.

By Becki in Indiana
Bookmarks
When my eldest son was in the first grade, he came home with a photo of his teacher, him and myself and it was in a frame of painted puzzle pieces. We have a bag in our craft box of pieces just for when we need them. We will be making bookmarks soon and I'll bring those out for them to glue on their bookmarks if they so choose!
Puzzle Pins
Use puzzle pieces to make pins. Just spray paint and let the children decorate. Then glue a pin on the pack.

By Sonya
Puzzle Pieces Wreath
Put the puzzle together on top of newspaper. Spray paint in a nice Christmas color. Now draw a circle about 6" in diameter on paper, and cover it with wax paper. Make a round of painted puzzle pieces, then glue a second round on top of them, indenting slightly. Paint on details like holly leaves and berries, write "Merry Christmas" on a banner that you glue across it, and hot glue a string or ribbon hanger. We made some with the year on them and our friends really loved those!

By Coreenhart
Do you have any more uses for puzzle pieces? Post them below.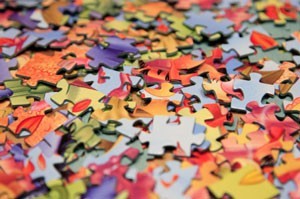 Answers:
Uses for Jigsaw Puzzle Pieces
You can also glue them together to make into snowflakes for hanging in windows or as tree or package decorations. Glue together into the shape you want, then paint them white or silver, sprinkle them with silver or white glitter while still wet . Hang when dry! (06/29/2007)
By hugus