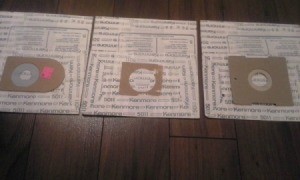 A pack of 3 vacuum cleaner bags costs $10.00 & tax. That's over $3.50 for one bag! I never buy the original bags anymore. Instead, I buy any bags that are roughly the same size at yard sales and Thrift Stores. Salvation Army has baskets full of those bags in all sizes, for 25 cents a bag!
Before I discard a full bag, I remove the cardboard piece that fits my model of vacuum. I remove the cardboard piece of the Thrift store bags, heat up my glue gun, and glue the original piece from the used bag in place. I have reused the same pieces about 30 times each. This is saving me more than $150 a year!
If the bags were not exactly the same size as the originals, it has not made any difference. The important piece is the cardboard fitting. This is way more hygienic than opening a full bag, cleaning it out and resealing it, as some people do.
Just remove that cardboard piece shortly before you throw the full bag in the dumpster. No mess, no dust. My picture shows 3 of those thrift bags. Left: with their original piece, middle: original piece removed, and right: with my vacuum`s specific piece glued in place. It takes only seconds to make, after the glue gun is heated up.