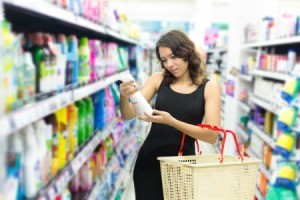 I am having trouble finding Energine cleaner. Do you know what stores carry it? Thank you!
Lenore

Answers

June 21, 2010
5

found this helpful
I'm new to this website. I'm glad I found it because I found some useful information. Anyway, on the home page I saw your question. A while back, I was also looking for Energine Cleaner to clean my upholstery because I am unable to clean it with water or steam. I had read that you could use Energine on silk, corduroy, and some other fabrics. I called a cleaners and they didn't know. I looked at Lowe's, Home Depot and even grocery stores with no luck. Then, I called a local hardware store here in town and spoke with the manager. When I asked about Energine and what I wanted it for and that I couldn't find it anywhere he mentioned another name that does the same thing.
It is called "AFTA". It is an adhesive remover cleaning solvent. Cleans carpets and fabrics. It says that it cleans "S" coded fabrics. I looked at the tag on my couch and it was "S" coded. I didn't know that fabrics had different codes. The can says that it's also a Cleaner/Degreaser. It says professional strength formula. It's made by the same people that make "GOOF OFF" because that's on the can also. I don't know what you need it for, but I bought this can at my local hardware store here in Baton Rouge at Goodwood Hardware. I haven't used it yet, but plan on cleaning my upholstery this summer or I would tell you how it worked for me. I couldn't believe I couldn't find Energine anywhere in town. I can remember my mother having and using that product from way back. Hope this helps! Good Luck! Southernsister

Grandma J
Silver Feedback Medal for All Time! 270 Feedbacks
June 22, 2010
1

found this helpful
Old fashioned hardware stores or farm and home stores in the cleaning isle.

June 23, 2010
2

found this helpful
Energine is no longer manufactured.

September 24, 2012
5

found this helpful
Energine was simple, pure, 100% low-flash Naptha. It's what dry cleaners used to make before they switched to percoethylene.
You can still buy Naptha at most home centers like Lowe's, Home Depot, and Ace Hardwar, but be sure to buy only low-flash Naptha. High-flash naphtha will melt most plastics, which is what polyester is.
The best way to get low-flash Naptha is to buy Ronsonol lighter fluid. It comes in yellow plastic bottle and has a little pop-up squirter that makes it perfect for applying to spots. It's NOT butane. It's the kind of lighter fluid used in Zippo lighters. It is 100% low-flash Naptha, exactly like Energine. Same stuff.

Jess
Silver Post Medal for All Time! 267 Posts
April 14, 2014
2

found this helpful
(submitted via email) The original question was asking about a cleaning fluid called Energine This product is no longer available. This gentleman says that Energine was 100% pure naphtha and that you could use naphtha in its place. I have a can of Energine and on it, it says 100% 1,1,1-Trichloroethane otherwise known as methyl chloroform. This is not naphtha and so using naphtha may or may not yield the same results.
Felix

October 3, 2015
0

found this helpful
I have a can of Energine that I am looking at this very moment. It says, and I quote, "Contains 100% Naphtha." No mention of Trichloroethane or any other ingredients. I also have some Zippo lighter fluid that cleans and smells exactly the same as Energine as far as I can tell.

August 15, 2016
2

found this helpful
they used to have 2 kinds. Flamable and Fireproof Maybe this explains the different ingredients.

September 28, 2016
0

found this helpful
1,1,1-trichloroethane is the less-toxic replacement for the original carbon tetrachloride cleaning fluid. CarbonTet was also used as a fire extinguishing fluid (in sealed glass "grenades" you threw at the fire) and thus was the "fireproof" Energine.
Naphtha, even low- flashpoint, can be used as cigarette lighter fluid and so is obviously not the original Fireproof Cleaning Fluid.
Read More

Answers