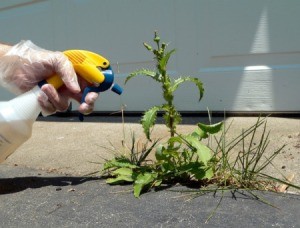 It is expensive to kill weeds by using weed killer. You can use household bleach which works better.
Source: from a friend
By Stellalpe from New York, NY

Answers

Janet
Silver Feedback Medal for All Time! 399 Feedbacks
May 6, 2010
2

found this helpful
Bleach is not good for the environment & will get into the groundwater when you use it to kill weeds. You might try vinegar.

Allison
Bronze Feedback Medal for All Time! 231 Feedbacks
May 6, 2010
2

found this helpful
Agree with the vinegar route. We might try it this year, as our dandelions are already out of control.

May 6, 2010
1

found this helpful
You have to be careful with bleach because it will melt some plastic containers. For instance, if you are using a weed killer sprayer traditionally used for chemicals like Round Up or such.
Bleach may destroy the plastic rendering the receptacle useless.

April 8, 2012
1

found this helpful
Bleach - not so much! Vinegar will work but it is not selective. Anything you put it on, it will kill. Boiling water or steam will work as well, but be careful you don't get burned yourself!

April 5, 2013
22

found this helpful
Sorry, but the bleach weed killer 50/50 water/bleach and 1/4 cup of dawn liquid soap is really the best, while bleach is toxic, it is less than the toxicity of regular weed killers... why? Because clorine bleach dissipates within 12 hours.
It does not harm the ground water. It does not harm the soil, you can go out the next day and plant right on top of the place where the weeds were the next day. :)

June 5, 2014
0

found this helpful
Household vinegar/soap combination will work but weeds will return. Vinegar with at least 10% acidity is required to completely kill the weeds to the roots. Be careful you don't get any on your skin as it will burn like heck. Add to this orange oil and you've one awesome weed killer.
April 20, 2016
4

found this helpful
Bleach definitely is a strong weed killer, simply because it will kill every single plant it touches. This is why if you decide to use bleach as a weed killer, you should be very careful not to apply it on your other plants by accident. I would usually use it to remove weeds growing from the crevices of a paved patio or something similar, where I can't harm other plants.
Lately I had my lawn mowed by a professional company, and the professionals there recommended me to get one of those weed mats. You practically apply a mat around your plants and the weeds stop growing in that particular space. I also found out that old carpets and curtains can be used for the same purpose.

June 26, 2016
0

found this helpful
When using bleach should it be diluted first? And ' rainproof' is it? Like with roundup if you speay the plant and then 30 minutes later it rains, the plant will still be destroyed.

May 15, 2017
0

found this helpful
tried all that..none worked...clorox however did.
May 19, 2017
1

found this helpful
Bleach won't harm plastic containers and spray bottles. Common laundry bleach is sold in plastic bottles, so the manufacturers are confidant of this. Bleach in the environment, in contact with soil moisture eventually degrades to free chlorine (nasty for you and the weeds) and sodium chloride, or common table salt (the stuff you eat).
Whether it works as a weedkiller I just don't know, but you put it in the laundry with your white bedsheets and undies, and I don't think you've come to any harm yet, have you?
July 18, 2017
0

found this helpful
Bleach will absolutely destroy certain types of plastic if you put the bleach inside of one of those plastic spray bottles the commercial ones for spring larger amounts it will destroy it
August 16, 2017
0

found this helpful
Dawn says do not mix with bleach on the label
Read More

Answers