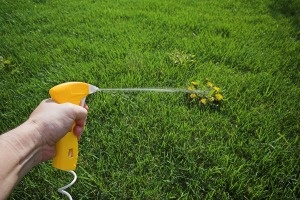 What can I use to kill blackberries and thistles, but not kill the grass?
By Michael Wright from Washougal, WA

Answers

November 1, 2010
0

found this helpful
Look for a broad leaf weed killer that is labeled safe for lawns. Most of the phenoxy herbicides (2,4-D, dicamba, MCPA, etc.) will do minimal damage to grasses and take care of the broad leaf weeds just fine. Blackberries will be very hard to kill - many repeated applications of the weed killer will be needed!

December 30, 2010
1

found this helpful
Black berries are indeed hard to kill. Some areas in Washington state and Oregon have gone to pasturing goats in these areas. Goats naturally will eat the berry bushes first over grass. By keeping the leaves stripped off the plant and eating the new growth they eventually starve the plant to death.
This has happened on my own property when I moved my goats into a pasture with wild roses, russian thistle, mint, snap weed, and cat tails. 3 years later I have a pasture that is primarily grass and clover, the stream is no longer chocked with cat tails and best of all, happy goats.

June 16, 2018
0

found this helpful
why kill black berries they are good health food

April 27, 2019
0

found this helpful
Altho good to eat, must use gloves or be extra careful of their THORNS!!
Answer

this Question