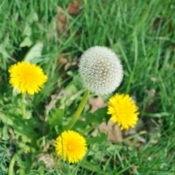 Question:
I live in the Maryland area and my grass is full of weeds. Currently we have not received a steady flow of rain for months. I would like to get rid of the weeds and put down more grass seeds. But because it has not rained much if I put down weed killer or grass seeds I will need to water them every day which will cause me to have a high water bill. Do you have any suggestions?
Derrick from WA
Answer:
Derrick,
There are several things you can do to get rid of weeds and give your lawn a facelift. If your lawn contains less than 50% weeds, instead of looking for ways to combat the weeds, consider trying to create better conditions for grass to grow. This time of the year, lawns naturally go through a dormant period corresponding to the hot dry conditions of late summer. Improving your lawn in the fall and spring will work with the natural growth cycle of grass and take advantage of seasonal rains.
Prepare for fall by aerating your lawn now. This will help to reduce soil compaction and allow nutrients to get down to the roots of the grass. Ideally, you should try to do this a couple of times before the end of September.
In the fall, fertilize by adding a 1/2 inch of organic matter in the form of compost. Spread this evenly over the lawn and then water it thoroughly. Use a slow release fertilizer to increase the likelihood that the nutrients will be used for root growth. Root growth is the main activity of grass in the fall-strong roots being necessary for vigorous blade growth next spring.
Next spring, over seed with a grass variety appropriate to your growing area. Keep the seed moist by watering in between spring rains. You may need to over seed more than once before you see a significant change in composition.
During the summer months, maintain a grass height of at least 3 inches. This allows the roots to go deep (blade length is proportional to root length) and allows grass to become well established-eventually choking out most weeds. Leave the grass clippings on the lawn as fertilizer. They are a great source of nitrogen (the most important grass nutrient).