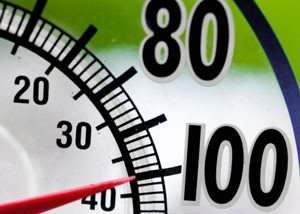 Too much heat can be as detrimental to garden plants as too much cold. And while most gardeners are familiar with the USDA Plant Hardiness Zone Map, less are aware that a map exists for heat hardiness as well. Here is what you need to know about heat zones and why knowing your zone can affect what you grow.
How the Map Came to Be
In 1997, Dr. H. Marc Cathey, President Emeritus of the American Horticultural Society (AHS), teamed up with Meteorological Evaluation Service Co., Inc. to create a new hardiness map for gardening consumers. The result is a map featuring zones based on "heat days", that is, the average number of days each region experiences temperatures over 86 º F (above 86º F cellular damage starts to occur in plants). Data used to create the map was taken from the archives of the National Climatic Data Center and compiled from thousands of weather stations across the U.S. The map is divided in 12 Zones with "heat days" ranging from none in Zone 1 (the northernmost zone) to over 210 in Zone 12 (parts of Florida, Texas, and Hawaii).
How "Heat Days" Affect Your Plants
Depending on the plant, sustained periods of extreme heat can shut down physiological processes. Symptoms of heat stress can appear suddenly, or plants can linger in distress for years. Some plants turn a ghostly pale blue-green and appear droopy, while others stop blooming, drop their leaves, and in some cases, expire altogether. And if the heat stress doesn't ultimately kill them, it most certainly leaves them vulnerable to attacks from insects and disease.
Where the Map Shines
One of the biggest advantages that the AHS Heat Zone Map has over the USDA Hardiness Zone Map is that it assigns heat zone ratings not just to perennial plants, but also to annuals. This includes flowers, garden vegetables, and herbs, as well as field crops.
Where the Map Falls Short
Like the USDA Hardiness Zone Map, the AHS Heat Zone Map should only be used as a guide. The map is based solely on temperature and does not take into account unusual weather patterns, areas with sparse populations, humidity, or variances in nighttime temperatures-a significant factor in determining how far south a plant will grow. The overall accuracy of the map is based on the assumption that plants are getting adequate moisture and does not factor in drought conditions.
Heat Zone Labeling
Although the AHS Heat Zone Map is not as widely used as USDA Hardiness Zone Map, it is showing up in more and more catalogs and an increasing number of plant labels-over 15,000 different plants have been assigned heat zones since the map was first released. If included, the heat zone numbers usually appear directly after the hardiness numbers on the label. The highest number (hottest zone) is listed first-the exact opposite of how the USDA Hardiness Zones numbers are presented (lowest zone to highest).
The AHS website cites several examples of how this works. In one example, they state that the cold tolerant English wallflower may be listed as 5-8, 6-1 (5-8 being its hardiness zones and 6-1 its heat zones). This means the plant is not suitable for over-wintering below Zone 5 and will not perform well in summer heat above Zone 6. Unfortunately, the hardiness zone and heat zone ratings overlap a bit, which makes things a bit confusing. Should you plant the English wallflower as a perennial to survive the winter in Zones 5 and 6 (sacrificing heat tolerance in Zones 7 and 8), or plant it as an annual to perform in the heat (Zones 6-1) and pray it survives winter in Zones 1 though 4? Hmm. Perhaps the potential for confusion is why labeling heat zones has been somewhat slow to catch on.
Determining Your Heat Zone
Plants are complicated and no map can accurately predict how they will ultimately respond to extreme temperatures-hot or cold. What the AHS Heat Zone Map can do is serve as a helpful guide as to how plants will perform in periods of heat under "normal" conditions.
Once you know you heat zone, you will be armed with one more tool to help determine which plants will grow best in your garden.
View a copy of the AHS Heat Zone Map here:
Comments
April 2, 2017
0

found this helpful
the heat zone map link at the bottom does not work.. they may have pulled it. Very difficult to find this information!
April 5, 2017
0

found this helpful
Thanks for letting us know that the link is no longer working. Here is the updated link, which I have also fixed above.