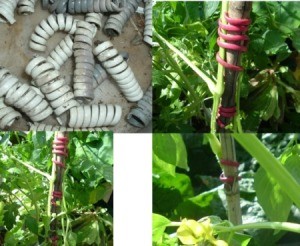 I needed to tie up some of my vegetable plants and I'm out of garden twine and string. When I was looking for something suitable that will not break the stems I saw one of my very old receiver cords for the telephone. It is the one that goes from the phone to the telephone receiver; the curlicue one. And I thought maybe that wrapped around a pole and the plant stem it might work. Well it definitely does plus it will give as the plant grows.
The fun part will be finding them, since most everyone either uses a cell phone or cordless. I have seen them a the dollar store and depending on the length that you cut them into, I do suggest a minimum of at least 5 curls, will determine how many you get. They can be used year after year after year.
By Babette from Lemon Grove, CA
Comments
July 31, 2012
0

found this helpful
Thanks for another green idea!
August 4, 2012
0

found this helpful
I think that the plastic covering will crack and split from being exposed to the weather. That type of plastic also dry rots causing it to flake off. I use my old and left over yarn to tie all my plants.
August 4, 2012
0

found this helpful
If you notice in the photo there is a cord that is white/gray that particular 1 has been in the backyard in Southern California for at least the last 6 years exposed to all the elements no cracking no splitting they're not falling apart at all and I figure I would probably lose them before they began disintegrating + when I used yarn, pantyhose, stringed the large twist ties off of vegetables I would have to make sure I had a pair of scissors with me during cleanup time to cut everything free, this way I just untwist them.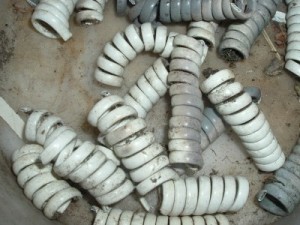 August 6, 2012
0

found this helpful
What a great idea! I've been using strips of fabric from discarded clothing to tie up veggie plants, but your strategy seems to make a lot of sense!
I like the idea of not having all that fabric hanging all over the place! I can't wait to try your idea!
Read More Comments