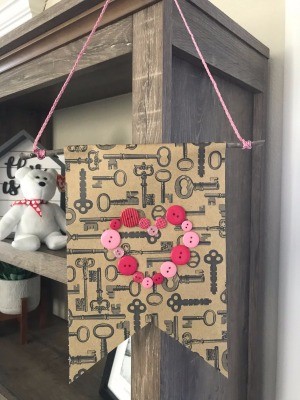 Here's another Valentine's Day themed decoration you can make for your home without spending any money.
This hanging flag banner can be hung on a wall, hook, door, anywhere you would like. It adds a nice touch of heart/cuteness/Valentine's mood to your home. You can achieve this hanging flag banner with simple supplies.
Notes:
- You can use simple paper, it does not have to be this key patterned paper (but I had it on hand and thought it would be cute like key to your heart theme). You could also apply this concept to felt and hand sew a felt heart, etc.
- If you do not have buttons, don't worry, you can use stickers, gems, beads, or even just cut out a heart from colored paper.