Voting Information
Solutions
Share on ThriftyFunThis guide contains the following solutions. Have something to add? Please share your solution!
November 4, 2008
0

found this helpful
Well, it's finally here, after nearly 2 years of primaries and the last month filled with political calls, mailers and commercials, it's time to vote if you haven't done so by absentee, mail in voting or early voting.
If you are heading to the polls tomorrow, please be sure to take this number with you: 1-866-OUR-VOTE (1-866-687-8683). This national, toll-free election protection hotline can help with any voting-related questions or problems you might encounter.
Before going to vote, please be sure to:
Find out in advance where your polling place is. http://www.canivote.org
Know what you need to bring to the polls for identification.
Vote early if possible. Give yourself plenty of time to vote. Lines will likely be long in many places.
Bring a sheet of paper with you to write down any irregularities and bring a camera or at least your cell phone if you want to document something that is happening a the polls or long lines.
Remember that voting is coming up very soon. NOW is the time to vote absentee or to register. I believe the law is that you have to register 4 weeks in advance in order to vote.
October 27, 2006
0

found this helpful
Voter participation in the United States is dismally low. In the 2002 mid-term elections, only 42% of eligible voters went to the polls to decide who would lead our country and make our nation's laws. Research continues to show that a lack of information about the voting process and the candidates is an overriding cause for low voter participation.
To address this issue, the League of Women Voters, has launched an unprecedented Web site for voters Vote411.org - The One-Stop Shop for Election Information.
Link: http://www.VOTE411.org
October 21, 2008
0

found this helpful
Voting is on most American's mind right now. Make sure that your vote is counted. There have been voting irregularities in some places where early voting is allowed. There is evidence if you vote a straight party ticket it will not register the votes.
Read More at Snopes.com
One of the more annoying things at election time is robocalls which are happening at a record breaking rate this year. I have never liked getting recorded calls. If someone is going to call on behalf of a candidate, they should have supporters calling on their behalf. Robocalling centers allows candidates to inundate our households with little effort.
My best advice is to unplug your phone or let an answering machine answer it during the night. Hang up as soon as you know it is a recorded phone call.
We all are being barraged with political ads by mail, by phone and on the television set. One of the best ways to find out where candidates stand is from your Voter's Pamphlet.
Luckily, there are only two more weeks of this. If you should have any trouble voting or find that the process seems to not be working the way you expect, talk to a poll worker. If they are not able to help sufficiently. Contact your Secretary of State's election office.
By Fisher
October 18, 2008
0

found this helpful
There have been problems with voter registrations in some states. To check on the status of your voter registration use this site.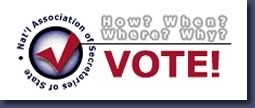 Link: http://www.CanIVote.org
Read More...
October 7, 2004
0

found this helpful
Here is a great resource to educate you on the political races in your state and area no matter you live in the U.S.
Link: http://www.c-span.org
Read More...
August 2, 2004
0

found this helpful
Each Election Day, we have the chance to shape the future of our communities, states, and nation by voting. Sadly, too many of us fail to exercise that right.
Voter turnout in America has declined steadily for four decades.
Read More...
Susan Sanders-Kinzel
0

found this helpful
Are you currently registered to vote? If you have moved recently or have just reached voting age, make sure you are registered for the upcoming U.S. primary elections usually held in September.
Read More...
Related Content