Judy
Gold Post Medal for All Time! 677 Posts
There was a terrific sale on sneakers after Christmas, so I decided to buy two pairs. One pair is only for inside, and the other is only for outside.
I never realized how much dirt accumulates in the sneaker treads. The inside sneakers remain as clean as the day I bought them.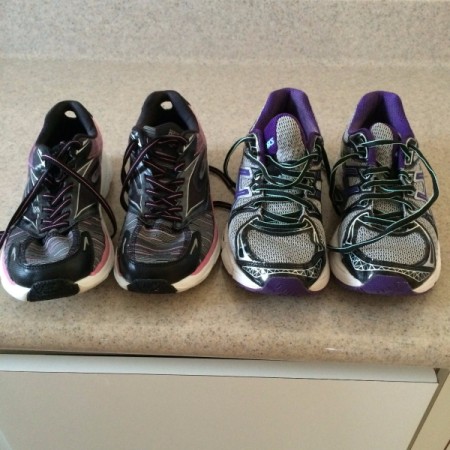 metroplex
Bronze Request Medal for All Time! 65 Requests
Has anyone had any experience wearing performance sneakers? The kind that are supposed to tone your legs, etc. when you wear them. Did they work for you? I've been thinking of getting a pair, but don't know if it's just hype or not. I know regular exercise needs to be done, but it would be an extra bonus if they helped tone when I just wore them walking around. If you could please include the brand name of the sneakers you have, that would be good also. Any help or advice is appreciated. Thank you!
By metroplex from Houston, TX
Answers

Joan
Bronze Feedback Medal for All Time! 186 Feedbacks
April 26, 2011
1

found this helpful
I have read a couple reviews that stated all they do is strengthen the feet and ankles. That is all I know about them.

April 26, 2011
0

found this helpful
I tired a pair, I find them very uncomfortable to wear regularly, you really have to pick ur feet up high or they drag, and I have a bit of a limp, so dont work for me.

Elaine
Bronze Post Medal for All Time! 172 Posts
April 28, 2011
0

found this helpful
I have to agree with Carmen........I think you can use them if you go walking on a completely flat surface but they are clumsy feeling to me. I too, have a limp and they don't work so well for me either. If I had it to do over, I probably would not buy them again. I have heard other people say that they helped their lower back.
If you wear them around the house, and you bend over to do something, the tendency is to want to just keep going forward! lol..........might not work that way for someone younger but for me, my balance is not super good.

April 28, 2011
0

found this helpful
I thought about buying a pair for awhile. Then Dr. Oz did a segment about exercise equipment, whether it was hype or really worked. One of the things was these shoes, which he admitted he wore himself. The expert rating this stuff said that it was complete hype, that they didn't do anything for you.
So, I don't really know based on experience, but I'm not wasting my money to find out either!

April 28, 2011
1

found this helpful
I'm a waitress and on my feet 10-12 hours a day,and love these shoes. I don't know if they toned anything or not, but they sure help my feet, legs and lower back feel better. They do take some time to learn how to walk in them though
Answer

this Question