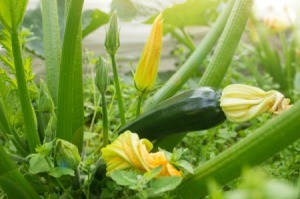 Question:
I have two beautiful zucchini plants that seem to be quite healthy. However, after the blooms fall off and squash begins to grow they grow to about 1 inch or so and then very easily fall right off the stem. Even just a breezy light touch will cause this to happen. I don't know what I'm doing wrong to cause them to be so delicate. Any tips on how to stop this from happening? Much appreciated.
Selina from Granite Falls, WA
Answer:
Oh where oh where have all the bees gone? There are two reasons zucchini set fruit and then fail to deliver-poor pollination and calcium deficiencies (blossom end rot). Let's take them one at a time.
Pollination
First, let's talk about poor pollination. When this happens you may see few fruits, no fruits, deformed fruits or those that appear to set, but then only grow a few inches before falling off of the vine.
Have you noticed a difference in your bee population? It seems to me that more and more people are encountering pollination problems. Bees are extremely sensitive to all types of chemicals, so if you're using pesticides or herbicides on your yard or garden, you may be inadvertently affecting your bee population. Even if you don't use chemicals, your neighbors might be using them.
Your bee population may have also been temporarily reduced as a result of some type of natural blight like mites. In the future, you might want to take over for the bees and hand pollinate your zucchini. To do this, simply remove or peel back the petals from the male flower and rub the pollen from the stamen onto the stigma of the female flowers. You can also transfer the pollen with a small paintbrush or cotton swab. The female flowers are the flowers that have the little bulge at the base of the petals. That bulge is your future zucchini.
Blossom End Rot
Blossom end rot is usually the result of a calcium deficiency in the fruit, and occurs when the zucchini plants have experienced some type of stress (e.g. drought, severe swings in temperature, waterlogged roots, etc.).
The calcium deficiency isn't necessarily in the soil, as much as it's the result of the plant's inability to take it up from the soil (usually due stress).
The rot begins as a dead area on the blossom end of the fruit opposite from where it's attached to the stem.
Spots appear that may look like small, water soaked bruises. Eventually they consume the fruit and it drops.
Blossom end rot happens most often to the first fruits that appear in the season.
You can reduce your risk of blossom end rot by irrigating evenly, not over-fertilizing, and adding some calcium (lime, bonemeal, eggshells) to the soil if a soil test determines your soil is deficient.
There are also cultivars available that are more tolerant of calcium deficiencies.

Good luck!

Ellen