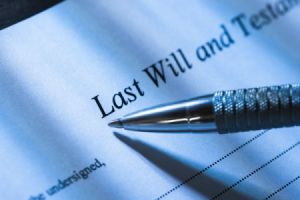 I am looking into making a will. Has anyone had experience with wills, without a lawyer. I'm referring to alternatives such as online wills and forms at Staples, etc. Thanks and God bless.
By Betty R.Bazzle from Summerville, SC
Answers

July 1, 2009
0

found this helpful
I have a few tips that they told Mom when she did her will at the lawyers office.. First. If you have someone you do NOT want to get anything, LEAVE them $1.00. (one dollar) That proves that you DID consider them, and you have tended to them, and thus they can`t contest the will. Secondly, Make sure you get two witness and have it notarized. Don`t put it in the safety deposit box. They seal it (safety deposit box) when someone dies and without the WILL no one can open it.
I hope this helps some. Oh you need to take the two witness to the Notary and have them sign it there. They are notarizing that indeed the person who signed it, IS who they say they are, and that they signed this piece of paper.. (your will). They will be required to show ID.
Peace and blessings from Texas <>< Jan

July 1, 2009
0

found this helpful
Go to LegalZoom.com
It is an online site for wills, power of Attorney's etc. Excellent service, very cheap and they will walk you through the process with laws according to your state.

July 2, 2009
0

found this helpful
If you do not want to leave a person anything in your will just state that fact. ie. Mike Jackson's will just coming to light does just that when he states he does not want to leave his exwife anything. So leaving a dollar in a will and they can't contest it is bogus. A relative or someone close to you can contest a will if they have reason to. Here is all that was in President Cal Coolidge's will. A man known for his few words, Coolidge's entire will was only 23 words long: "Not unmindful of my son, I give all of my estate, both real and personal, to my wife, Grace Coolidge, in fee simple."
Every state is different in how a will is written. There are attorney who will do this work for no or little charge for people who can not afford an attorney to write a will. I would check out these attorneys from the ALA in your state or contact your local government officials to get the names of attorneys that do this work.

July 2, 2009
0

found this helpful
My in-laws recently followed my husband and I to a lawyer when we had business to attend. They asked a question if a handwritten will was legal and the lawyer told them yes if it was notorized by a certified notary republic and witnessed.
Hope this helps since they didn't have to have any special document. Just write it out on paper. Grannygirl

Teresa Tart
Bronze Feedback Medal for All Time! 213 Feedbacks
July 2, 2009
0

found this helpful
From experience Go to a lawyer, they can tell you things you have not even thought of. Laws are different in different states. You also need to have the will somewhere that no one can get it and get rid of it. Unfortunately a death brings out greed in some people even in people you would not thank.Don't say it will not happen in my family I have seen it happen in families that said the same thing.

July 2, 2009
0

found this helpful
My husband and I both just had wills made recently and it only cost $125.00. I had tried to find what I needed online but it was confusing because of different rules for different states.
Plus, he keeps a copy as well in case something happens.

Beth
Silver Feedback Medal for All Time! 407 Feedbacks
July 2, 2009
0

found this helpful
Don't wills also need to be filed with the county you live in? If you don't know how to do that, all of the rest of your effort is for nothing.

July 2, 2009
0

found this helpful
It is certainly worth a try to do your will without an attorney. First, if you do not have a lot of complications, as in things for one person, specific jewelry, or items that might be hard to describe clearly, to another person, then go for it. My husband and I did ours, in spite of my having 7 grown children from my first marriage, (my 2nd husband died), and we went through our local information, court house, etc.
We got the forms, and information on the dos and don'ts in filling it out, also from the same site. We did it, had it Notarized with uninterested, unknown to us, witnesses, after they saw our identifying papers. Any filing, we were told, was not necessary at this point. We live in the Mobile, Alabama area, so check your laws first.
Read More

Answers