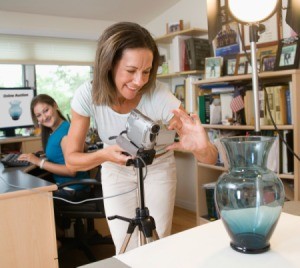 Which do you think is more profitable, Ebay or garage sales? Why?

Kayla

Answers

Jess
Silver Post Medal for All Time! 267 Posts
October 19, 2007
0

found this helpful
I would say it really depends on what you are trying to sell. A garage sale is some setup and one weekend of intense work. It is good if you have a lot of things that you want to get rid of but aren't really worth a lot of money. Also, you should really do the garage sale during the nicer weather because you will get more traffic. If you are just trying to clean out the garage, consider having really cheap items or a free box to get the stuff to people who will use it. I did this with a couple packages of pull ups that we didn't need. I couldn't see selling them but someone grabbed them right away in the free bin.
Ebay is good if you have things that you need to get a specific price for or are worth more money. Keep in mind that you have no guarantee of selling anything on Ebay but it will cost you for the auction, no matter what. The work and cost is more spread out. If you do decide on Ebay, be sure to post good photos because you are more likely to get bids. Selling things in batches is often a good way to go because you seem to get more bids, because the shipping is less per item. You also need to make sure to send off items right away so that your rating doesn't go down.
Jess
By lindajean (Guest Post)
October 19, 2007
0

found this helpful
What about Craigs List? Free! Or Freecycle.com?

October 19, 2007
0

found this helpful
Neither! G-sale - it rains and brings strangers around. EBay - every item takes so long. Best profits for me are with It's Deductible, the software comes bundled with my TurboTax, and can be downloaded for only $15 or so. It's like having a garage sale, except the only customer is the IRS and they pay top national prices. You donate your stuff to a local charity and get a receipt. You have kept a clipboard with a list of what went, with some description, and as it was all spread out on the bed for the last check before it went out the door, you snapped one picture. You use the software to get the true value of what you donated. We all undervalue things so much! We forget that the pair of blue jeans that didn't fit had a well-known label!
They wrote the software by checking all regions of the country in thrift shops to see what things are selling for and used that. Best part - they have survived every audit! So when I do my taxes, I get my refund, and wow, the refund is nicely fatter than it would have been, and I did so little work compared to eBay or garage sale! One rule! you can't use anything that was a gift to you. You can only use things you purchased. I have been so pleased with It's Deductible! my donations pile has that clipboard, I describe an item as I drop it onto the pile (never a big writing task of a whole bunch), one photo, done. Recommend!!

Julie
Bronze Feedback Medal for All Time! 149 Feedbacks
October 19, 2007
0

found this helpful
I'm an ebay seller of handmade fabric items. The lady above is right. It all depends on what you sell. Use the word Lot in your title description if you sell more than one item in a listing. People search for that word.
Another good source of saling items that are large or that you know will sale for a good price if its available in your area.Is by radio. Our local radio station has a progran each weekday morning & evening as well as on saturday mornings which last for 30 minutes in which callers can call in, fax or email the item they are selling by telling what the item is and your phone number. Just make sure not to give the directions to your house until you will be there with someone eles when they come to look at your item you are selling. I even keep my item on my porch if possible so they donot have to enter my home. We have sold many items that way.
Also you have flea markets you could sell at. They usually charge very little for a table rental and you will do much better there than having a yard sale unless you are in a good location. Good luck!
Read More

Answers