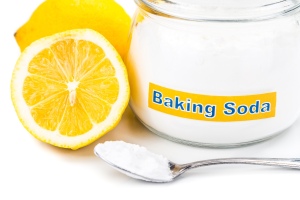 My husband was good at tracking mud and oil into our carpet, until I finally made him clean it up. The stains were a nightmare. Not so much the mud, but the oil that he tracked in along with the mud sent me through the roof. I was tired of buying poisonous chemicals off the market shelf so I tried an old remedy from my ex-mother-in-law (clean-freak, yet great cook).
I used baking soda on the stains and sprinkled lemon juice onto the baking soda. Watch it fizz! It actually soaks up the substance. I tend to leave it overnight some times on tougher stains. Voila! The stain disappeared, the house isn't bombarded with bad fumes and no more head-bumps from the ceiling.
By Ana from Magnolia, TX
Comments
July 7, 2010
0

found this helpful
Top Comment
Sounds like a great, and green recipe. Love that last line, stealth humor! rotfl!
January 28, 2014
0

found this helpful
Top Comment
I have removed a large oil spot in my car using table salt. Long time ago, in Romania, they used salt to remove oil spots from fabrics. So I tried it in my car and it took it out 100%. I poured salt on the oil spot and as soon as it gets oily, I will remove it and add more. You repeat this until you see the salt no longer gets oily. Then you vacuum. I used two different vacuums, one shop vac and my Dyson. Both of them did the job. I had over one quart of oil spilled on the floor of my back seat. You have to have 3-5 (or more if needed) table salt containers, but considering its price it is still cheap versus the other choices. On the carpet rug that I could remove, I tried Tide, Zep Degreaser, Vinegar, Downy, nothing worked. Only Dawn Dish detergent. Good luck with your cleaning job. I am satisfied I have no more oil in my car.
How can I get black oil stains off my beige polypropylene carpet? I would appreciate any ideas that you know actually work. Thanks for your help.
By Irene from Wales
Answers
July 17, 2009
0

found this helpful
Best Answer
I'm not sure if you can get Dawn brand dish liquid in wales. If you cn, that would be the first thing I'd try. Just squirt a bit directly on each spot and use a bit of elbow grease. If you can't get Dawn brand, get the best degreasing dish liquid you can.
Hope this helps!
July 17, 2009
0

found this helpful
Best Answer
The product Quick and Brite is a miracle cleaner. It's safe enough to eat. You can get it at the link above. You rub it full strength into the stain and let it set for awhile. Then start blotting it out. I have used this on several oil, coffee spilled several times on the car carpet, blood all the things that can ruin things.
It has even taken out stains that have been washed and dried several times and 'set in'; thought things would always be 'work clothes' It's definitely worth investing in and it goes a long way. Good Luck
Answer

this Question

...
May 2, 2012
0

found this helpful
I need help for removing engine oil from carpet.
By Rachel
Answers
May 22, 2012
0

found this helpful
We've had success with Snap industrial cleaner. It's a product from Market America made in US. You can get it from a distributor in your area or from www.shop.com/shoponlinewithjudy. It's inexpensive and has many uses. We also use it to clean mag wheels.
January 23, 2016
0

found this helpful
Try multipurpose cleaner and a plastic scraper.
Answer

this Question

...
How do I get motor oil out of carpet?
By debra from Rock Hill, SC
Answers
November 8, 2005
0

found this helpful
How do you remove an old motor oil stain from a car carpet?
Thanks,
Deb from NE
Answer

this Question

...